Easy apple cinnamon energy bars that mix up quickly and are a hit with the kids – plus you can be happy they get a healthy snack that will keep them going!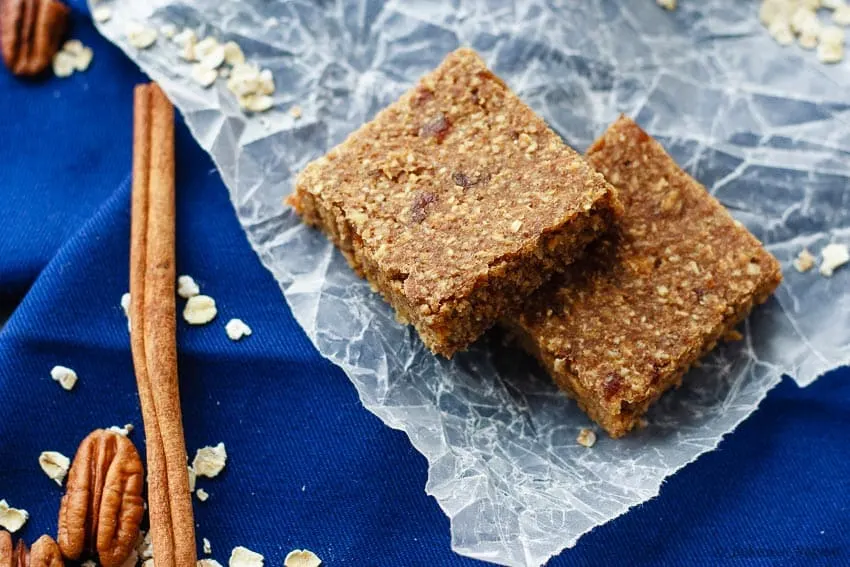 I'm back with more healthy snacks for the kids disguised as treats!
Okay, I suppose that these don't really look that treat-like, so I guess I'm not disguising them very well. In fact, my husband spied them on the counter and quickly walked over saying "ooooh, what did you make?" When he got closer, his face fell and he informed me that they looked "suspiciously healthy".
I guess I need to work on my ability to disguise healthy things so that he actually tries them.
Or, I'll just keep making these types of things for the kids. Because they love my healthy treats and are always gobbling them all up and asking me to make more. Clearly they don't need chocolate and sugar in everything in order to make them want it. I've trained them well. Or I've gotten lucky. Either way, I'll take it!
These apple cinnamon energy bars are full of good for you ingredients. They're sweetened with dates and a tiny bit of maple syrup. They're filled with oatmeal, fresh apple, and pecans to make them wholesome and hearty. And some cinnamon to give them that great apple cinnamon taste and make your house smell amazing while they bake. Because apples and cinnamon always smell amazing while baking.
And to make them even better? They take literally 5 minutes to mix up and get into the oven because it's all done in the food processor. I suppose you do need to soak the dates for 5-10 minutes first to make them easier to process, but it's okay. You need to give the oven time to warm up after all.
It really doesn't get a whole lot better as far as homemade snacks go. Healthy, fast, easy, and the kids will love them. That's a winner in my house. Even if the adults don't eat them!
Tips for perfect Apple Cinnamon Energy Bars:
I've also shared this Apple Cinnamon Energy Bar recipe over at Food Fanatic.
This post contains affiliate links, meaning that if you make a purchase through these links, I may receive a small commission.