These easy cinnamon wonton chips with fruit salsa make the perfect healthy snack. The kids will love this tasty treat!
Cinnamon wonton chips with fruit salsa today! Because I like healthy snack food that can also double as an easy lunch to send with the kids to school.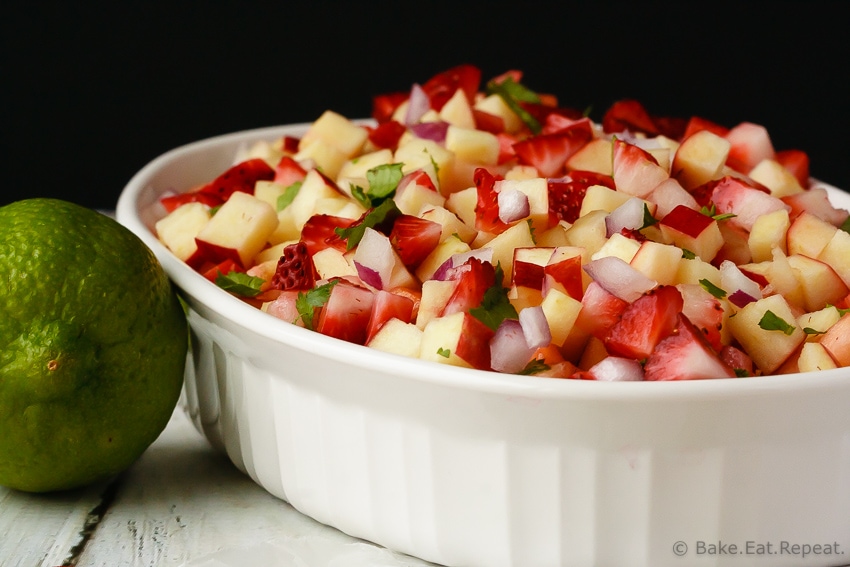 Does anyone else get kind of sick of packing lunches? I'm sure I'm not alone on that. I'm fine with it at the beginning of the school year.
At that point I'm all on top of things, packing them the night before so we're ready to go in the morning, plenty of snacks on hand, various lunch type options available for my lunch packing needs.
And then the year goes on and I slowly get less enthused about the lunch packing.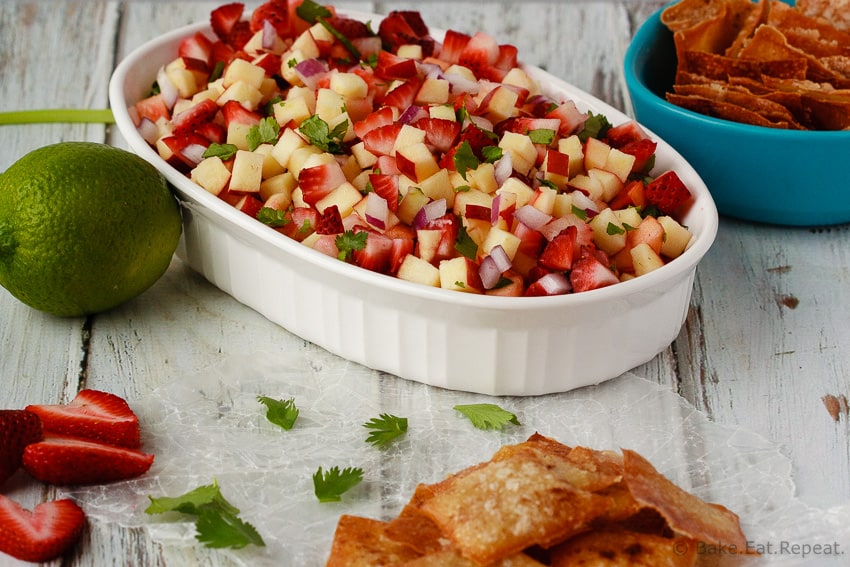 Not that I've ever been one of those people making the cute sandwiches shaped like my kids current favourite cartoon character or anything. Really, they're lucky if they get a heart shaped something or other for Valentine's Day, let alone the wonder that is the lunches I've seen on Pinterest. How do people have time for that? Not only that, how do you make a sandwich look like Yoshi? Pretty sure I could never manage to make that happen. These bird's nest coconut macaroons are about as good as it gets for me when it comes to making cutesy food!
So I was happy when I stumbled upon a new lunch option at this point in the year when the kids are getting sick of the same old sandwich every. single. day. I didn't really even think they would like this. Fruit salsa is something that I thought I would eat and no one else would touch. There's onions! And cilantro! Shocking that they tried it let alone actually liked it.
But they loved it. So we had to fight over who got to eat all the tasty cinnamon wonton chips and fruit salsa. So good, super easy to make, and a great addition to the lunch time rotation. And that makes me happy.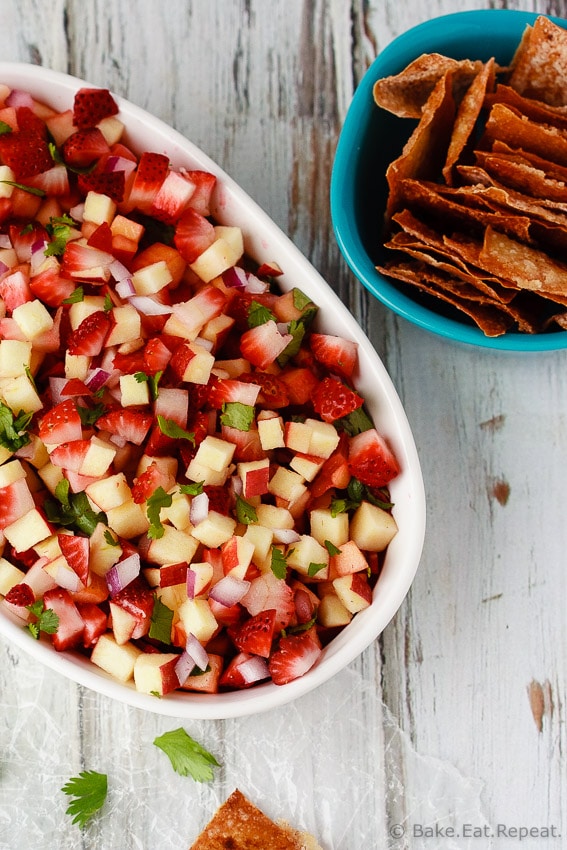 How to make Cinnamon Wonton Chips with Fruit Salsa:
Get the wonton chips in the oven and then mix together the fruit salsa while they're baking.
The only thing that takes some time here is chopping up the fruit, but this recipe comes together very quickly, and can be made ahead of time.
If you're not a fan of cilantro you can leave it out of the the salsa, it will still be delicious.
Here are some more great snacks for you:
I've also shared this cinnamon wonton chips and fruit salsa recipe over on Food Fanatic.