I'm sneaking in one more "it's still summer" treat before the season flies away and the school year is upon us! And it's a good one. Roasted strawberry and oreo ice cream that is no churn, plus it's lightened up a bit with some plain Greek yogurt! This ice cream is good, and perfect for summer's last hurrah.
We've been on vacation the last couple of weeks, out in BC visiting both my in-laws and my parents, which is why I've been a little MIA around here the last little bit. I scheduled a few posts for you but pretty much managed to unplug for two weeks and really didn't do a whole lot on the blog. As any of my blogger friends know, it's kind of hard to completely ignore the computer, and I'll admit to doing a few things, but for the most part I unplugged. It was a really nice break, although now I feel like I have a thousand things to do!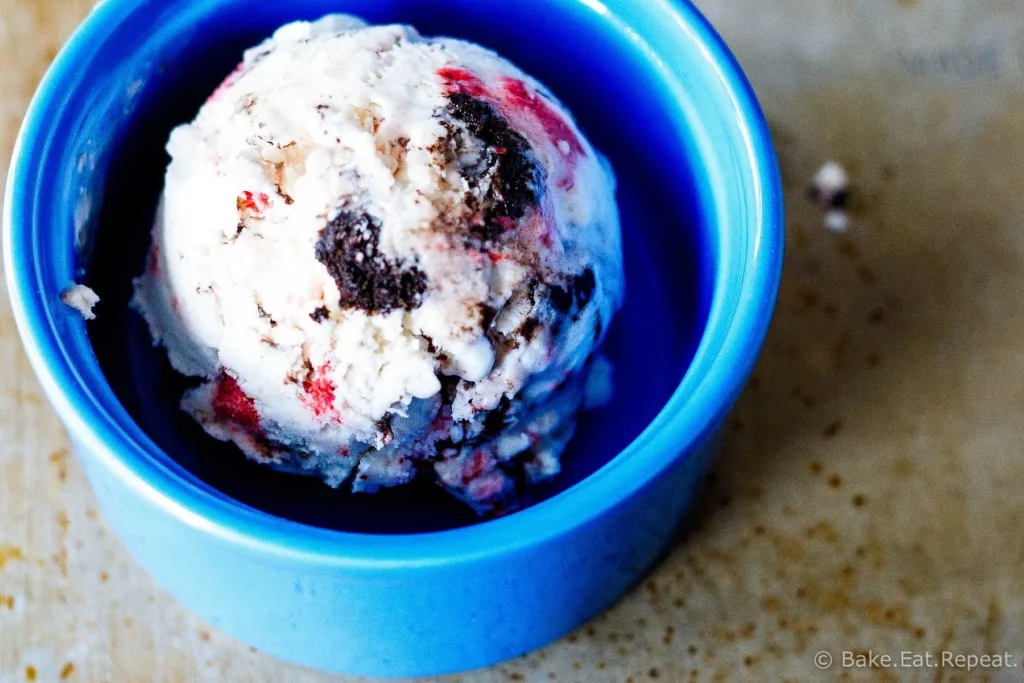 One thing I did do (and when I say I, I actually mean my much more tech savvy husband!) was get a new site design. I've been meaning to for ages, but it's one of those things that has been repeatedly pushed down the list. Plus, I didn't actually want to DO all the technical stuff, so it was much easier to accomplish when I had my husband available to help me (read: do it all for me). I love the new look, so much prettier don't you think? Plus, the recipe list is much easier to navigate now – you no longer need to scroll through every single recipe in order to look at one category. So let me know what you think, or if you find anything broken so I can fix it!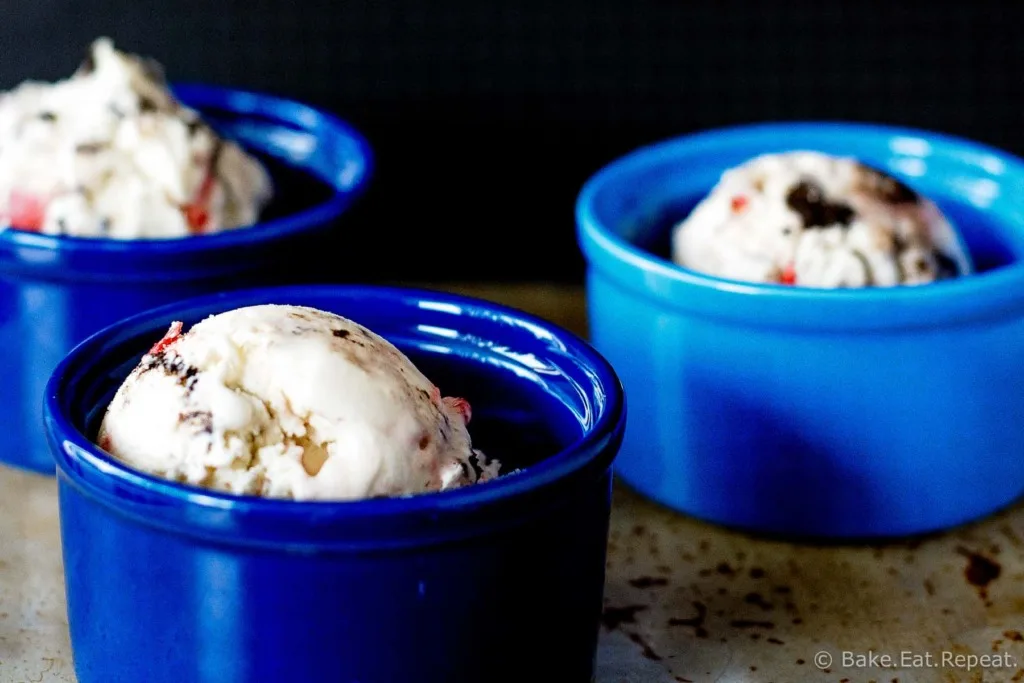 And now, back to the important stuff – ice cream! This no churn ice cream is delicious. Filled with roasted strawberries (you could totally skip that step, but it does make them a bit sweeter tasting and releases the juice which I liked in the ice cream) and chopped up oreo cookies – doesn't get much better than that. Except it does. Because I also lightened it up a bit with some plain Greek yogurt. The yogurt adds a bit of tanginess to the ice cream, and also makes it a bit harder. You do need to let this sit for 5-10 minutes to make it scoopable, but I didn't mind that, I like my ice cream nice and hard anyways. If you want it to be softer, and more ice cream-y, simply replace the yogurt with more heavy cream. It will be delicious either way.
School is almost here, which seems a little crazy. The summer went far too fast, as always. But I'm holding on to the last little bit of it, and enjoying some homemade ice cream with the kiddos before we head back into the craziness of the school year. You should definitely join me!