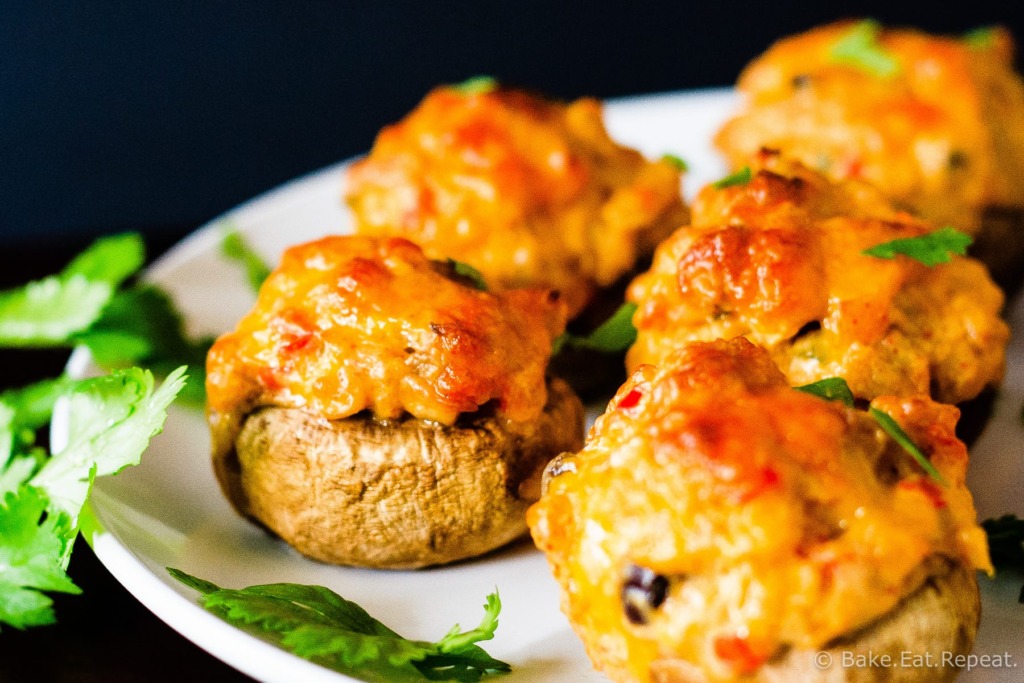 I love stuffed mushrooms.  Always have, in any form.  Clearly I'm not alone on that as my bacon wrapped crab stuffed mushroom recipe is easily one of the most popular ones on my blog.
These ones don't have bacon, or crab, but they're still pretty fantastic.  It's tacos in stuffed mushroom form, what could be bad about that?  Okay, if you're my family you're saying that the black beans are the bad part and I never should have done it.  But I'm sorry, I disagree.  Tacos in any form are better with black beans.  And that includes taco stuffed mushrooms.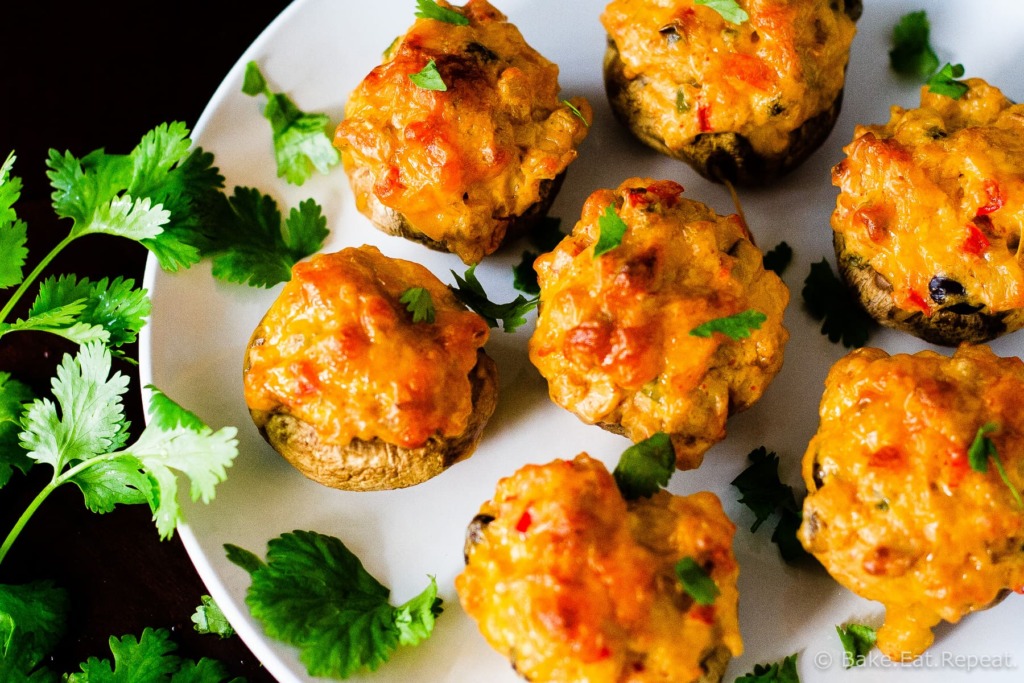 I really enjoyed these.  They're the perfect appetizer, and they freeze extremely well.  You can make them ahead and then reheat them later.  Or freeze them and reheat them, in the oven or microwave to enjoy at a later date.  They are better reheated in the oven, but if you're short on time or are just sneaking one from the freezer for a snack (um, I wouldn't know anything about that…) they are still pretty tasty microwaved for a couple of minutes.
Also, I'd highly recommend serving them with some salsa.  Because what's a taco without some salsa on the side?  Not as good, that's what.  If you're in need of an appetizer, you should definitely try these out.  Or if taco stuffed mushrooms aren't your thing, try the crab stuffed ones.  There's a reason those are so popular!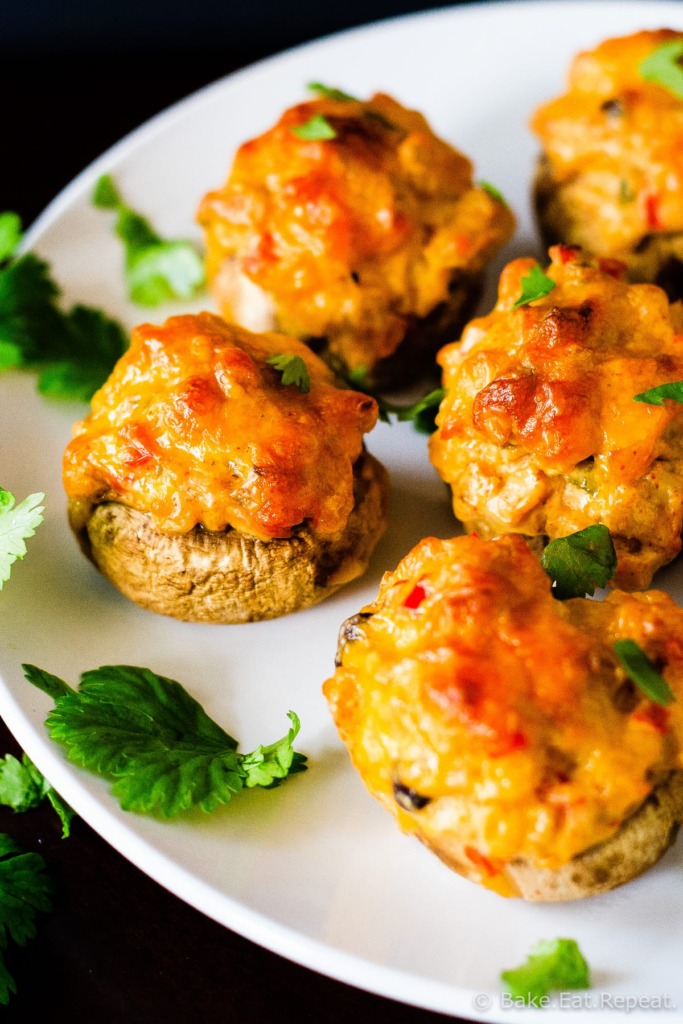 Yield: 20-25
Cheesy Taco Stuffed Mushrooms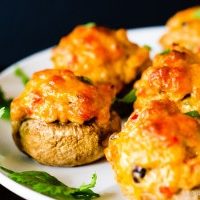 These cheesy taco stuffed mushrooms are easy to make and make the perfect appetizer!

Prep Time 30 minutes

Cook Time 25 minutes

Total Time 55 minutes
Ingredients
20-25 button mushrooms (medium size)
1/2 small onion (about 1/3 cup), finely chopped
2 cloves garlic, minced
1/3 cup finely chopped red pepper
1 jalapeno pepper, seeded and finely chopped
1 teaspoon chili powder
1/2 teaspoon cumin
1/2 teaspoon coriander
salt and pepper to taste
6 ounces (188g, 3/4 of a package) cream cheese, softened
1 egg yolk, lightly beaten
1 cup shredded cheddar cheese, divided
1/3 cup black beans, rinsed
1/3 cup corn kernels (thawed if frozen)
Instructions
Preheat the oven to 425 degrees F.
Line a baking sheet with a silpat mat or parchment paper and set aside.
Wash the mushrooms and pop out the stems. Chop the stems finely.
In a large non-stick frying pan over medium heat, saute the onions until softened.
Add the garlic, the chopped mushroom stems, red pepper, jalapeno pepper, chili powder, cumin, coriander and salt and pepper.
Continue to saute for 3-4 minutes until the onions have browned and the mushrooms have released their liquid.
In a large bowl, mix together the cream cheese and the egg yolk until well combined.
Stir in 1/2 cup of the shredded cheddar cheese.
Add the onion mixture, the black beans and the corn and stir well. If the mixture is really soft, place the bowl in the fridge for 5-10 minutes to allow it to firm up before filling the mushrooms.
Scoop the filling into the mushroom caps and place them on the baking sheet.
Fill them up as full as you can, heaping it up on top to use up all the filling. Sprinkle the remaining 1/2 cup of shredded cheddar cheese on top of the stuffed mushrooms
Bake for 20-25 minutes or until the cheese is bubbling and the filling is hot. Let them cool slightly before eating.
The mushrooms can be prepared a day in advance and kept in the refrigerator until baking. Or you can prepare them and then freeze them before thawing and baking. Or bake and then freeze to reheat them later.

Recommended Products
This post contains affiliate links. As an Amazon Associate, I may receive a small commission from qualifying purchases.
Nutrition Information:
Yield:
12
Serving Size:
2 mushrooms
Amount Per Serving: Calories: 42Total Fat: 3gSaturated Fat: 1gTrans Fat: 0gUnsaturated Fat: 1gCholesterol: 16mgSodium: 60mgCarbohydrates: 3gFiber: 1gSugar: 1gProtein: 2g

Nutrition Information is estimated based on ingredients used and may not be exact.