These 7 layer bars, also called magic cookie bars, are so easy to make! Layer everything in a pan and bake, and everyone loves them! Such a great dessert!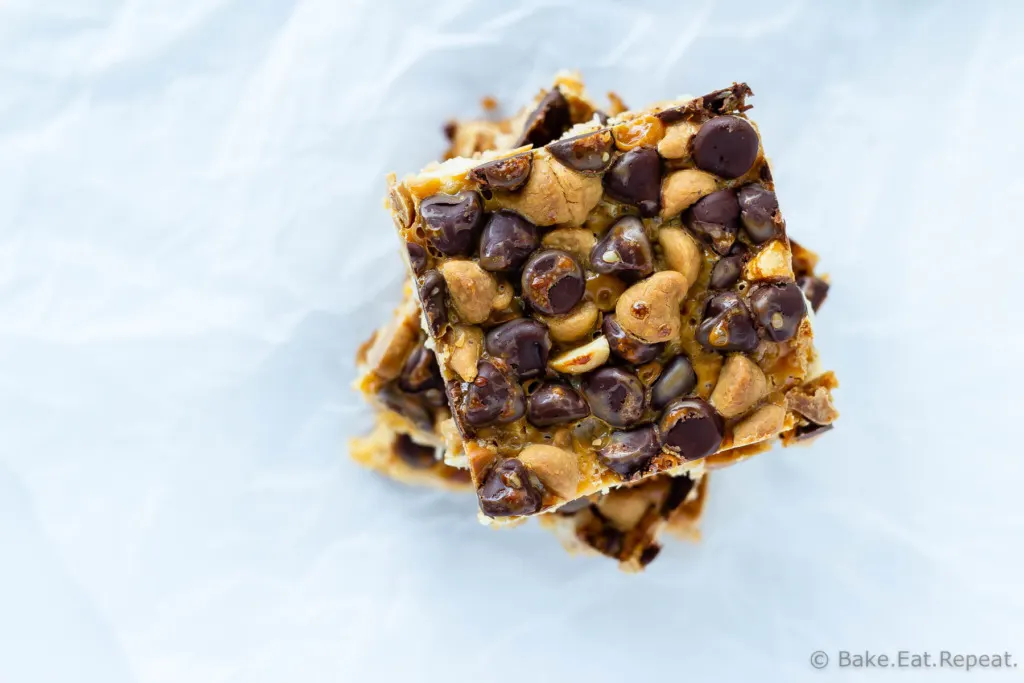 So 7 layer bars have been around forever. They're also called magic bars, or magic cookie bars, or magic seven layer bars.
I remember having them at potlucks as a kid, so this is nothing new here.
But maybe you, like me, haven't actually made them before. I never had.
I actually found this recipe in an old cookbook of my mom's, decided to make them, and then realized when we ate them that I'd had these before at different potlucks, but didn't know that's what they were.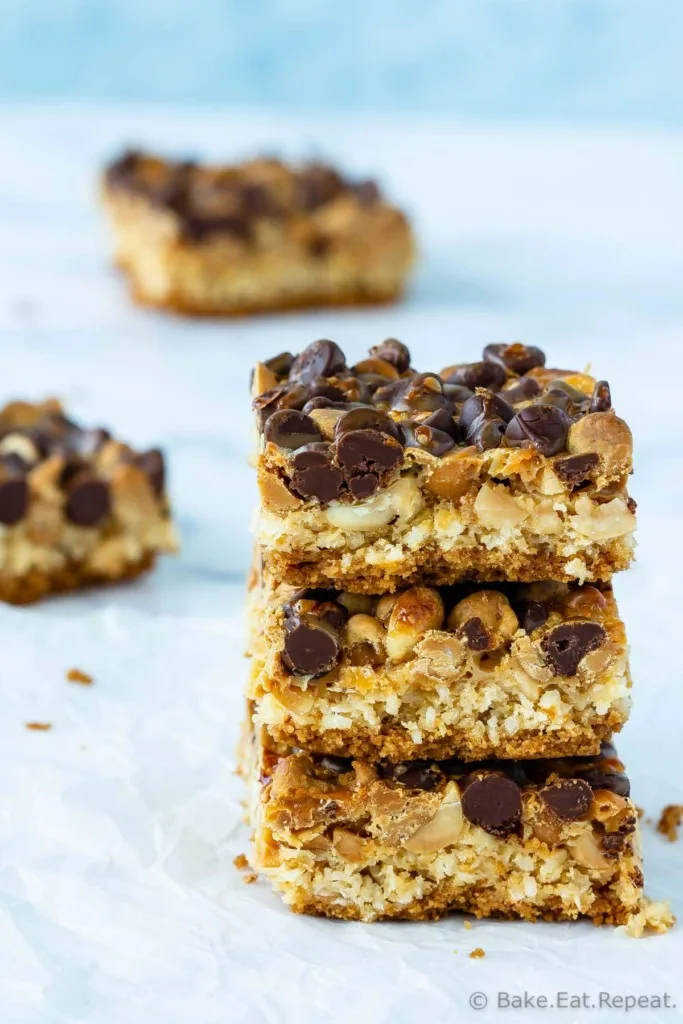 They weren't something I ever remember my mom making, and I certainly never had.
So here's my version – I used peanut butter chips and peanuts instead of butterscotch chips and walnuts like the recipe called for – and I know that there will likely be several more versions coming now that I have discovered the deliciousness of 7 layer bars.
And, let's be honest, the ease.
They are so easy to make. So easy.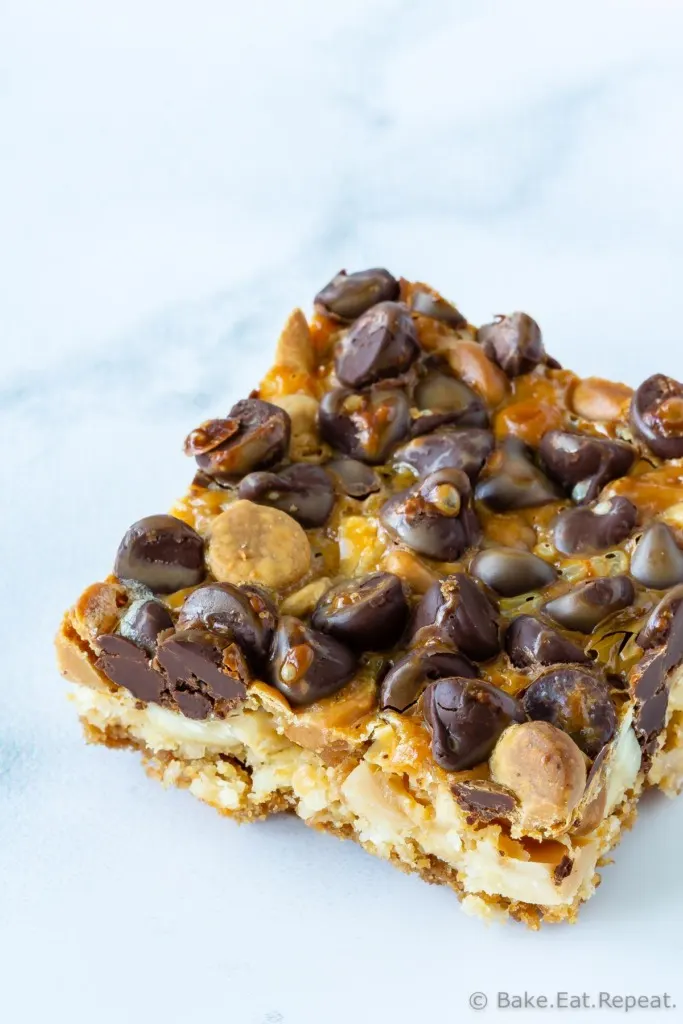 Basically you press a graham cracker crust into a baking pan, layer a bunch of tasty things on top, pour sweetened condensed milk over top of everything, and bake.
It really doesn't get a whole lot easier than that. And my family went crazy for them.
There will definitely be more variations happening here in the near future.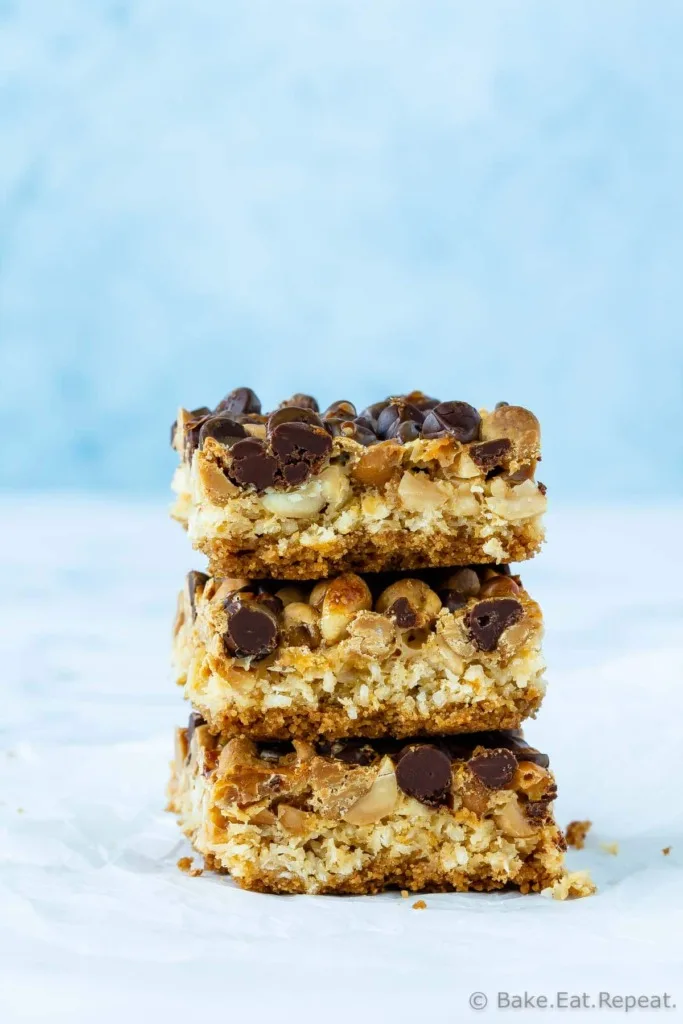 Do you refrigerate 7 layer bars?
You don't need to refrigerate 7 layer bars. There is nothing in them that requires refrigeration.
But we found that we liked them better chilled, and they were definitely less crumbly.
When they are chilled they stay together better, they're easier to cut, and they just taste better, in my opinion!
Use your preference though, as they don't have to be kept cold.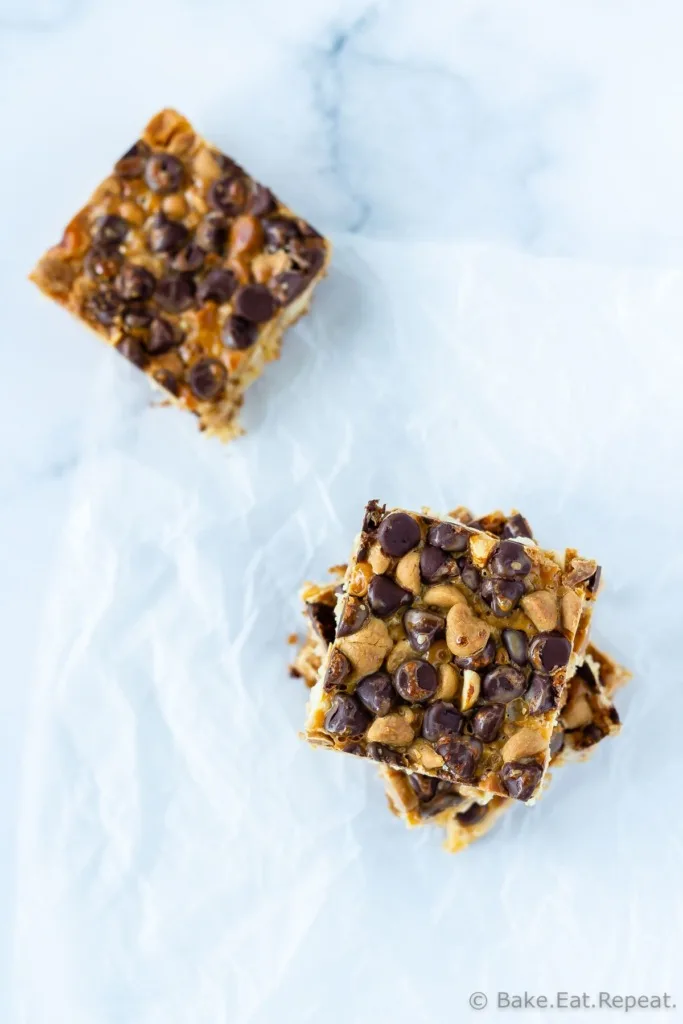 How long do seven layer bars stay fresh?
Once they have cooled completely, cut the bars into squares, and keep them in an airtight container.
Seven layer bars will stay fresh in an airtight container at room temperature for 3-4 days, and in the refrigerator for up to a week.
If your family is anything like mine though, they definitely won't last that long!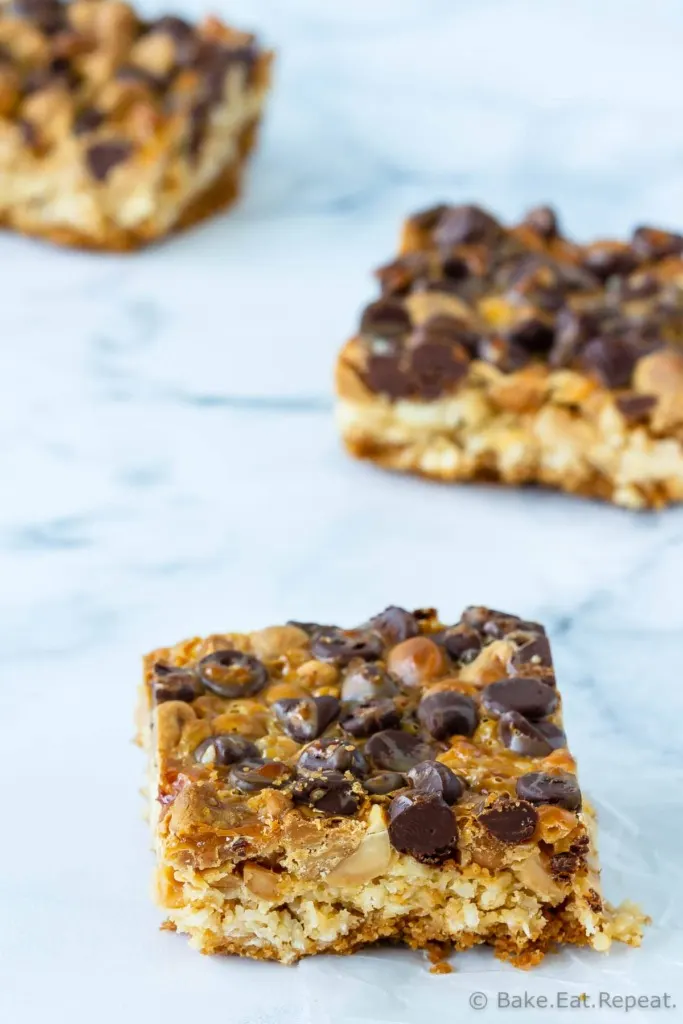 How do you cut bar cookies evenly?
The best way to cut bar cookies evenly is to use a foil or parchment paper sling in the baking dish.
Before layering the magic cookie bars into your pan, put a layer of aluminum foil or parchment paper, long enough that it hangs over the edges of the baking dish.
Grease the foil, and then layer your magic cookie bars into the pan.
Once your bar cookies have cooled completely, simply lift them out of the baking dish by the foil overhang and put them on a cutting board to cut.
This way you can use a large knife to cut them into even squares rather than trying to cut them in the pan. It's much easier to cut even bar cookies with a large knife.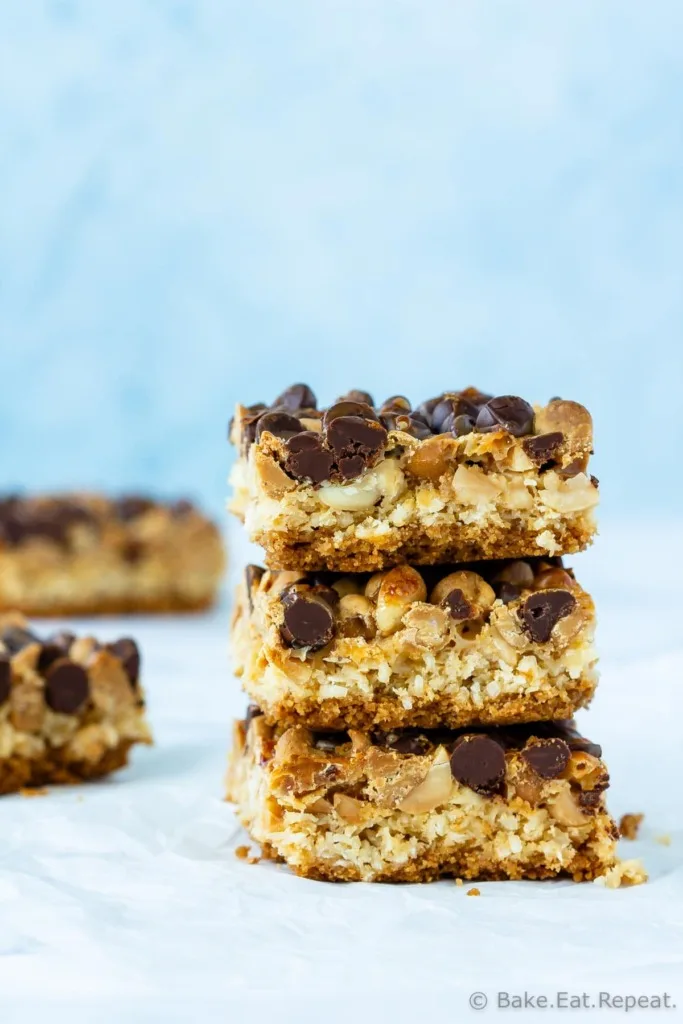 I also find it is much easier to cut bar cookies evenly if you chill them before cutting them.
After they have completely cooled, place the pan of cookies in the fridge for at least an hour before cutting them. This will help with any crumbling while you're cutting.
Even with those two tricks, these magic cookie bars tend to crumble a bit, especially at the corners, while you're cutting them. It's okay, they'll still taste fantastic!
I do find that chilling them before cutting them helps quite a lot.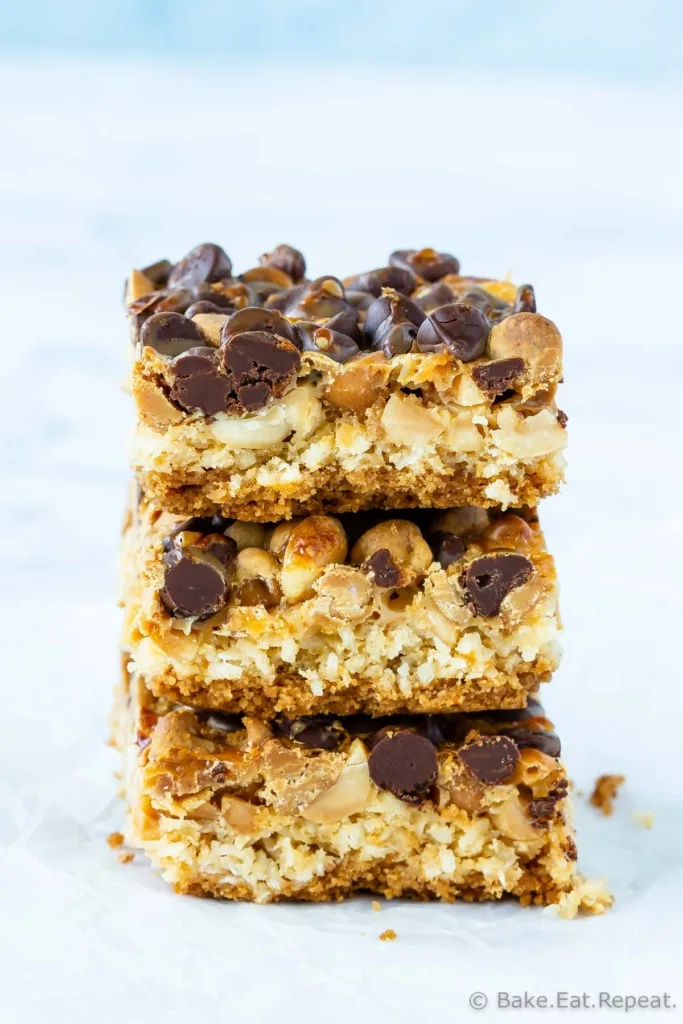 How to make 7 Layer Bars:
These 7 layer bars are so easy to make. Mix some butter and graham cracker crumbs together, press them into your baking dish, and layer everything else on top before baking. One of the easiest desserts to make!
7 layer bars are traditionally made with chocolate chips, butterscotch chips, coconut, and nuts (I believe walnuts are the most common). My version here uses chocolate chips, peanut butter chips, coconut, and peanuts – mostly because that's what I had, but also because we just like peanut butter chips more than butterscotch chips! The great thing about these 7 layer bars is that you can make them however you like. Use whatever combination of ingredients you have or prefer and they will be fantastic. The only thing you can't change is the sweetened condensed milk – you do need that!
We like these bars best chilled, but you can keep them at room temperature if you prefer. I do find they are more crumbly at room temperature though, so keep that in mind.
Here are some more great bar cookies for you: