A quick and easy pumpkin pie dip that tastes just like pumpkin pie, but in dip form! The perfect light dessert!
Watch how easy this Pumpkin Pie Dip is to make here: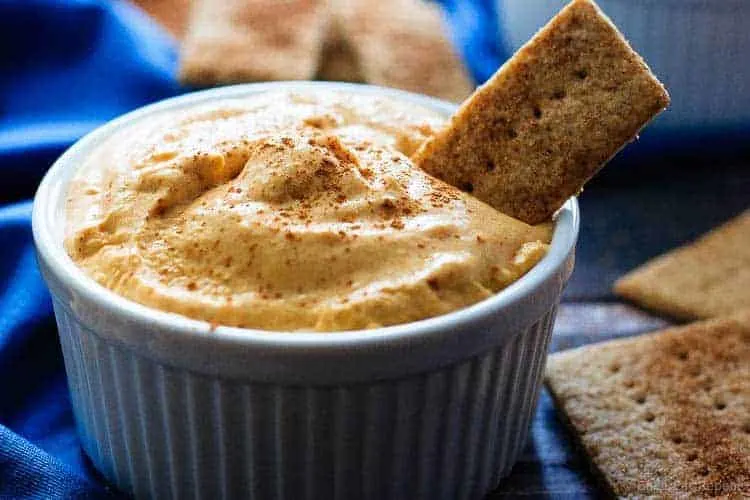 I finally have something for you involving pumpkin!
I'm so excited for my first pumpkin filled recipe. I love, love, love pumpkin and bake with it all year long – it's definitely not just a fall thing in my house. Pumpkin, pumpkin spice, all the pumpkin things are amazing as far as I'm concerned.
My husband doesn't agree at all. He'll eat pumpkin things occasionally in the fall, but any other time of year, he's not really that interested. And he thinks pumpkin spice lattes taste like a candle and need to go away. I don't even understand that. They're amazing. I am definitely getting around to making homemade pumpkin spice lattes this year just so that I can have them constantly without paying a small fortune for them!
Not that this recipe has anything to do with lattes, but whatever.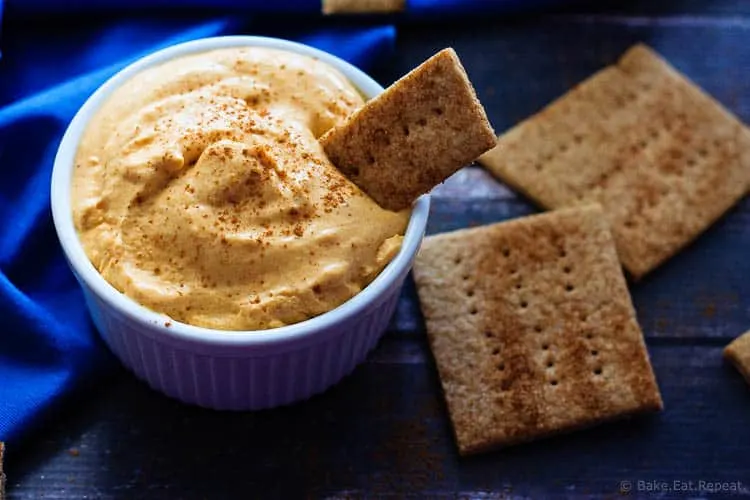 Pumpkin pie dip. That's what we have today. Basically this is my Grandma's pumpkin pie recipe, but in dip form. That's exactly what it tastes like. Without the baking and the eggs and the pastry of course. Super fast, super easy, and super tasty. This dip makes a great light dessert, and a perfect snack. It was a fantastic way to have a taste of pumpkin pie without all the effort of making a pie!
Whipping cream, yogurt and pumpkin puree are whipped together with some sugar and spices to make this great tasting pumpkin pie dip. We loved this with graham crackers and some fruit to dip in it. The kids can't get enough of this stuff and ask for it constantly in the fall.
So if you're craving pumpkin pie but don't actually want to make a pie – try this dip – you'll love it!