These oven baked ribs are my favourite way to prepare ribs – full of flavour, one of the easiest meals to make, and the whole family goes crazy for them!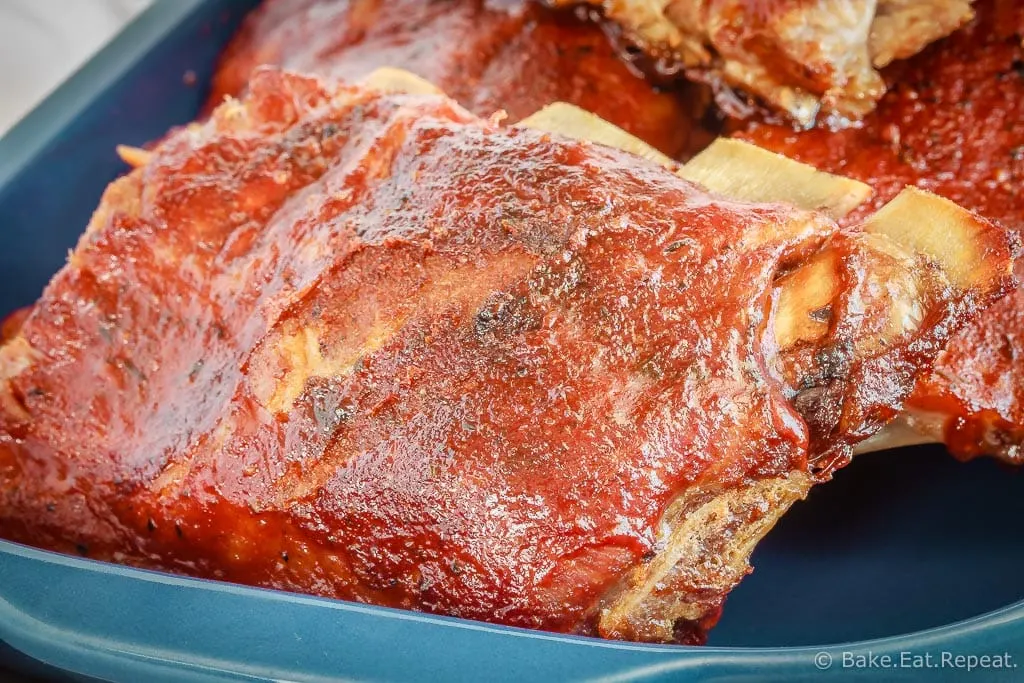 These oven baked ribs. They're just amazing – that's really all I can say about them.
Well, not really all. I can always find more things to say about really good food. We all know that.
But I don't really have to say much more, because they are amazing. So you should just scroll right to the recipe, go pick up some ribs, and make these as soon as possible!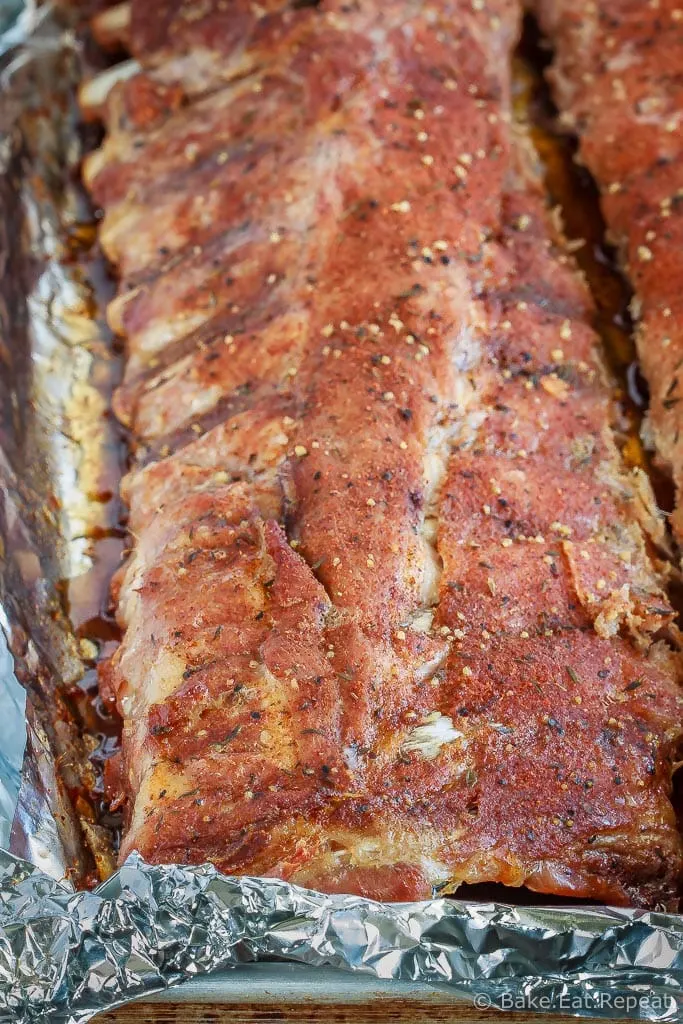 I found this recipe about 4 years ago (five?) and after changing a few things to make them work for us (not using Old Bay seasoning in the dry rub for one, since I've never seen that anywhere and don't even really know what it is!), I haven't branched out and tried any other recipes for ribs since. They're that good.
Every now and then, when they're on sale, I buy the boxed ribs instead. You know the ones – pre-cooked, a slab of ribs in the box, all you really have to do is heat them up? And those are great, don't get me wrong – they're a fantastic, easy and delicious way to enjoy ribs. But this summer we had those one week and the next weekend I made these again – and these oven baked ribs were the clear winner.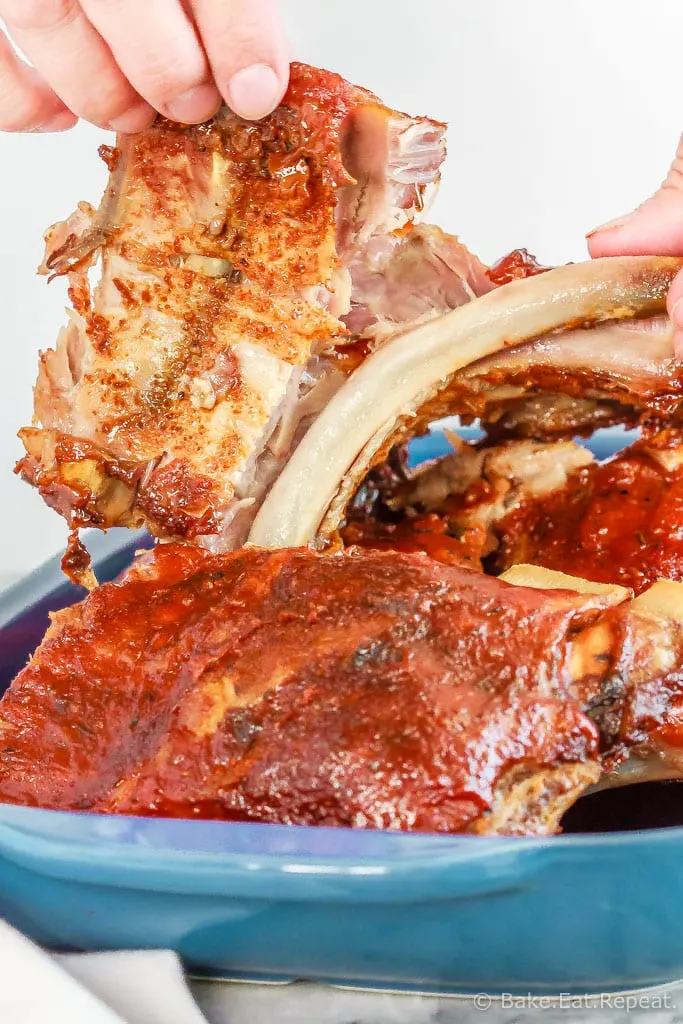 And they're not even a whole lot harder to make.
It literally takes about 10 minutes to mix up the dry rub (with ingredients you likely already have on hand) and get the meat ready for the oven. As long as you plan ahead a little to let them sit with that dry rub on for 8-48 hours, the actual cooking process involves putting the pan with the foil wrapped ribs in the oven. And then broiling or grilling with some BBQ sauce before eating. That's it.
So easy, and so tasty. Seriously – go get some ribs and make these. I kinda want to throw them on the menu plan (again!) for this week now after talking about them!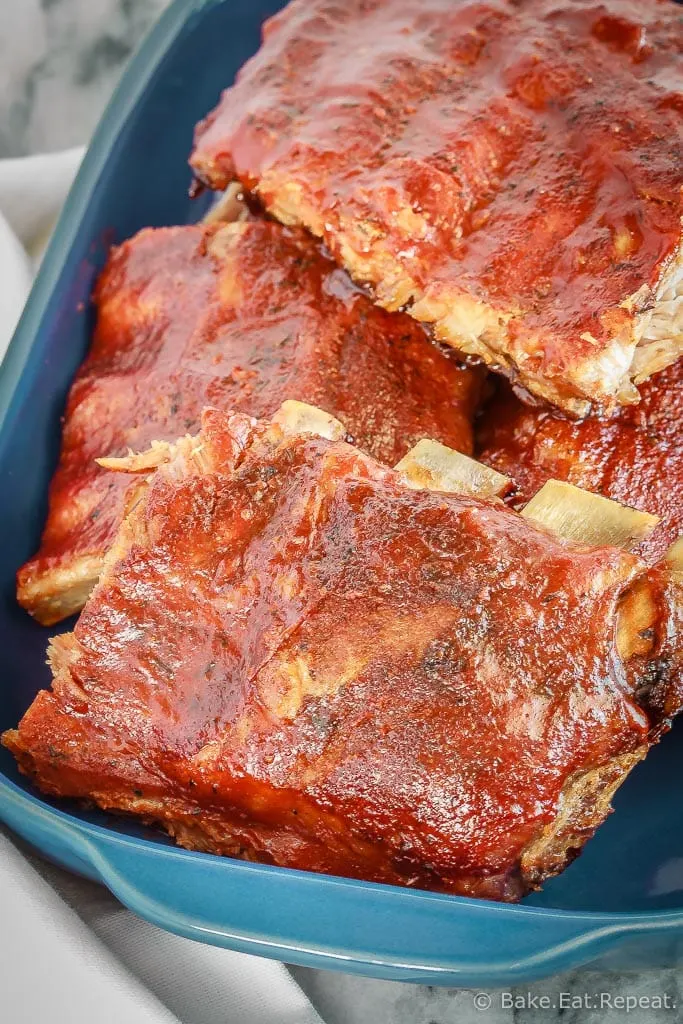 Tips for perfect oven baked ribs: