This brown sugar baked ham is easy to make and everyone that tries it loves it! Sweet, tender ham that is easy to make and tastes fantastic!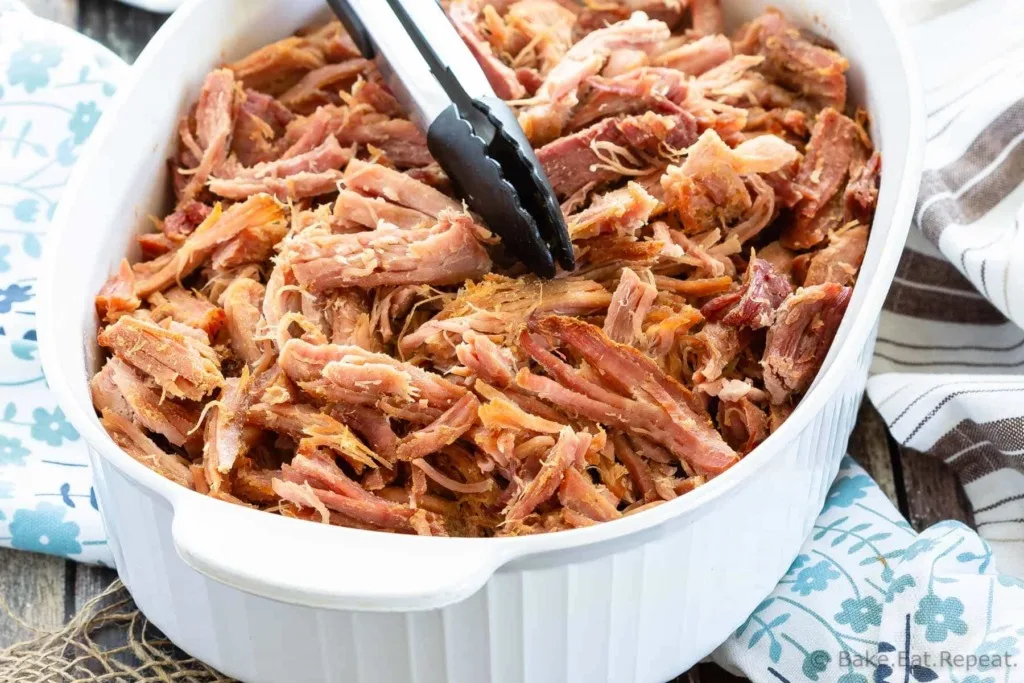 I've been making this brown sugar baked ham for years now, and I still love it just as much as I did the first time I made it.
It really is amazing.
But….the cooking method is a little weird. I'll admit it. I was skeptical the first time I tried it, but no longer. It really makes the best baked ham.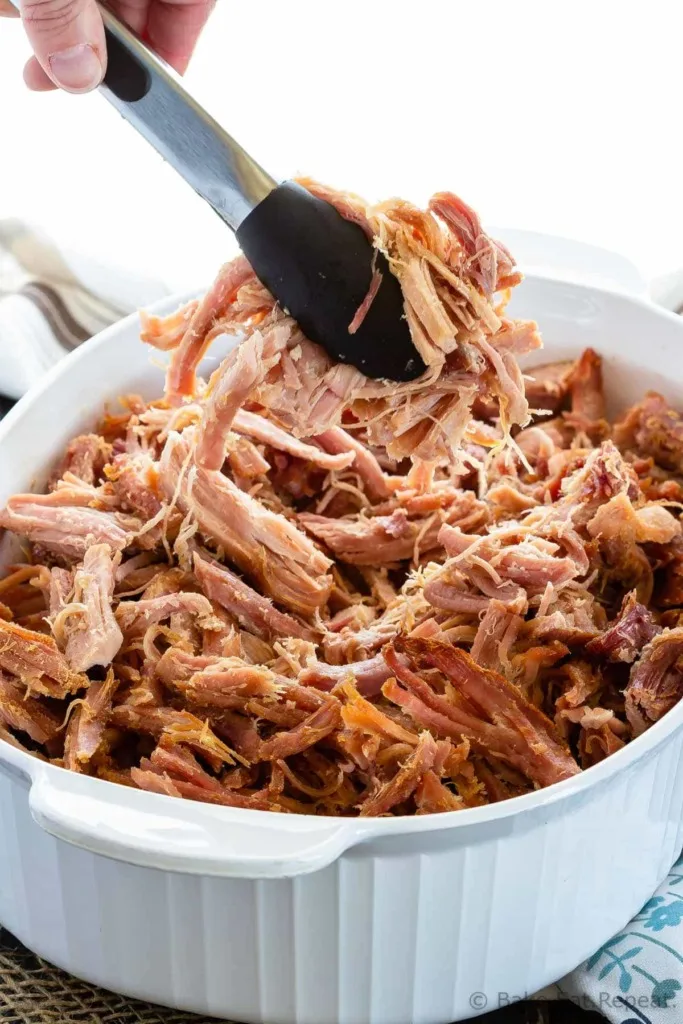 You need to pre-cook this ham before baking it. The first step is to boil the ham in a vinegar and water solution, or to pressure cook it in the vinegar/water solution if you have an Instant Pot. Then you shred the ham (it absolutely falls apart), layer it with brown sugar and dry mustard, and bake it.
It's amazing.
And it doesn't taste like vinegar, I promise. It tastes like the best brown sugar baked ham you've ever had.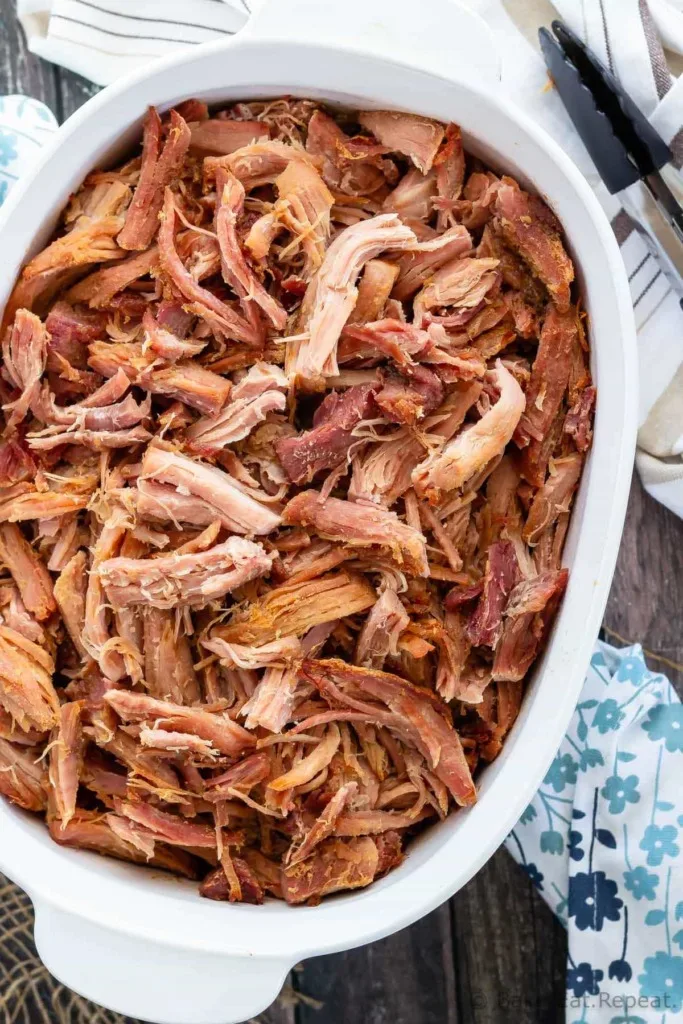 Is bone in ham better than boneless?
Boneless hams are easier to slice, but I have found that they don't have as much flavour as bone in hams, and the texture is sometimes a bit mushy. So I nearly always buy a bone in ham.
And the slicing aspect doesn't even matter for this recipe, because the ham gets so tender that slicing is almost impossible, and you need to shred it instead.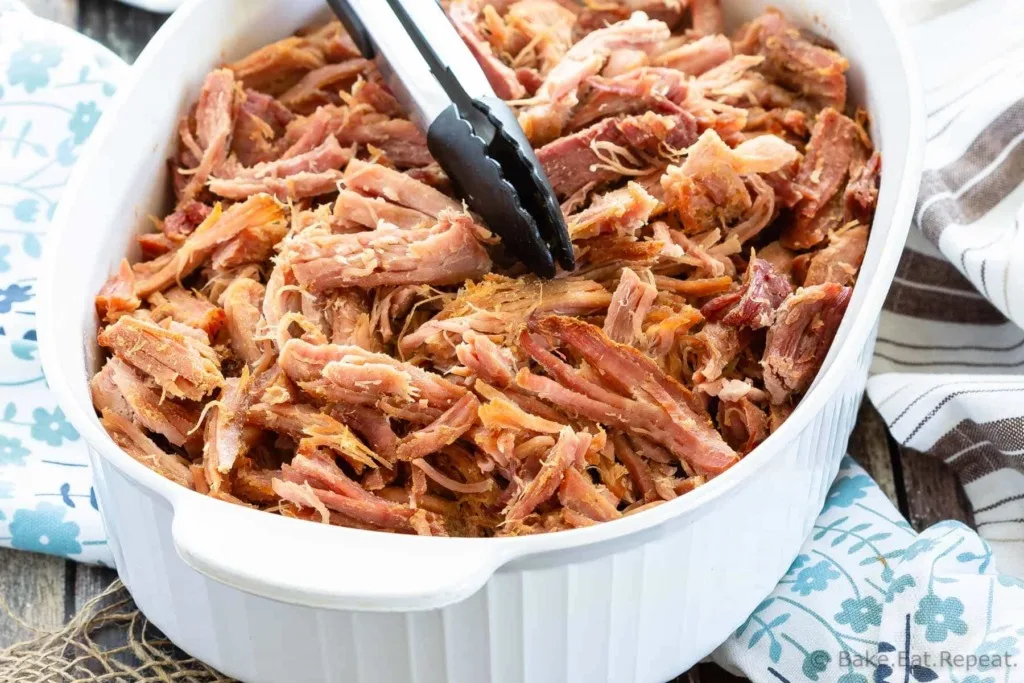 What's the best cut of ham?
I like to get a half ham, or shank ham, with the bone in. They are usually quite large but do freeze very well. So if you only want to cook half of it and freeze the other half that's an option. Or cook it and then freeze it for later.
The only kind of ham you will definitely want to avoid for this recipe is a spiral cut ham. A spiral cut ham will turn out quite dry with this recipe.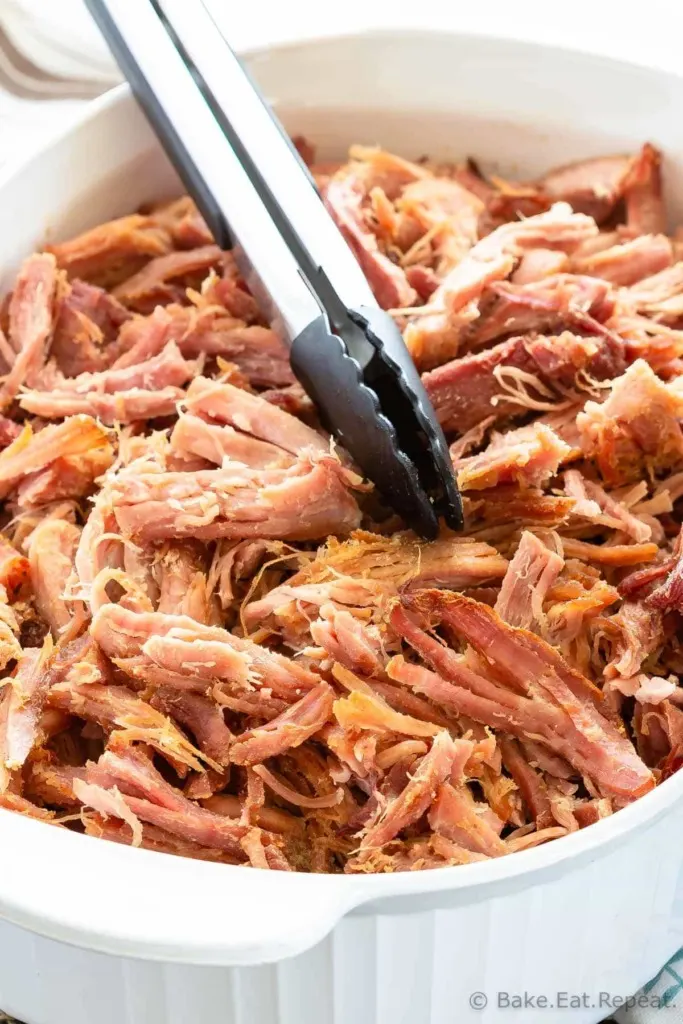 How many people will my ham feed?
A good estimate for how many people your ham will feed is 3/4 pound per person for a bone in ham and 1/2 pound per person for a boneless ham.
The ham I cooked this time was 8 pounds with the bone in, and 6 pounds once I removed it. So theoretically that should serve about 12 adults. I think it actually would have served 16-20, but it obviously depends on how much everyone present eats!
For my family of five this ham was enough for two dinners. We also fried some up with eggs for breakfast a couple times. Plus sandwiches at lunch for a few days. So it lasted just over a week in my house. Ham lasts for quite a while, so it's not a bad thing to have leftovers of!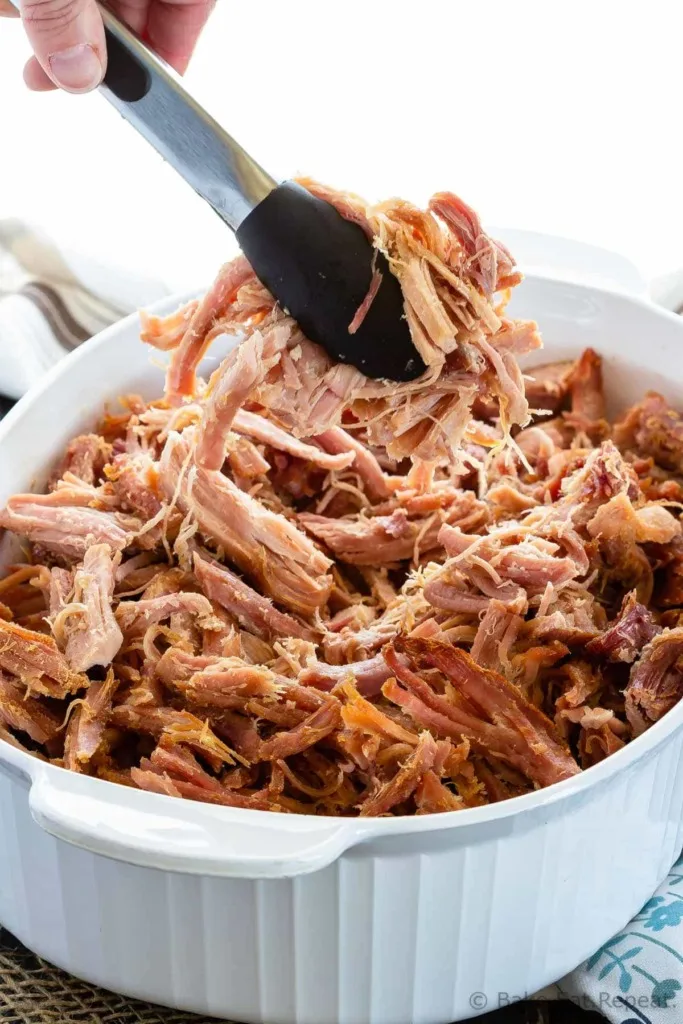 How to make Brown Sugar Baked Ham:
To make this brown sugar baked ham, you will need either a large pot that will fit the ham, covered with a water/vinegar solution, and with enough space left in the pot that you can keep it at a boil for 2 to 2 1/2 hours without it boiling over constantly and driving you crazy. Since trying this recipe in the Instant Pot I will likely never boil it again because it's so much easier and faster to pressure cook it! There are details on cooking it in the Instant Pot in the recipe notes.
Make sure to cook the ham long enough that it is falling apart easily. If it's not tender enough to shred easily then you should cook it a little longer. It should shred very easily.
You can prepare the ham for baking up to two days ahead of time. Do the vinegar/water step and layer it in the baking dish with the brown sugar and dry mustard, then cover it tightly and refrigerate until you're ready to bake.
Here are some great recipes for you that you can use the leftovers in: