An easy appetizer, this beef, spinach and mushroom strudel is made with puff pastry and everyone will love it.  A savoury strudel filled with ground beef, mushrooms, spinach and feta cheese and served with tzatziki dip – perfect for appetizer night!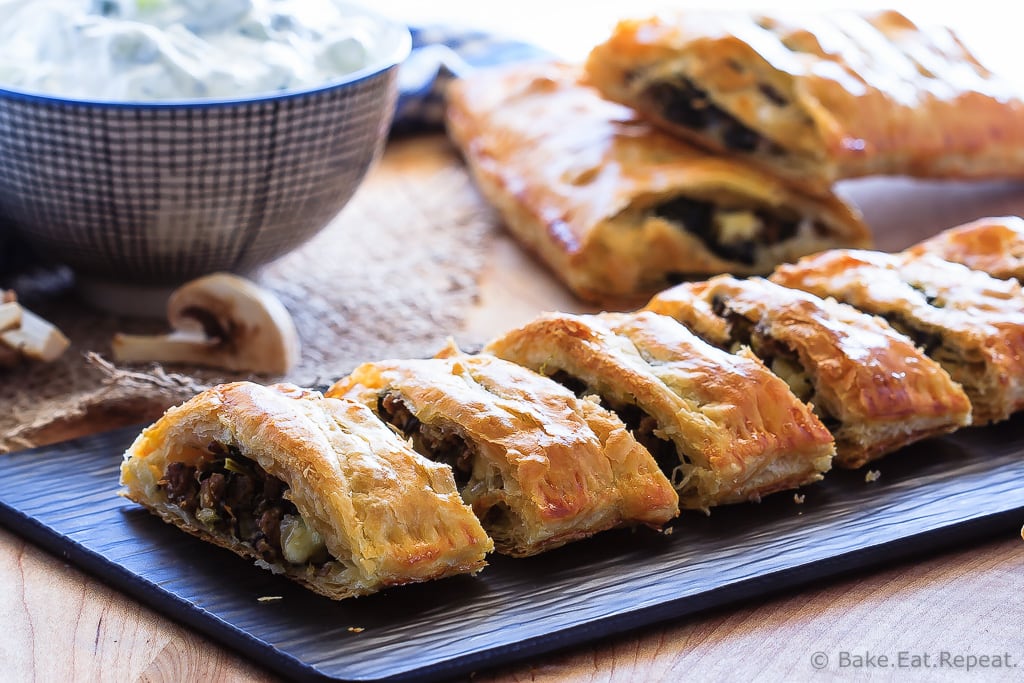 We love appetizers around here.  Whenever we go out to eat, it's always a bit of a dilemma, because we have a hard time deciding between actual meals or a few appetizers to split.  More often then not we go for the appetizers.  It's just so much better to get to try a few different things all in one meal!
So it's no surprise that we also love to do appetizer nights at home.  A little more effort I suppose, but just as fun!  We'll often stick to the tried and true favourites when we're in the mood for an appetizer night – like these Crispy Oven Baked Wings, or these Pretzel Bites, or plain old nachos.
Along with lots of veggies of course so we're still healthy – cause that's what appetizer nights are all about right?  Health food?  Um….yeah.  Just don't worry about that for a minute because I have a fantastic appetizer for you that you need to try!  And if you ignore the puff pastry part, it's not that unhealthy – lots of veggies at least.  (You should totally ignore the puff pastry part and go ahead and make this ASAP!)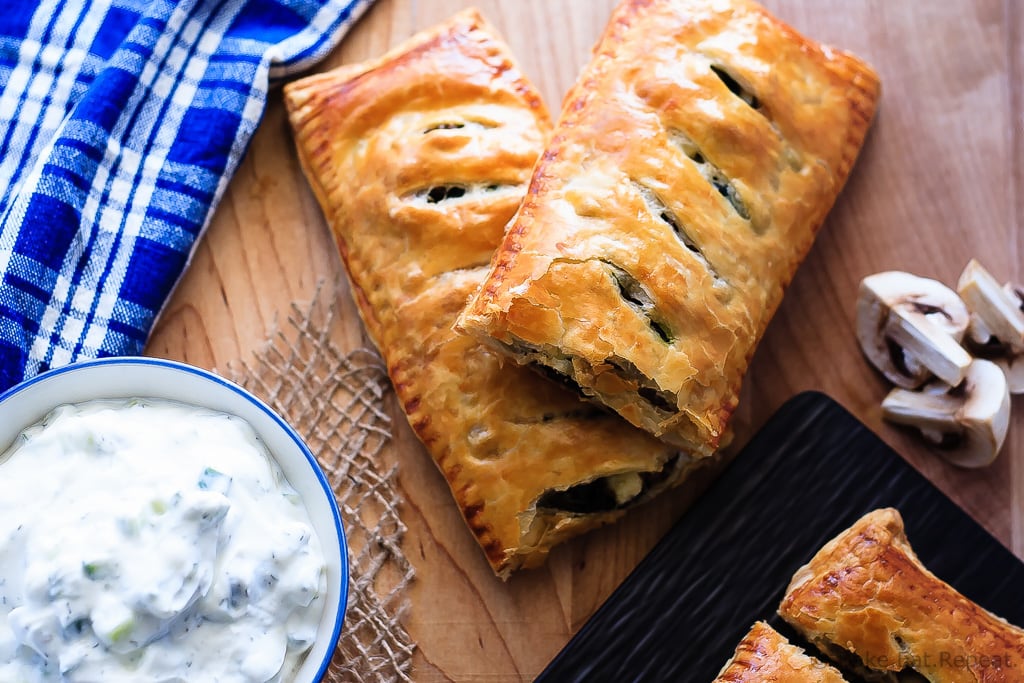 This beef, spinach and mushroom strudel is amazing.  I mentioned last week that I'm a bit of a tzatziki nut?  Well, I wasn't joking – I already have something else for you that involves tzatziki.  Couldn't even wait a couple of weeks to share it. That's okay though, because you all listened to my ramblings and made extra tzatziki like I said to since it's so awesome.  Right?
If not, no worries, because it takes about 2.3 seconds to whip up.  And it is the perfect accompaniment to this savoury mushroom strudel filled with ground beef, mushrooms, spinach and feta cheese.
Anyone up for an appetizer night?
Because it's way more fun then a regular meal.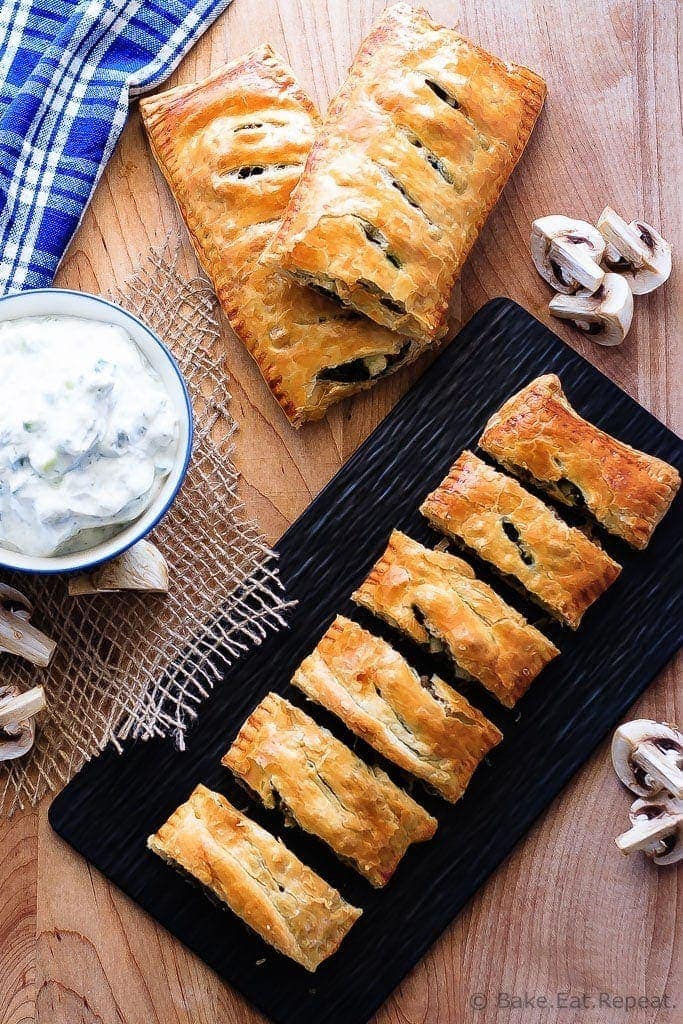 Yield: 3 - 12 inch pastries
Beef, Spinach and Mushroom Strudel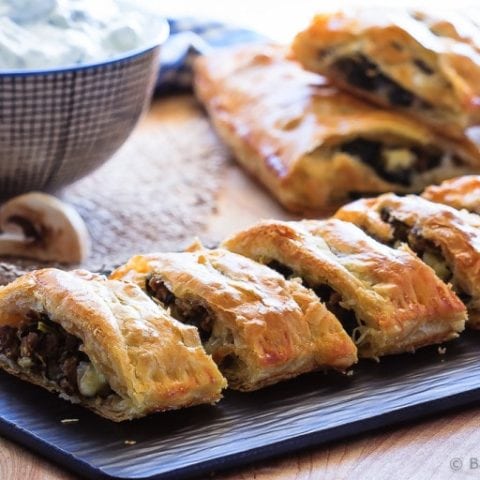 An easy appetizer everyone will love - this mushroom strudel is filled with ground beef, mushrooms, spinach and feta cheese, and served with tzatziki dip.

Prep Time 30 minutes

Cook Time 25 minutes

Total Time 55 minutes
Ingredients
For the pastries:
1/2 pound (227g) ground beef
1/2 medium onion, finely diced
2 cloves garlic, minced
1 cup finely diced mushrooms
1/2 tablespoon dried oregano
1/2 teaspoon pepper
1/4 teaspoon salt
1/2 package (10oz/300g pkg) frozen chopped spinach, thawed and drained
6 ounces (150g) feta cheese, crumbled
1 package (450g) puff pastry
1 large egg
1 teaspoon water
For the tzatziki sauce:
1 cup plain Greek yogurt
3/4 cup chopped cucumber
2 cloves garlic, minced
1/2 teaspoon dried dill
Instructions
Preheat the oven to 375 degrees F.
In a large, non-stick skillet over medium heat, brown the ground beef.
Drain the grease and add the onion, garlic, mushroom, oregano, pepper and salt.
Cook, stirring for 2-3 minutes until the vegetables have softened. Stir in the spinach and feta and cook for another 1-2 minutes.
Remove from the heat.
On a lightly floured surface, unroll the two sheets of puff pastry.
Cut each piece into three long, equal strips. Lightly roll each out a bit thinner with a rolling pin.
Place three of the pieces onto a parchment lined cookie sheet.
Divide the filling between the pieces of pastry, leaving a half inch space around the edges.
Place another strip of pastry over top of the filling and press the edges to seal them.
Crimp the edges with a lightly floured fork and cut slits into the top of the pastry to vent it.
In a small bowl, whisk together the egg and water and lightly brush the three pastries with the egg wash.
Bake for 25-30 minutes until the pastry is golden.
Serve warm with tzatziki sauce.
To make the tzatziki sauce, stir together the yogurt, cucumber, garlic and dill until combined and refrigerate until ready to use.
Recommended Products
This post contains affiliate links. As an Amazon Associate, I may receive a small commission from qualifying purchases.
Nutrition Information:
Yield:
10
Serving Size:
1
Amount Per Serving: Calories: 157Total Fat: 9gSaturated Fat: 4gTrans Fat: 0gUnsaturated Fat: 4gCholesterol: 55mgSodium: 266mgCarbohydrates: 6gFiber: 1gSugar: 2gProtein: 13g

Nutrition Information is estimated based on ingredients used and may not be exact.