Soft pretzels are one of the best foods ever.  EVER.
Okay, maybe that's overly dramatic for bread.  But I love them, especially once I discovered that the dry, hard to choke down pretzels that they sell at concessions are NOT really soft pretzels.  Or at least they're not good ones.
Then I tried Aunt Annie's (Anne's?) pretzels when I was in the States a few year ago, and have been in love with them ever since.  And both happy and sad that there is no Aunt Annie's store here.  Happy cause then I'm not tempted to get a pretzel every single day.  And sad cause I can't get a pretzel every single day.
And then I found out how incredibly easy it is to make soft pretzels.  And they're almost as good as Aunt Annie's!  I say almost, because I'm scared of using actual lye in my kitchen, and you DO need lye to make them perfect.  One day I'll get up the nerve. It just doesn't seem right to need protective gear while cooking.  You know?  But a baking soda wash is a pretty close approximation to the real thing, and entirely safe so that's a bonus!
These pretzel bites are absolutely divine.  They're soft and chewy and buttery and salty.  Perfect.
And so, so easy to make.  If you're scared of yeast breads, don't be.  This is seriously one of the easiest yeast doughs ever.  Mix everything together, let it rise, cut it up and dunk it in a baking soda wash and that's about it.  Easy.  AND delicious.
Too delicious.  I'm going to be making far too many pretzel bites.  Join me?
Happy Thanksgiving to all my American friends!
Yield: 5 dozen pretzel bites
Pretzel Bites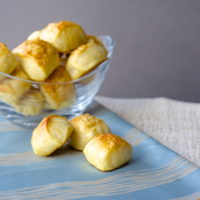 Ingredients
5 cups all-purpose flour
3 teaspoons instant yeast
1 teaspoon salt
1 tablespoon unsalted butter, melted
1 tablespoon brown sugar
2 cups very warm water
1/2 cup warm water
2 tablespoons baking soda
1/4 cup unsalted butter, melted (for brushing after baking)
coarse or kosher salt for sprinkling
Instructions
In the bowl of a stand mixer fitted with a dough hook, or in a large bowl, mix together the flour, yeast, salt, 1 tablespoon of melted butter, brown sugar and 2 cups of very warm water. Once the ingredients are combined, knead for 5-6 minutes by machine, or 10-12 by hand.
The dough should clear the sides and bottom of the bowl and be very soft and smooth, but not overly sticky. If it's too sticky add a bit more flour, a tablespoon at a time, if it's really dry and not tacky at all, add a little more water a tablespoon at a time.
Move the dough to a lightly oiled bowl and let rest for 30-60 minutes, the bowl covered tightly with plastic wrap.
Preheat the oven to 500 degrees F. Cut the dough into 6 pieces, and roll each of them out into 15 inch long ropes, then cut each rope into 10 pieces, each about 1.5 inches long (I don't actually measure any of this, just eyeball it, it doesn't need to be perfect!). Let the pieces rest uncovered for 10 minutes.
Line two baking sheets with parchment paper, or spray them with non-stick cooking spray. Mix the 1/2 cup warm water with 2 tablespoons of baking soda until combined. It won't stay in solution, but just give it a quick whisk to combine as well as possible after dipping a few pieces. Dip each of the pretzel pieces into the baking soda wash, coating completely, and place them on the prepared baking sheets. Sprinkle them with coarse or kosher salt.
Bake for 7-8 minutes or until they are golden brown. Bake one sheet at a time, the others will be fine to rest uncovered for a little longer. When they come out of the oven, brush thoroughly with the melted butter. Serve warm.