Every Sunday after church we have a big brunch, and often it's pancakes.  I know there's a thousand recipes for pancakes out there, but this is the one that I use and love.  They're nice and fluffy and thick, and can be made with either all-purpose or whole wheat flour.
I generally use half whole wheat so they're a bit healthier, and serve them with fruit and whipped cream or maple syrup.  Such a great brunch recipe as it comes together quickly and the leftovers (if there are any), freeze and reheat beautifully for quick weekday breakfasts.  Hope you like them as much as we do!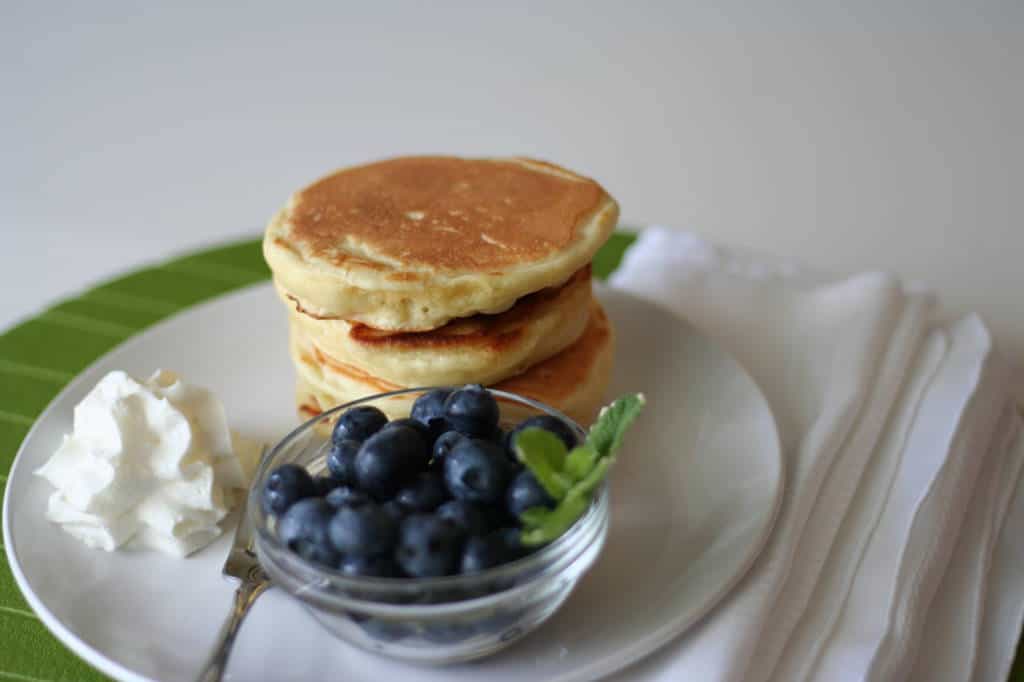 Pancakes
---
Yield: Serves 4-6
Note: This makes a generous amount, we usually have some leftovers with my family of 5, and the kids LOVE pancakes. They freeze well to reheat in the toaster or microwave for breakfast, or it's easily halved. I also generally use up to 2/3 whole wheat flour, and use milk mixed with some vinegar instead of buttermilk if I don't have it.
Ingredients
4 eggs
1 teaspoon baking soda
3 cups all-purpose flour
2 teaspoons baking powder
2 cups buttermilk
2 teaspoons sugar
1 teaspoon salt
4 tablespoons oil
Directions
Whisk together all of the ingredients until well combined, I usually use an electric mixer, but a regular whisk will do. The batter will be fairly thick, don't thin it out any more or they won't be as thick and fluffy, although they will still taste good if you prefer them thinner! Drop 1/8 to 1/4 cup of batter onto a hot skillet and cook until bubbles appear. Then flip and cook the other side. Remove to a warm oven and finish cooking the rest of the batter.
Notes
Source: I've had this recipe for a long time, making changes in the amounts to make them the way we like them! I have no idea where I got the original recipe. It was a cookbook that I've long since gotten rid of and I don't remember the name.
7.8.1.2
3
https://bake-eat-repeat.com/pancakes-recipe/