Almond flavoured cake that is dense and sweet. This almond cake is the perfect treat to add to your Christmas baking list!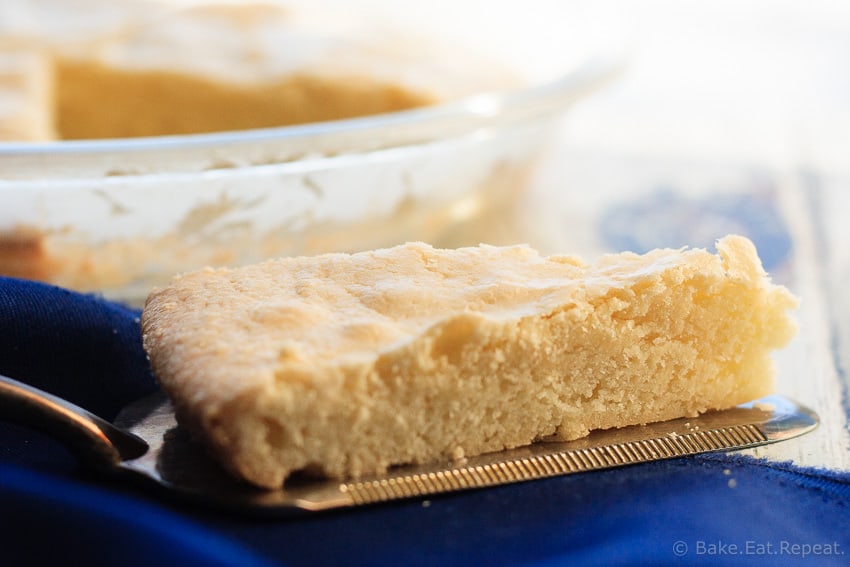 Yay for Christmas baking!
I have to say, it's one of my favourite things about Christmas.  Of course, everything about Christmas is my favourite thing about Christmas.  But still.  I love baking and it's fun to just make all the things at this time of year.
I always bake way too much because I love doing it and at Christmas it's okay to do way too much.  You know that there will be plenty of opportunities to give it away so I figure it's okay to do lots and lots of it!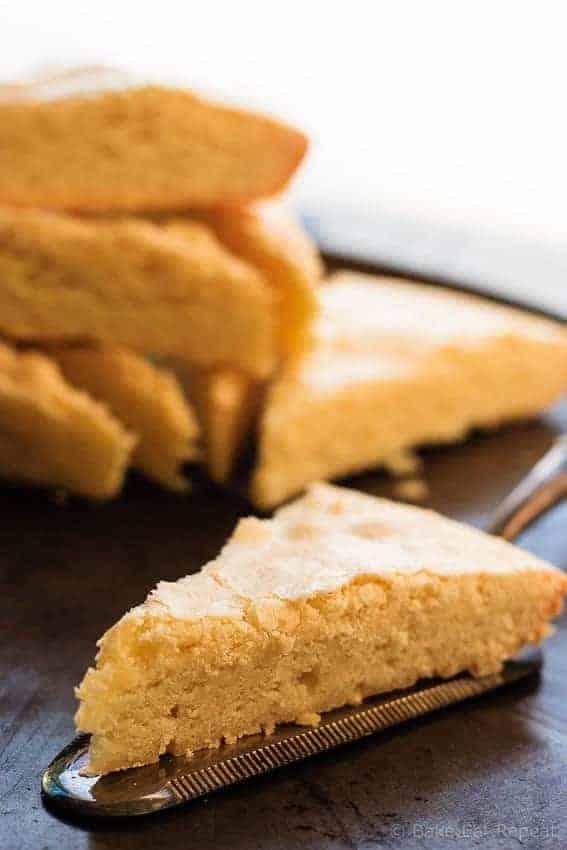 Plus, it's hard to narrow down the list.  Doesn't help that it gets longer every year.  I can't even make all the favourites anymore because there's too many of them.  These whipped shortbread and these peppermint pinwheels get made every year without fail, but after that I've had to start picking and choosing.  I'll ask my family what needs to be made, and the list just keeps growing.  So I've had to start making half batches of things just so that we can have more options.  This works well.  You get a taste of all the favourites but don't end up with a freezer full of the excessive baking!
This almond cake is one of my favourites.  It hasn't become a favourite with anyone else in my family yet, but it's one of those things that my mom made every Christmas when I was growing up and I always loved it.  It's a dense, sweet cake flavoured with almond that I adore.  My kids are starting to love it too, but I haven't made it every year so it's not in the "favourites" category just yet!  Pretty sure that will have to change.
This almond cake is absolutely amazing.  If you are wanting something a little different to add to your Christmas cookie plate, try this recipe.  Maybe it will become a new favourite for you!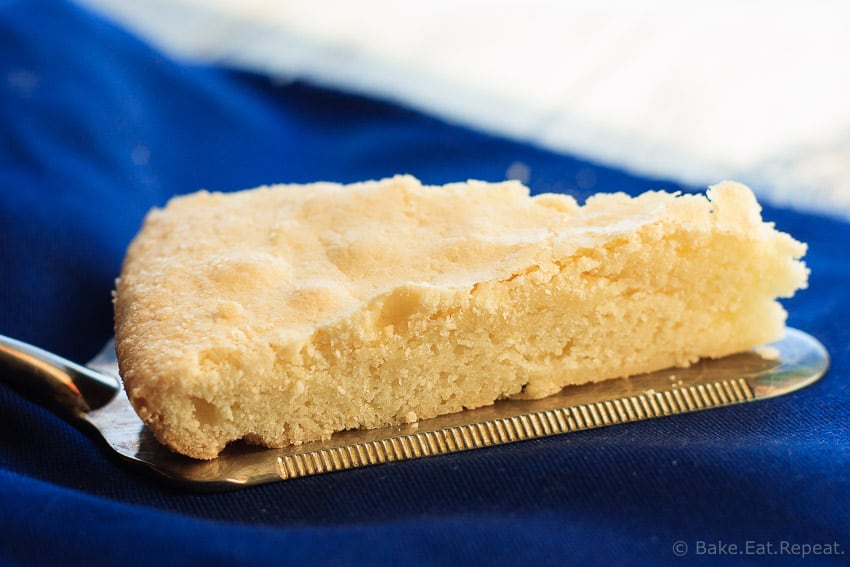 Tips for perfect Almond Cake:
Yield: 12-16 servings
Almond Cake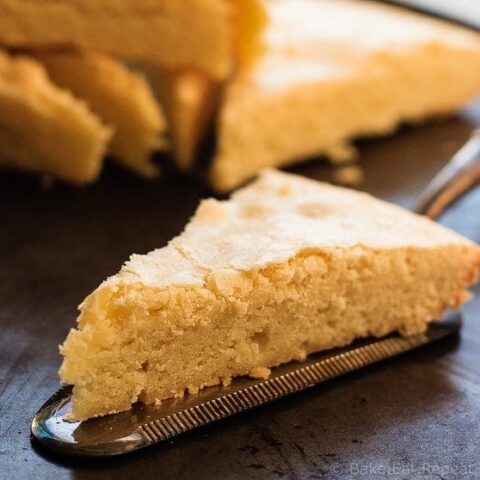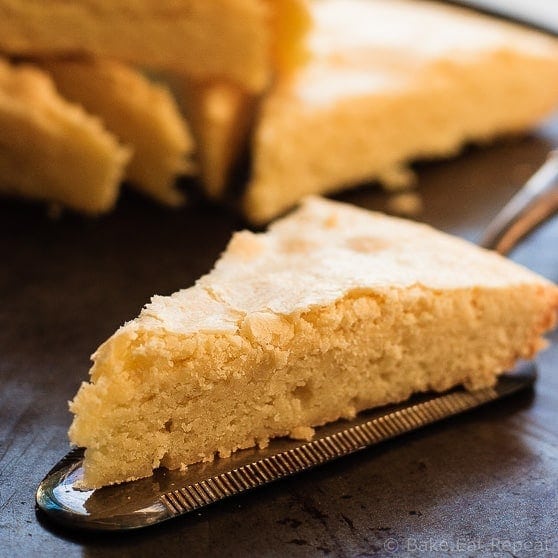 Almond flavoured cake that is dense and sweet. This almond cake is the perfect treat to add to your Christmas baking list!
Ingredients
1/4 cup butter, softened
1 cup granulated sugar
2 large eggs
1 cup all-purpose flour
2 teaspoons almond extract
Instructions
Preheat the oven to 350 degrees F.
Grease and flour a 9 inch round pie plate and set aside.
In a stand mixer, or in a large bowl with an electric mixer, cream together the butter and sugar until light and fluffy.
Add the eggs, one at a time, and beat well.
Add the flour and the almond extract and beat well.
Spread the batter in the prepared pie plate.
Bake for 10 minutes, then lower the oven temperature to 300 degrees F and bake for another 30-35 minutes until the edges of the cake are golden brown.
Let cool completely before slicing and removing the cake from the pan.
Store in an airtight container for 3-5 days at room temperature or freeze for up to 3 months.

Notes
This recipe is easily doubled if you want, just divide the batter between two pie plates.
Source: This is a recipe my mother has made for years and years - I'm not sure where it originated from!
Recommended Products
This post contains affiliate links. As an Amazon Associate, I may receive a small commission from qualifying purchases.
Nutrition Information:
Yield:
16 servings
Serving Size:
1
Amount Per Serving:
Calories:

113
Total Fat:

4g
Saturated Fat:

2g
Trans Fat:

0g
Unsaturated Fat:

1g
Cholesterol:

31mg
Sodium:

32mg
Carbohydrates:

19g
Fiber:

0g
Sugar:

13g
Protein:

2g
Nutrition Information is estimated based on ingredients used and may not be exact.
This post contains affiliate links, meaning that if you make a purchase through these links, I may receive a small commission.