I'm rather late to the quinoa party.  I tried it for the first time about 6 months ago, and didn't really like it.  But I was determined to keep trying it, because it's just so darn healthy.  I really felt like I should like it.
I think that it must be one of those things that tastes different depending on what it's made with.  I don't remember how I had it the first time, but I do remember not liking it at all.  Since then, it's been kind of hit and miss.  Sometimes I love it, sometimes I'd rather not finish my serving.  This quinoa dish though?  It's awesome.  I loved it, ate way too much of it, and was very excited to inhale the leftovers for lunch today.  And it was just as good the second time.
Now I won't say that I've convinced anyone else in the house to enjoy it yet, but I'm converted.  Although it'll probably still depend on what's with it.  This particular stirfry has a ton of flavour.  All the vegetables, and especially  the lime juice really make it an amazing side dish.  If I'd had cilantro I would have thrown that in too, I think it would go well.  We had it alongside some basa fish that I simply dredged in cornmeal and pan fried in a bit of olive oil.  It was the perfect light summer meal.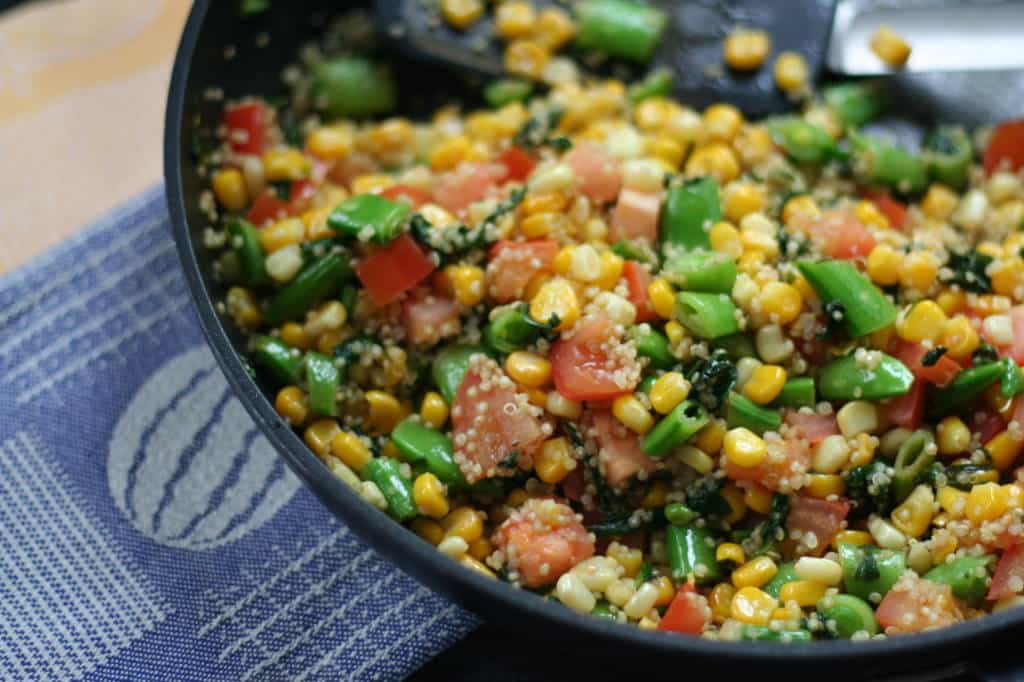 Yield: 4
Vegetable Quinoa Stirfry
Ingredients
1/3 cup uncooked quinoa, rinsed
1/2 cup hot water
1 tablespoon olive oil
1 1/2 cups spinach, roughly chopped
1 teaspoon garlic, minced
1 cup snap peas, chopped
1 1/2 cups corn kernels (I used frozen)
1 cup tomato, chopped
juice of 1 lime (about 2 tablespoons)
salt and pepper to taste
Instructions
Bring the quinoa and the water to a boil in a small saucepan, and then cover and simmer for about 13 minutes, or until all the water is absorbed. Set aside.
Heat the oil in a large frying pan over medium high heat. Add the spinach, garlic and snap peas and sauté for 2-3 minutes until tender crisp. Add the corn and cook for another 1-2 minutes until heated through. Finally, stir in the quinoa, tomato and lime juice and heat through. Add salt and pepper to taste and serve immediately.
It reheats well as leftovers the next day.