These little meat pies are super quick and easy to make, and my kids (and myself!) gobbled them up in no time.  Plus they were great reheated for lunch the next day.
I've made these with both puff pastry and phyllo pastry, and both are good.  I would imagine the filling would be delicious with homemade pastry as well, but then they wouldn't be nearly as quick to make!  I am going to try it with homemade pastry at some point though because I think those would be really amazing.
For today though, these turkey empanadas were made with phyllo pastry and made for a delicious meal, along with a green salad.  Enjoy!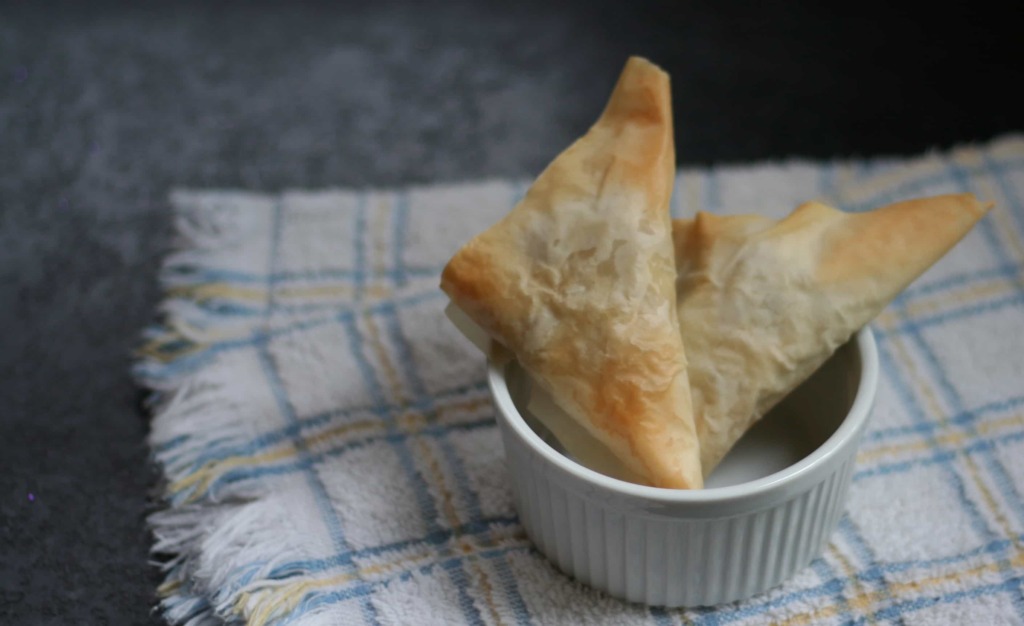 Yield: 4-6
Easy Turkey Empanadas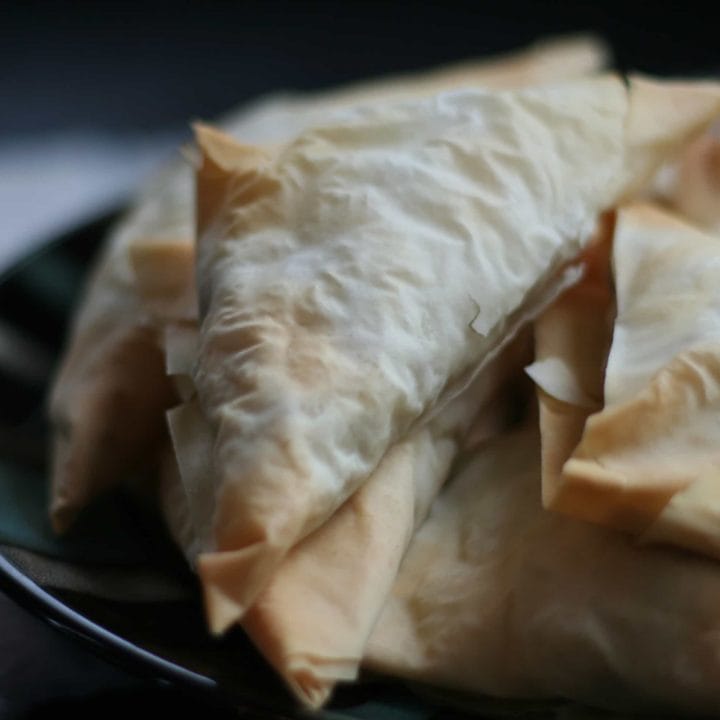 Ingredients
1 onion, chopped
1 pound (450 g) ground turkey
1/8 teaspoon cinnamon
1/8 teaspoon ground cloves
1/2 teaspoon cumin
1 teaspoon chili powder
3 cloves garlic, minced
1/4 cup cooking sherry (or sweet red wine)
1 cup salsa, plus more for serving
1/2 package phyllo pastry
melted butter (about 1/4 cup)
sour cream
Instructions
Preheat the oven to 375 degrees F.
Heat a non-stick frying pan over medium heat. Add the onion and ground turkey and cook, stirring, until the onion is translucent and the turkey is no longer pink.
Add the spices, garlic and sherry and simmer until there is no liquid remaining. Stir in the salsa, and simmer for 5 minutes, then remove from heat.
Lay one sheet of phyllo pastry on the counter and brush lightly with melted butter. Lay a second sheet on top of the first and brush again with butter. Cut the sheets into 3-4 inch strips and put a scoop of the meat filling at the bottom of each one (about 2 tablespoons). Then fold the bottom of the strip of pastry up and over the meat so the bottom edge is flush with the side edge of the strip. Continue folding it over on itself, forming a triangle shape, until the entire strip is used up. Repeat with the remaining strips of pastry.
Start over with two more sheets of phyllo and repeat until all of the filling is used up. Place the empanadas on a baking sheet and bake for 15-20 minutes or until golden brown.
Serve hot with salsa and sour cream on the side.