This sweet and spicy snack mix is quick and easy to mix up, and is absolutely addicting! Perfect to pack in a lunch, or just eat up straight off the pan!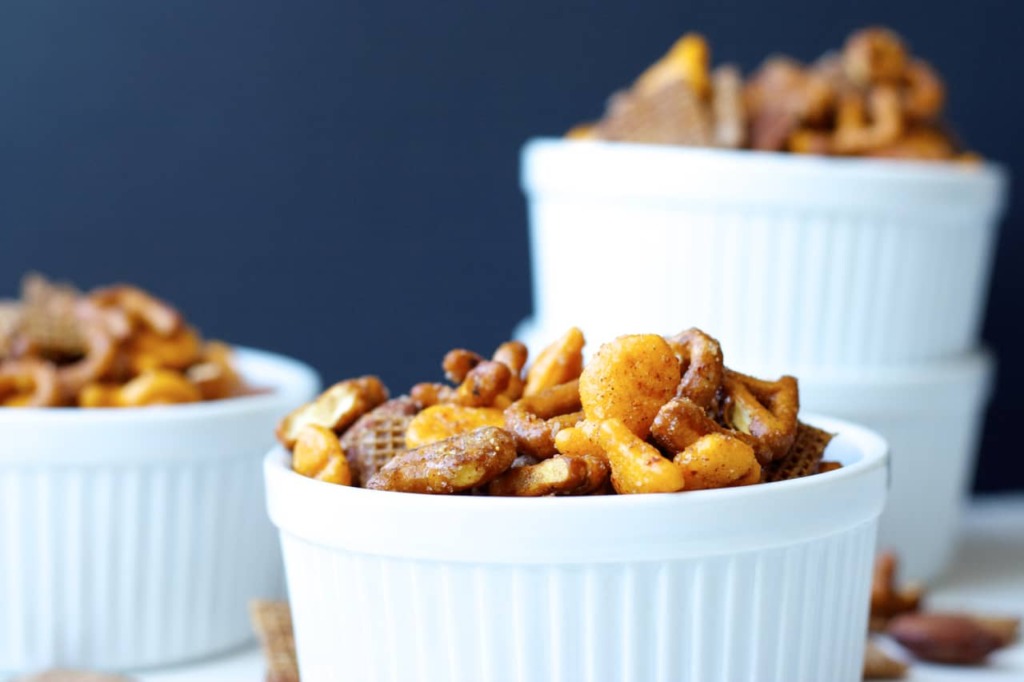 You know those snack mixes you can get, nuts and bolts or whatever they're called? I don't buy those often, but when I do they always disappear so quickly. I swear they must put something in those things that makes it impossible to stop eating them. I like snacking though, so having snacks on hand is a complete necessity in my house. And when they can be homemade? Even better.
Now, I'll admit this is not completely homemade. I did not make little goldfish crackers and shreddies cereal bits in order to get a snack mix. Obviously. That's just crazy talk. I don't have time for that. Spend 8 hours making a batch of goldfish crackers just to have them all gobbled up in 5 seconds? No thanks. I like making as much as I can from scratch, but I don't drive myself crazy with it either.
And sometimes you still want a tasty snack mix. The beauty of this mix is that you can use whatever "mix" ingredients you want. I used goldfish crackers, shreddies cereal, whole almonds, and some mini alphabet pretzels. But that can be changed to whatever you like. Use just pretzels if you want, more nuts, no nuts, different crackers or cereals. Whatever. The sweet and spicy coating on it is what makes it amazing. You can't go wrong with sweet and spicy in my opinion.
Of course, my kids don't totally agree with that. They thought this was a little too spicy. I thought it needed a little more heat. So feel free to adjust the amount of cayenne to your preference. I promised the kiddos that I'd make it plain old sweet next time, no spicy at all, but I kind of feel that might be a little boring. Oh well, I suppose I could make two batches, sweet and spicy for the adults and just plain sweet for the kids.
But I'm suspecting that they actually liked the hint of spice just fine. Or this is just as addictive as the store-bought variety. Because it was gone awfully fast, and I didn't eat very much of it!
Perfect to snack on, or to pack in a lunch. Plus, it's quick and easy to whip up. Can't ask for more than that!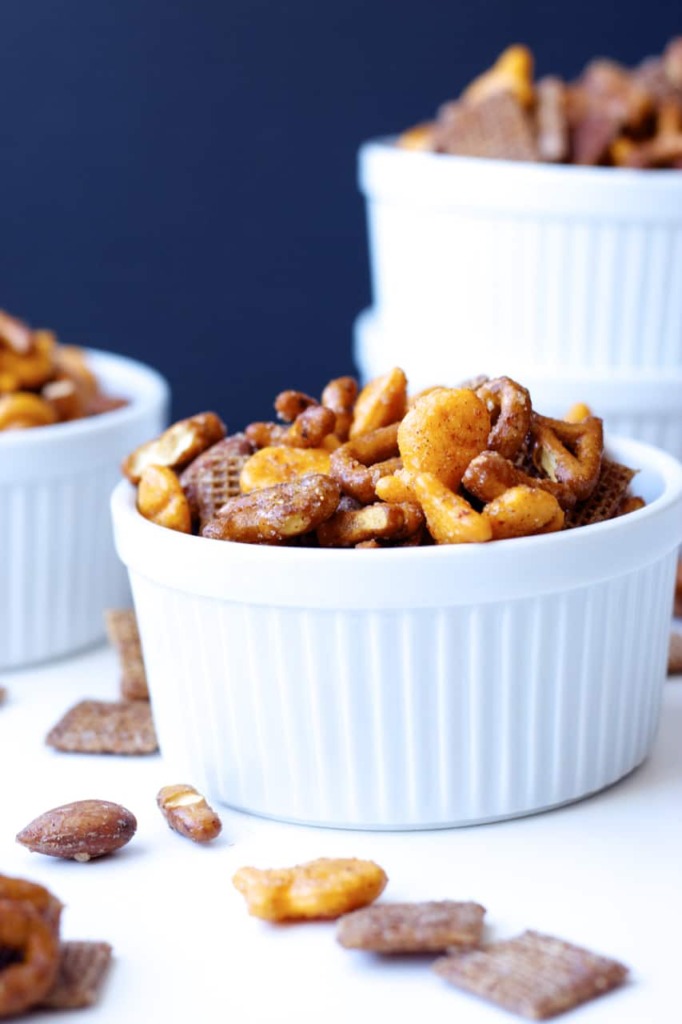 Tips for perfect Sweet and Spicy Snack Mix:
I also shared the sweet and spicy snack mix recipe over at Food Fanatic.
This post contains affiliate links, meaning that if you make a purchase through these links, I may receive a small commission.