Quick and easy sweet and sour meatballs with green pepper and pineapple.  On the table in 30 minutes and the whole family will love them!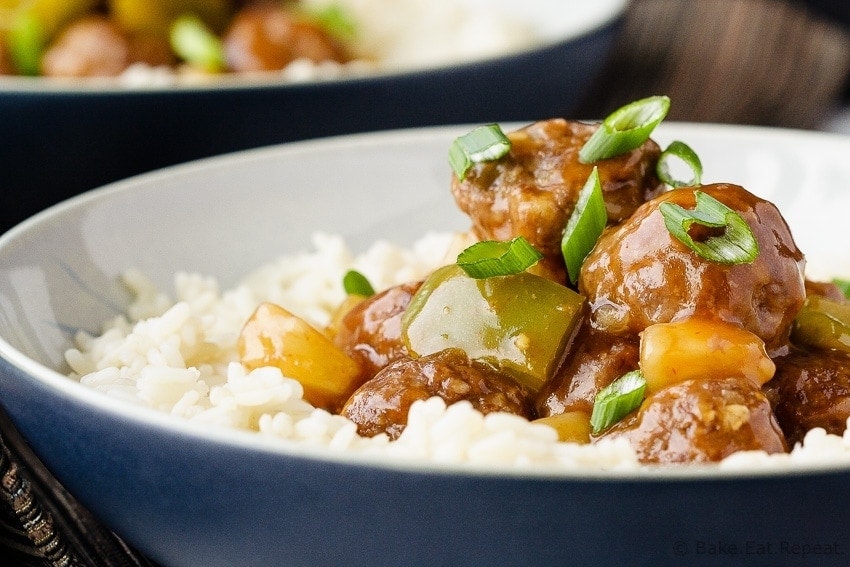 So, my mom makes the best sweet and sour meatballs.  Ever.  She makes them every year for our family's big Christmas Eve get together and every year they are all gone, even though there's a ton of food there and she makes a boatload of them.  Because they're the best.
I may be biased, but I don't know if anyone that has had her sweet and sour meatballs would disagree with me on this.
And I finally got the recipe.  That's right, been cooking for a lot of years now, and clearly I enjoy it, and yet I have never made this recipe myself.  Enjoyed it every Christmas, but for some reason never got around to getting the recipe and making something that my whole family loves.  I'm kinda sorta kicking myself for taking so long to make these.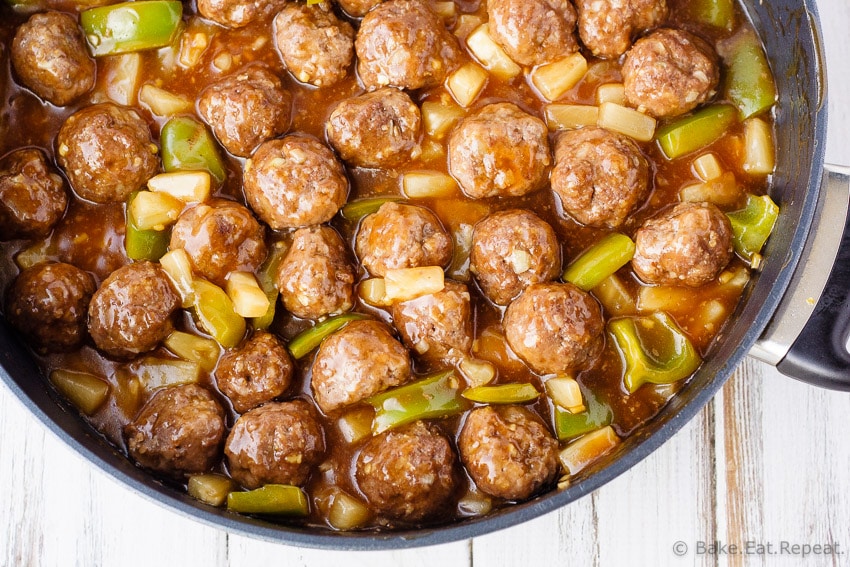 My family inhaled this meal.  Plus, it was super quick and easy to make.  Which is perfect since it's 30 minute Thursday again and I needed a quick and easy meal to share with you today!  Make sure to scroll down to the bottom of this post for a list of other 30 minute meals from my blogging friends – the links are below the recipe.
The great part about this sweet and sour meatball recipe (besides how tasty it is!) is that it doesn't take a whole lot more time to double or triple the meatballs that you make, and then you can freeze the extras for a super fast meal another night.  Or you can cook everything up earlier in the day (or the day before) and then throw everything in the slow cooker a few hours before you want to eat to let the meatballs simmer away.  This is what my mom always does in order to bring a hot dish to a party.  These are perfect as a meal, or as an appetizer, depending on what you need.
One of my favourite things, a fast and easy recipe that is also adaptable.  And the whole family loves it.  Doesn't get much better.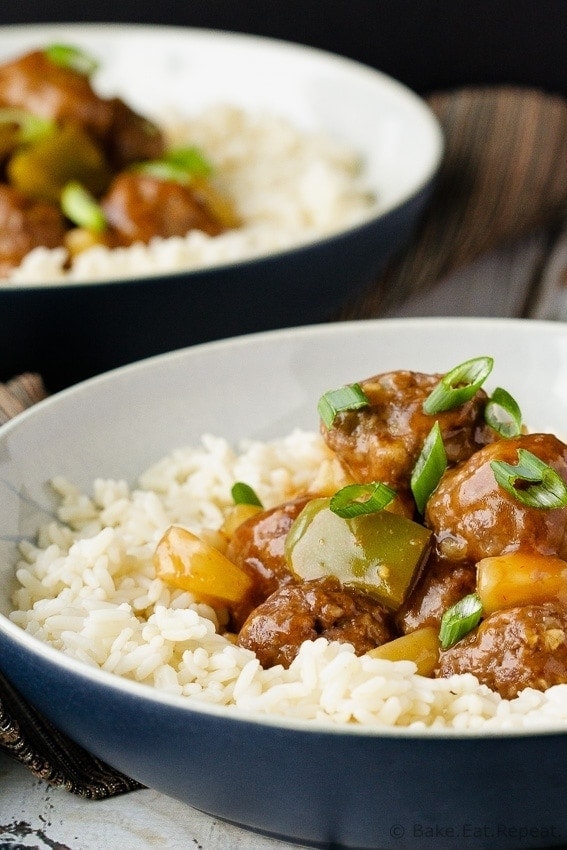 Yield: serves 4
Sweet and Sour Meatballs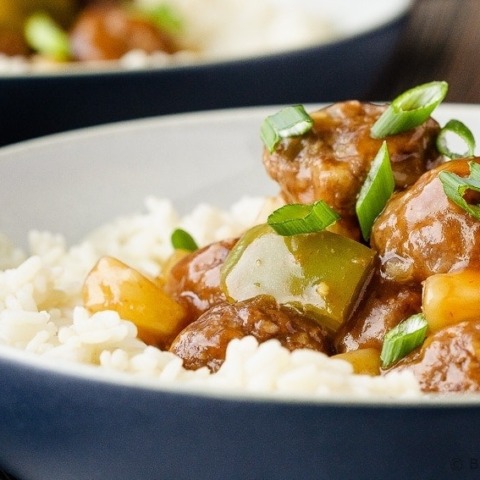 Quick and easy sweet and sour meatballs with green pepper and pineapple.  On the table in 30 minutes and the whole family will love them!

Prep Time 15 minutes

Cook Time 15 minutes

Total Time 30 minutes
Ingredients
For the meatballs:
1 pound (450g) lean ground beef
1 large egg
1/4 cup milk
1/2 cup breadcrumbs
2 tablespoons finely chopped onion
3/4 teaspoon salt
1/2 teaspoon Worchestershire sauce
For the sauce:
1/4 cup ketchup
1/2 cup brown sugar
1/3 cup white vinegar
1 tablespoon soy sauce
1 tablespoon minced or grated ginger
2 tablespoons cornstarch
1 green pepper, cut into 1 inch pieces
1 can (19 fl oz, 540 mL) pineapple chunks and juice
sliced green onions, to garnish (optional)
Instructions
Preheat the oven to 425 degrees F.
In a large bowl, mix together the ground beef, egg, milk, breadcrumbs, onion, salt and Worchestershire sauce until well combined.
Form the mixture into 1 inch meatballs and place them on a broiler pan or baking sheet. I like to use a 1 tablespoon cookie scoop or a melon baller to portion out the meat into balls and then roll them into tight meatballs with my hands.
Bake the meatballs for 15 minutes, or until they are cooked through.
In a small bowl, whisk together the ketchup, brown sugar, vinegar, soy sauce, ginger, pineapple juice and cornstarch.
Heat a large skillet or saucepan over medium heat.
Add the green pepper chunks and saute for 2-3 minutes until slightly softened.
Add the sauce and stir to combine. Stir in the pineapple chunks.
Bring to a boil over medium heat, continue cooking for 1-2 minutes until thickened, and then lower the heat to a simmer.
Add the cooked meatballs to the pan and stir to coat them in the sauce.
Serve over hot rice with sliced green onions sprinkled on top.
Notes
These meatballs freeze very well if you want to double or triple the meat recipe for a really fast meal another night. Just bake them and let them cool completely on a wire rack before placing them in a ziplock bag or airtight container to freeze.

This can also be kept warm in the slow cooker if you need to make it ahead of time. Bake the meatballs the same way and then place them in the slow cooker. Make the sauce on the stovetop as written and then pour the hot sauce over top of the meatballs and cook on low for 1-3 hours (shorter time if everything is hot to begin with, longer if the meatballs are cold). Don't leave it in the slow cooker all day though as a longer cooking time tends to cause the sauce to thin and not be as flavourful.
Recommended Products
This post contains affiliate links. As an Amazon Associate, I may receive a small commission from qualifying purchases.
Nutrition Information:
Yield:
4
Serving Size:
1/4 recipe
Amount Per Serving: Calories: 455Total Fat: 9.6gSaturated Fat: 3.5gCholesterol: 149mgSodium: 1045mgCarbohydrates: 51.6gFiber: 2.8gSugar: 33.2gProtein: 39.8g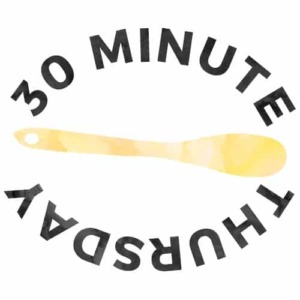 Mushroom Barley Soup from Pumpkin 'N Spice
Linguine with Poached Egg and Asparagus from Sweet Peas & Saffron
30-Minute Spicy Orange Shrimp Teriyaki from Flavor the Moments
Browned Butter Shrimp and Rice Bowls with Sautéed Kale and Avocado from Floating Kitchen
Spinach Pesto and Tomato Flatbread Pizzas from Kristine's Kitchen
Tex-Mex Taco Salad from My Kitchen Craze
30-Minute Turkey Bolognese Zucchini Noodles from Whole and Heavenly Oven
20-Minute Ham and Pineapple Rice from The Recipe Rebel
Seasoned Chickpea Taco Salad with Avocado Ranch Dressing from She Likes Food