I had the most beautiful looking, healthy dessert/breakfast cheesecake tart thing with a maple leaf made out of strawberries on top that I was going to share with you today.  This isn't it.  In case you missed that.
It was a little disappointing, I must say.  I was so proud of myself for actually making a cutesy holiday type food to share for Canada Day.  And it was cheesecake but healthy enough to have for breakfast.  AND I managed to make a maple leaf that actually kinda sorta looked like a maple leaf out of strawberries on top.  But….it just wasn't that good.  I mean, we ate it.  And the kids actually really loved it.  But my husband and I just thought – meh.  And that's not worth sharing.  But it was so pretty, so I may need to make another maple leaf type thing for Canada Day next year.  Stay tuned.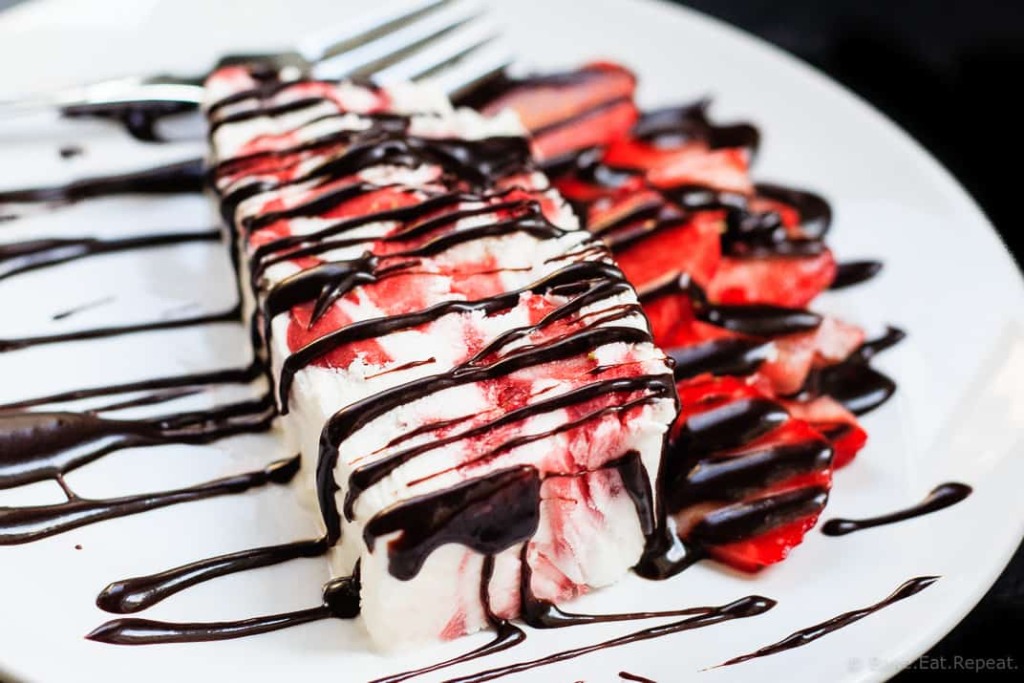 I obviously couldn't let the holiday pass without something all red and white and perfect for a party though.  Plus, it's really hot right now.  So ice cream it was.  Strawberry yogurt terrine to be exact.  Much more dessert-y then my first thought for the holiday, and less healthy, but there's still yogurt in it, and lots of strawberries, so not too bad as far as ice cream goes!
And so red and white and pretty!  Right?
I've never made a terrine before.  Hadn't even heard of them until I started stalking food blogs a few years ago.  Evidently it's a thing.  Of course, when I googled "terrine" just to make sure I was spelling it right, all I found was "French forcemeat loaf similar to a pate".  Um…. no thanks.  Maybe it's good – I like pate, but it really doesn't sound like something enjoyable!
So maybe "terrine" is not what these ice cream loaves are supposed to be called, or maybe it's just what people started calling them since they're made in a loaf pan.  Whatever the case may be, they're delicious.  And oh so easy to make.  I may just be making them incessantly this summer – because, so many combinations to try!
For now though, this strawberry yogurt terrine is pretty amazing, so we will be enjoying this creamy, cold dessert on Canada Day next week.  Red and white and so, so tasty.  And for my American friends, just add some blueberries and you have the perfect red, white and blue dessert for the fourth of July!
Also, you should probably drizzle melted chocolate over it.  It's not red or white (or blue), but it's pretty awesome.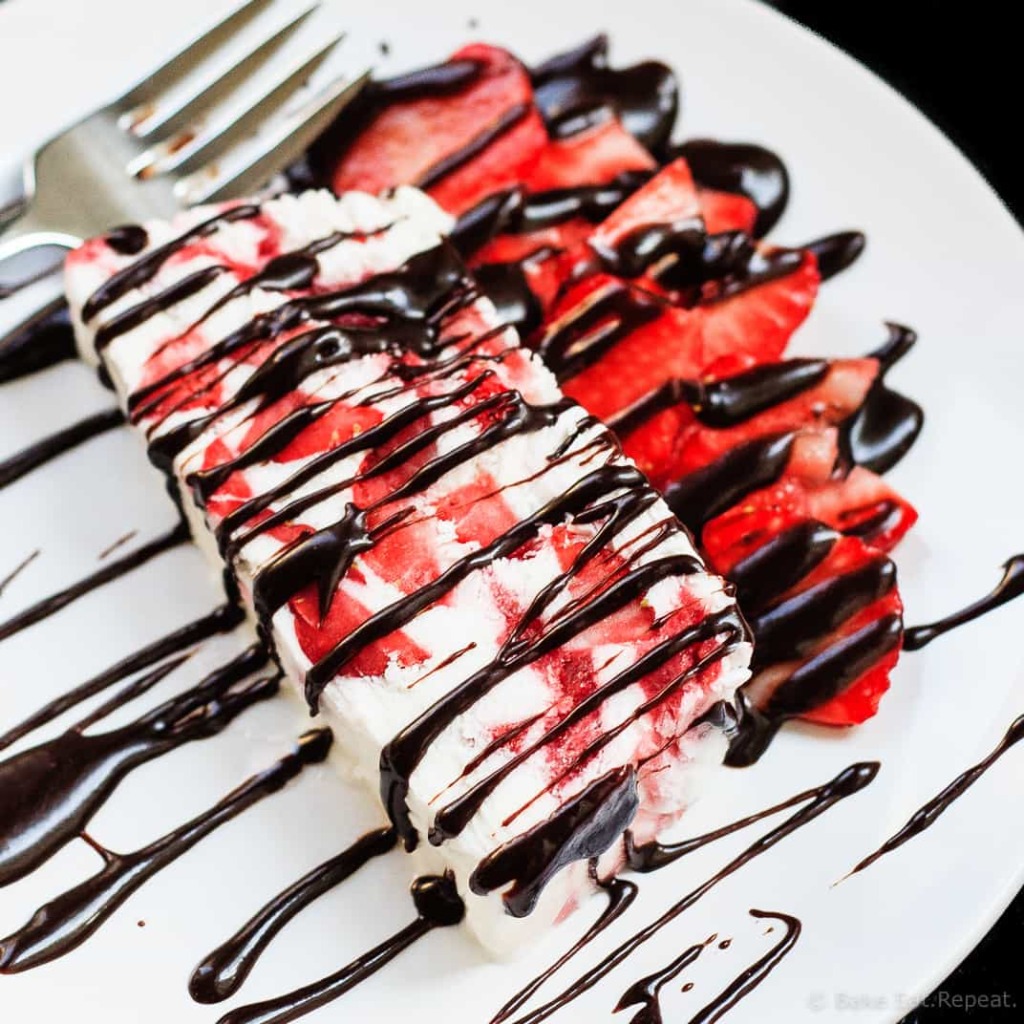 Yield: serves 8-10
Strawberry Yogurt Terrine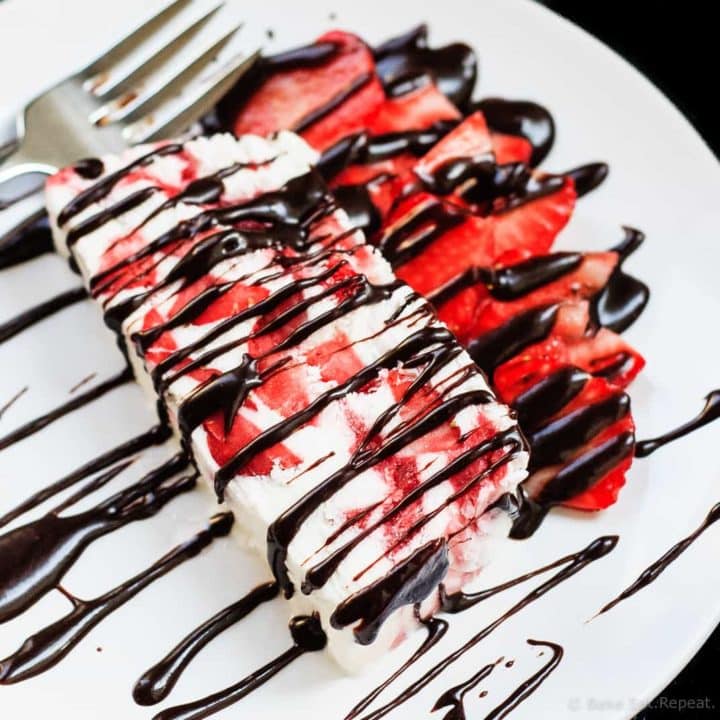 *Note:* To make 1/2 cup strawberry puree, simply blend 1/2 - 3/4 cup chopped strawberries in a blender until pureed, adding a bit of water if necessary.
Ingredients
1 cup heavy cream
1 cup plain Greek yogurt
1/2 cup granulated sugar
2 cups chopped fresh strawberries
1/2 cup strawberry puree
Instructions
Line a loaf pan with plastic wrap, leaving a large overhang to make it easier to remove the terrine when it's frozen. Set aside.
In the bowl of a stand mixer, or with an electric mixer, whip the heavy cream and plain Greek yogurt together until soft peaks form, 1-2 minutes. Scrape the sides of the bowl, and continue to whip on low speed while slowly adding the sugar. Continue beating until stiff peaks form, about 1 minute.
With a rubber spatula, gently fold the chopped strawberries into the whipped cream. Spread one third of this mixture in the bottom of the prepared loaf pan. Spread half of the pureed strawberries on top of this. Repeat with another third of the whipped cream, the rest of the strawberry puree, and the last third of the whipped cream. Smooth the top of the terrine and cover it with plastic wrap.
Freeze until solid, at least 6 hours. Slice with a hot, sharp knife and serve cold with sliced fresh strawberries and drizzled chocolate if desired!
Notes
Source: Bake.Eat.Repeat. original.