Chicken salad is such a great lunchtime sandwich filling. Or cracker topper. Or snack to eat with a spoon. I love it.
I also love that there are so many ways to make it and change it up and have a completely different lunch even though it's not really all that different. Now if only I could convince my kids that it's good! I really don't understand their dislike of chicken salad in their sandwiches. They all love chicken, they have no issues with mayo, or yogurt, or veggies, or any of the things I typically put in chicken salad. And yet they won't touch it. Why? If only I could understand. But what kids like and don't never does make sense does it? They'll probably all wake up one day and realize that it's wonderful!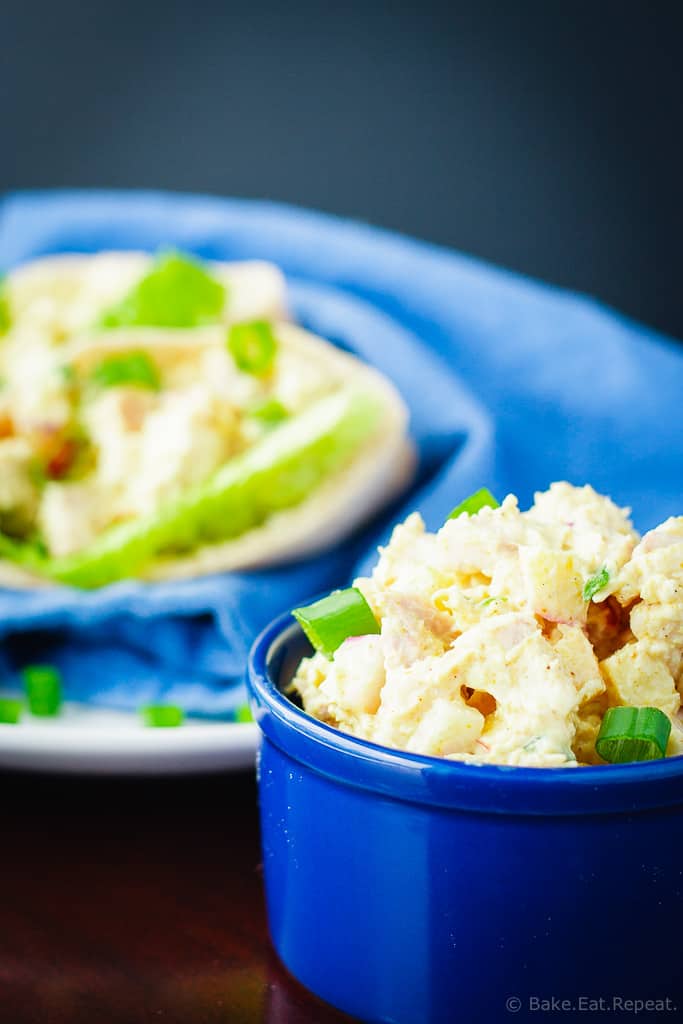 Until that day though, I can keep making different variations of it for my husband and I. Because we both realize it's one of the best ways to fill a sandwich for lunch!
One of our favourite variations of chicken salad is this curried chicken salad. I first discovered this recipe about ten years ago, and have since made many, many versions of it. This version is the one I make the most often, but it's very easy to customize to what you have on hand. The only things that I always, always put in it are the chicken (obviously), chopped apple, and curry powder (again, rather obvious or it wouldn't be curried).
But the rest kind of depends on what I have, because if I have leftover cooked chicken, curried chicken salad needs to be made for lunch the next day! Celery is great in it, if you don't like radishes just omit them, same with the green onions. And if you don't happen to have mango chutney around, it can be replaced with Dijon mustard for another great variation. That clearly won't taste exactly the same, but it's also really good, and then you don't have to run out to get mango chutney just for chicken salad! If you have it, though, it really complements the curry well.
So….very customizable. But then, chicken salad generally is. So if you would like to try a new version, try this curried chicken salad for lunch. It's amazing, and absolutely perfect stuffed into a pita with some crisp lettuce. You won't be disappointed!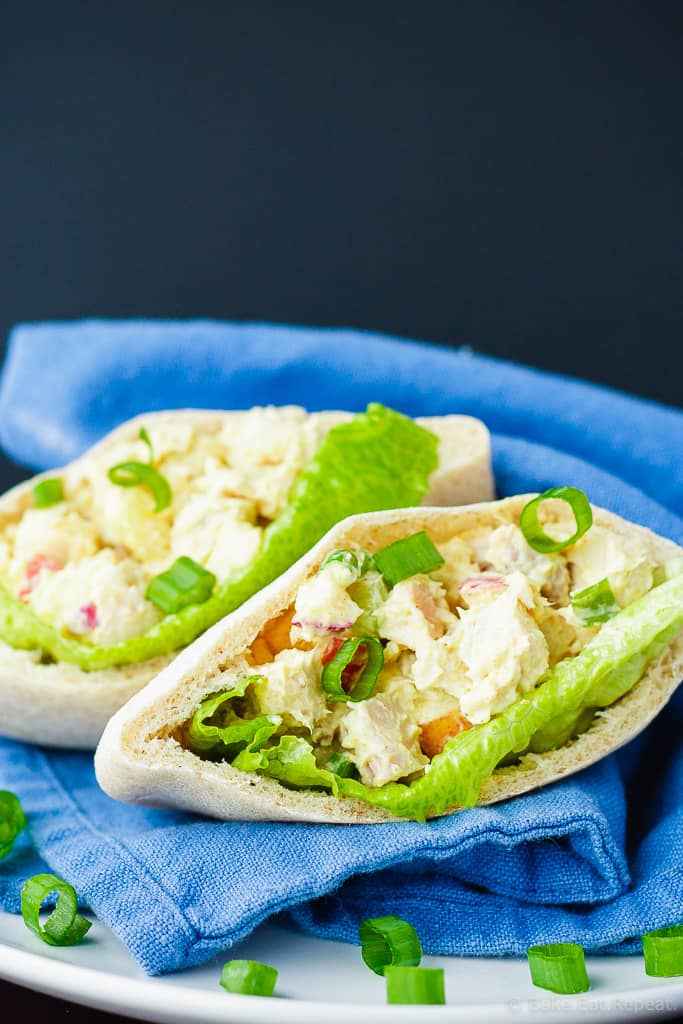 I also shared this Curried Chicken Salad recipe over on Food Fanatic, so make sure to check it out over there!