I love making homemade bread.  Pretty sure I've established that already!  There's just something so satisfying about making your own bread.  Even with something like tortillas where you don't have that magical rising that's just plain fun to watch.  (How much of a nerd am I?  Don't answer that.)
Maybe these are satisfying just because they taste so much better than the ones that you buy at the store, and to be honest, they just plain take a little longer than a loaf of bread does.
But!  These actually don't take that long!  I made these whole wheat spinach tortillas, start to finish, in an hour.  That's so much faster than my other recipe, which requires a couple of resting periods for the dough and usually takes at least a couple hours, although you're not actively doing stuff the whole time.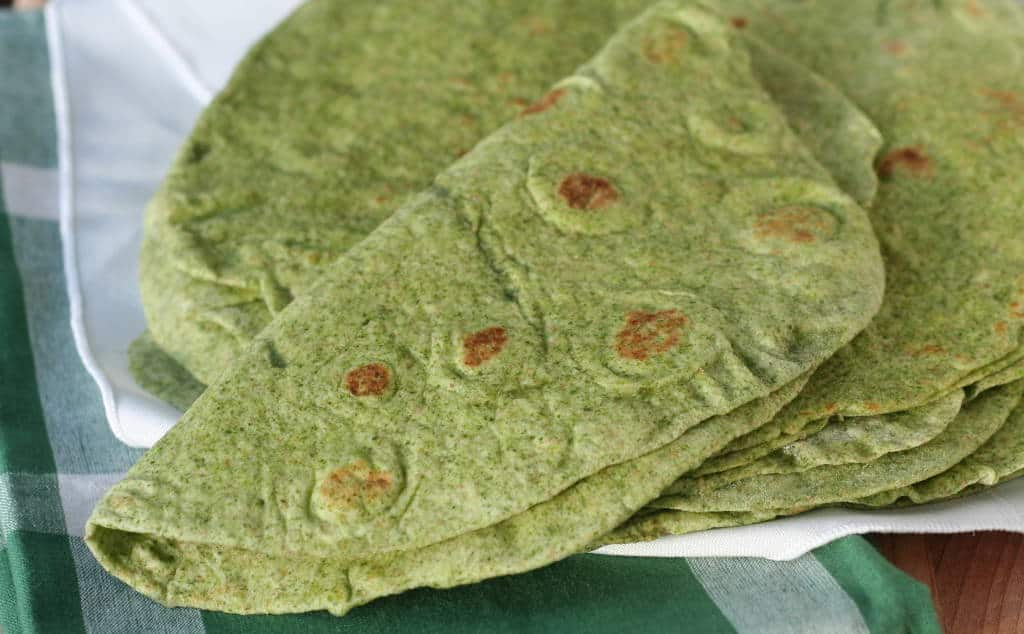 These were super fast and easy.  Actually, I even made a double batch in an hour, because I figure if you're going to the trouble of making homemade tortillas, you might as well have a few leftover after taco night for lunches that week!  And these have spinach in them, which is just very exciting for me because I love to shove spinach in everything that it can possibly be crammed into.
Mostly because I have kids that don't like it.  And a son that won't eat any vegetables.  But he inhaled these, so I'm pretty sure they will be made often around here, because he ate two tortillas for supper, which means I got a cup of fresh spinach into him!  In a way other than a smoothie.  That's exciting stuff in these parts.  And it'll make me feel a little better about the excess of candy that will be happening for the next little bit after tonight!
We loved these, and they will be made often.  Probably not super traditional, using a food processor, but they were fast and easy and I think that wins.  Enjoy!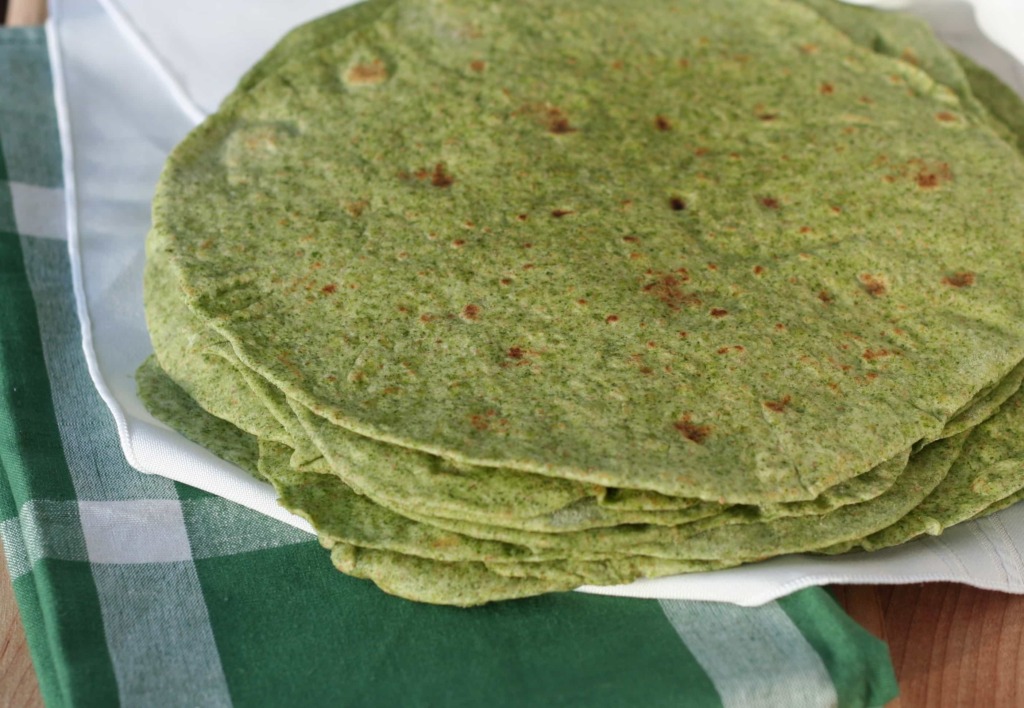 Yield: 8 large tortillas
Spinach Tortillas
*Note:* This recipe needs 1/2 cup of cooked, chopped spinach, which was 4 packed cups of fresh spinach for me. You could also definitely make these fully whole wheat, or fully all-purpose flour, I did 1/3 whole wheat for the ones in the pictures though. Also, you can replace the lard with shortening, butter, or even coconut oil if you like. I change up which I use depending on my mood and what I have. I think lard is the most traditional for tortillas, but I've used all of them and they all work well, so use whichever you prefer.
Ingredients
4 cups fresh spinach, packed
2 cups all-purpose flour
1 cup whole wheat flour
2 teaspoons baking powder
1 teaspoon salt
5 tablespoons lard (or butter, shortening, or coconut oil), softened
2/3 cup hot water
Instructions
Pack the spinach into a microwave safe measuring cup or bowl and add a small amount of water (about 1 tablespoon). Cover and cook for 3 minutes on high, or until spinach is cooked. All microwaves are a bit different, it took 3 minutes in mine, but yours may be more or less than that. Allow to cool slightly, then squeeze out the excess water and chop coarsely.
Place the spinach, flours, baking powder, and salt in the bowl of a food processor and pulse until well combined and the spinach is finely chopped. Add the lard (or whichever substitute you're using) and pulse until the mixture is crumbly. Then, while the food processor is running, pour in 2/3 cup of hot water slowly until the dough forms a ball. If your dough still looks dry and isn't forming a ball, add more hot water 1 tablespoon at a time until it comes together.
Remove the dough from the food processor and divide it into 8 equal pieces on a lightly floured countertop. Cover with a clean tea towel and allow to rest for 10-30 minutes.
Heat a large skillet over medium heat. Roll out one dough ball at a time on a floured countertop until it is very thin. If the dough is springing back and not holding it's shape, let it rest for another 5 minutes and try again. It should roll out easily. Make sure to move it around and flip it over while you roll it out to prevent sticking. Cook it for 15-20 seconds per side, flipping it with a rubber spatula when bubbles form and are lightly browned. You may need to lower the heat if they're cooking too quickly. Stack the tortillas as you cook them and cover with a damp tea towel. Use immediately, or store them in an airtight plastic bag in the refrigerator once they cool. They can also be frozen. Heat briefly in the microwave before using to make them more pliable.