I am going to start this by saying outright that I've never been particularly fond of jalapeño jelly.  Every year on Christmas Eve, my extended family gets together and we do a potluck style meal involving truckloads of appetizers.  Jalapeño jelly pretty much always makes an appearance.  Generally with crackers or maybe those little phyllo cups with cream cheese.  I never have any.  Ever.  Just not my thing.
But this?  Could. not. stop. eating it.  So addictive.  I don't know if it was the addition of pineapple, or just the fact that it was homemade, but this jalapeño pineapple jelly is so good.  I've had it on crackers with cream cheese, and even slathered it on a turkey sandwich with dill pickles.  I kind of thought that was weird as I did it, but it was awesome.
I'm really glad the recipe made 6 jars, cause now we won't be running out any time soon!  Especially since the kids refuse to try anything involving spice of any kind!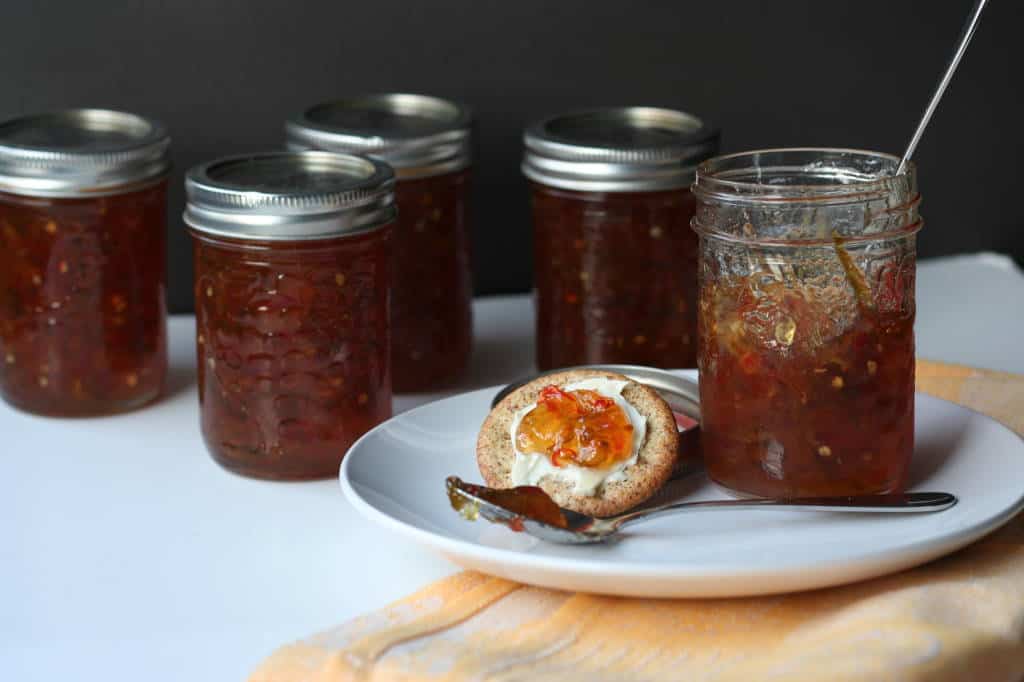 But this jelly isn't even all that spicy.  It has a hint of spiciness to it, but the sweetness of the jelly kind of offsets it, just leaving that bit of bite.  So addictive.  And you can make it spicier or milder depending on how many jalapeños you choose to seed.  I seeded half of them and left the seeds in the other half, and that was perfect for us.
And there's the fun of canning!  I love canning, something so lovely about the sound of all those jars popping away as they seal.  That makes me sound like quite the nerd, but that's okay.  I love it, I'm not afraid to admit it.  And we get lots of amazing jalapeño pineapple jelly as a result!
So, any other cooking nerds out there that love canning?  Or am I all alone on that one?!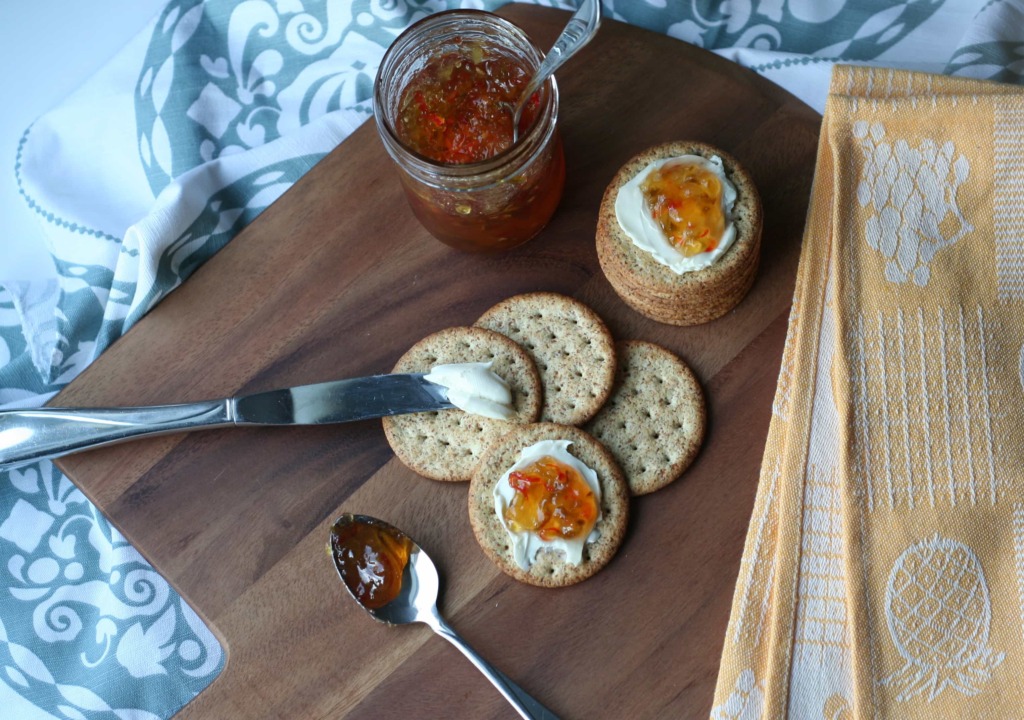 Yield: 6 - 250mL jars of jelly (half-pint jars)
Jalapeño Pineapple Jelly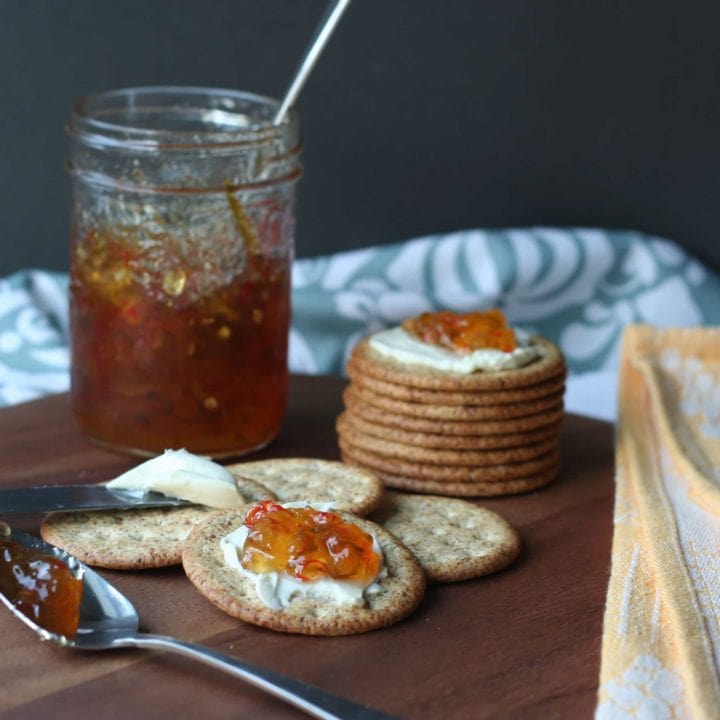 *Note:* This recipe needs liquid fruit pectin, not original fruit pectin. I tried it with the original pectin the first time and it doesn't gel completely with that pectin. With the liquid pectin it gels perfectly. Also, I seeded 4 of the 8 jalapenos, and that was the perfect amount of spiciness for us. If you want it spicier, leave seeds in more of them, less if you want it a bit milder. With 4 seeded of the 8 it had a bit of bite to it, but not too much.
Ingredients
1 red bell pepper
8 jalapenos
1/2 medium pineapple (about 1 1/2 cup chopped)
1 1/2 cups white vinegar
1/2 teaspoon salt
5 cups granulated sugar
1 85mL pouch liquid fruit pectin (3 oz pouch)
Instructions
In a food processor fitted with the shredding blade, or with a sharp knife, finely chop the red bell pepper, jalapenos (seeding as many as you like, I seeded 4), and the pineapple. In a large pot, combine the peppers and the pineapple with the vinegar, salt and sugar. Bring the mixture to a boil over medium heat and allow to boil for 10 minutes, stirring constantly.
Add the liquid pectin and boil for 1 more minute. Remove the pot from the heat and pour into clean, hot canning jars, leaving 1/4 inch of headspace. Wipe the tops with a damp cloth to remove any stickiness and place a new lid and ring on the jar, making sure not to tighten the ring more than fingertip tight.
Place the jars in a boiling water canner and process for 10 minutes, adding additional time depending on your altitude (there's info for the amount of time to add on the pectin box, I needed to add 5 minutes). After processing, allow the jars to sit undisturbed for 24 hours for the jelly to completely set. Any jars that don't seal, store in the refrigerator, it should last for up to a month. The sealed jars will be fine for 1-2 years on the shelf.