So I'm officially obsessed with making tortillas now.
I love homemade tortillas.  They are so much better than the ones you buy at the grocery store!  And so incredibly easy to make!  I will admit that the rolling and cooking process does take a few minutes, but it really doesn't take all that long.  I made a double recipe of these, so 24 tortillas, and it still only took about a half hour to roll and cook them all.  I get two skillets going so I can toss them in as quick as I can roll them and the process isn't too bad.  Longer than grabbing a package off the shelf when you're shopping, it's true, but oh so much better tasting!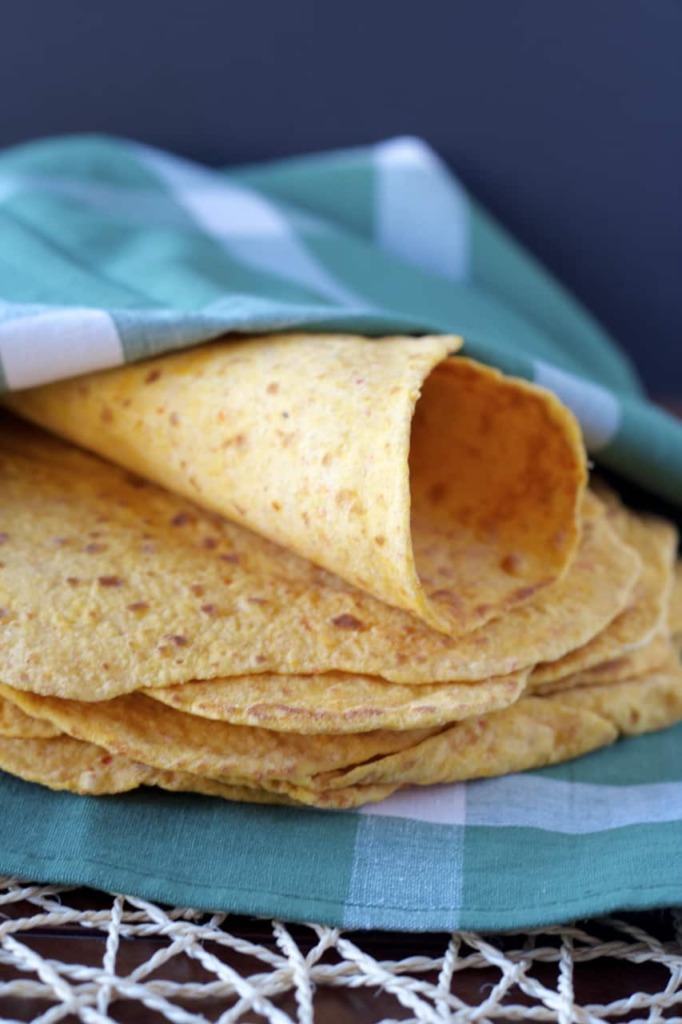 And it's just plain satisfying to churn out a batch of homemade tortillas!  Try it, you'll feel like a pro-star.  (Did that term just conjure up memories of Pro-Star cereal for anyone else?  With Gretzky on the box?  No?  Just me?!)  And yes, I just totally dated myself, but that's okay.
Anyhow, tortillas.  Homemade roasted red pepper tortillas!  With roasted garlic too – cause why not.  I was roasting red peppers anyways so I threw some garlic in the oven with it to add to the tortillas.  Adding garlic is never a bad idea in my opinion, especially roasted garlic.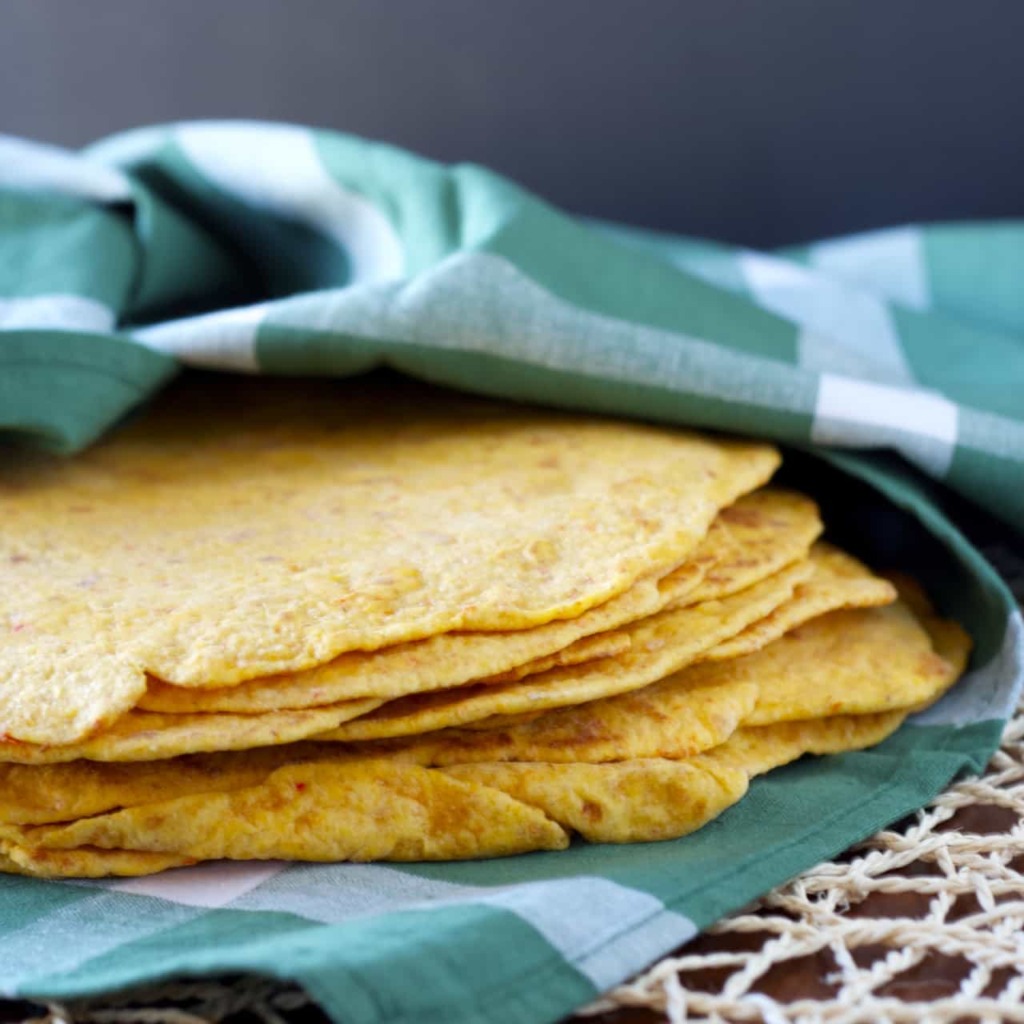 These tortillas are super quick and easy to mix up, it's all done in the food processor, which you really can't beat for speed.  This recipe is very similar to my spinach tortilla recipe, except that you don't need to add any water to the dough, as the red pepper puree adds enough moisture to the dough as is.  Other than that it's pretty much the same.
So easy, just toss a couple red peppers and garlic cloves in the oven for 25 minutes, toss everything in the food processor to combine it, let the dough rest for 10 minutes, then roll and cook.  Easy.
And so incredibly tasty.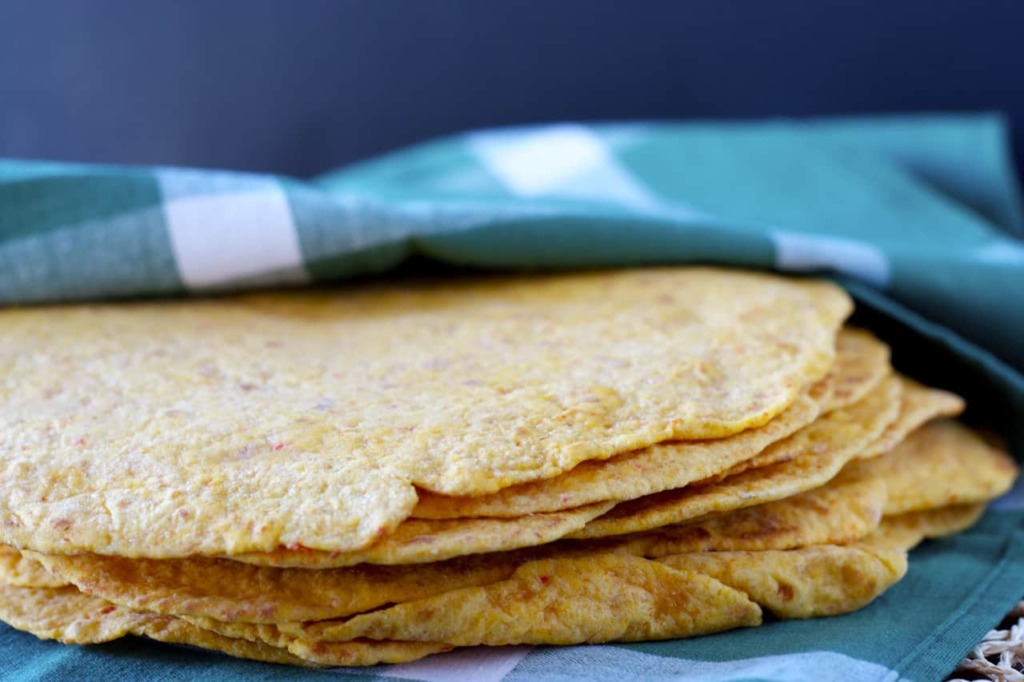 I bought a package of tortillas a couple of weeks ago.  What can I say – it was a busy week, I was tired, grabbing the package IS easier.  So disappointing.  Especially after making my own for the last year or so.  They stick together so much, it's absolutely maddening trying to peel the things apart as they shred instead of coming apart.  Why do they do that?  Maybe it's the brand I buy?  I've tried a few.  I don't know.
But these homemade roasted red pepper tortillas (and these whole wheat and spinach ones!) are amazing.  I don't think I'll be buying them again.  You know, until the next week I'm feeling tired and lazy.  But right now, I don't think I'll be buying them again!
These are just too good.  And too easy.  And I like feeling like a pro-star in the kitchen.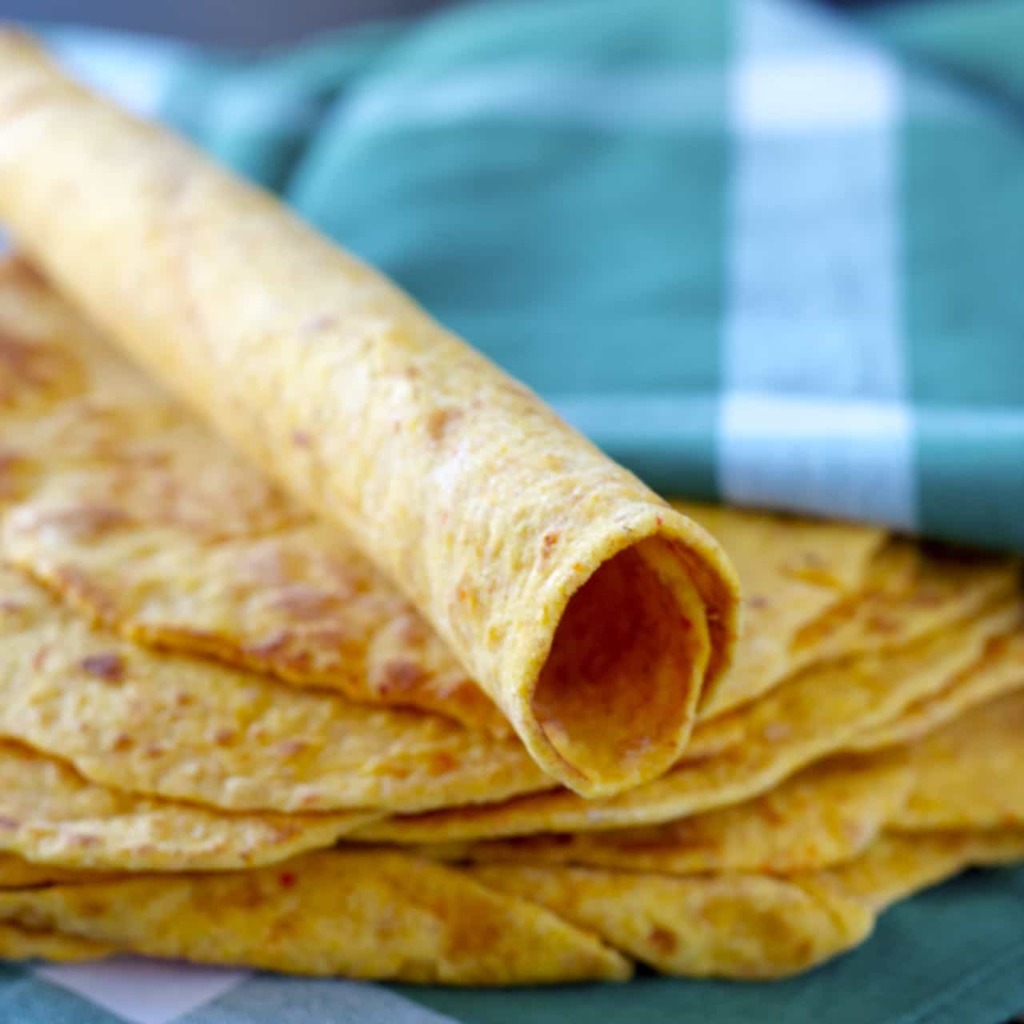 Yield: 12 large tortillas
Roasted Red Pepper Tortillas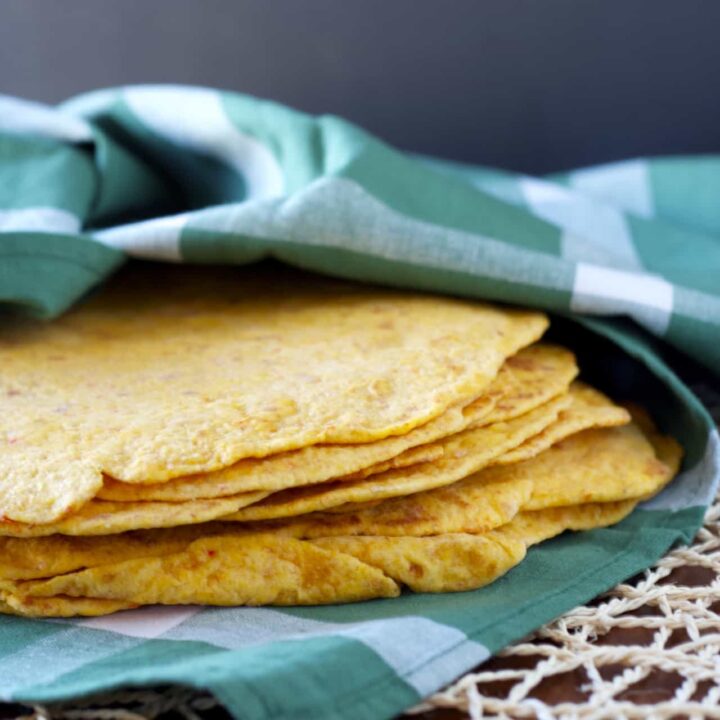 *Note:* You could definitely make these fully whole wheat, or fully all-purpose flour, I did 1/3 whole wheat for the ones in the pictures. Also, you can use coconut oil, lard, shortening, or butter - I've been liking coconut oil lately, but I change it up depending on my mood. I think lard is the most traditional for tortillas, but I've used all of them and they all work well, so use whichever you prefer.
Ingredients
2 whole red peppers
2 whole garlic cloves
2 cups all-purpose flour
1 cup whole wheat flour
2 teaspoons baking powder
1 teaspoon salt
5 tablespoons lard (or butter, shortening, or coconut oil), softened
Instructions
Preheat the oven to 425 degrees F. Place whole red peppers and garlic cloves on a parchment lined baking sheet and roast for 20-25 minutes, turning occasionally, until tender and the skins have blackened. Let cool and then remove the skins and seeds from the red peppers, and the skins from the garlic cloves. It should peel off easily.
Place the peeled red peppers and garlic into the bowl of a food processor and pulse until pureed. Add the flours, baking powder, salt and lard (or whichever substitute you're using) and pulse until the mixture forms a ball. If your dough still looks dry and isn't forming a ball, add some hot water 1 tablespoon at a time until it comes together. Alternatively if it is really wet and sticky add a little more flour, 1 tablespoon at a time. The dough should form a ball and be tacky but not wet and sticky.
Remove the dough from the food processor and divide it into 12 equal pieces on a lightly floured countertop. Cover with a clean tea towel and allow to rest for 10-30 minutes.
Heat a large skillet over medium heat. Roll out one dough ball at a time on a floured countertop until it is very thin. If the dough is springing back and not holding it's shape, let it rest for another 5 minutes and try again. It should roll out easily. Make sure to move it around and flip it over while you roll it out to prevent sticking, flouring as needed. Cook it for 30-45 seconds per side, flipping it with a rubber spatula when bubbles form and are lightly browned. You may need to lower the heat if they're cooking too quickly. Stack the tortillas as you cook them and cover with a damp tea towel. Use immediately, or store them in an airtight plastic bag in the refrigerator once they cool. They can also be frozen. Heat briefly in the microwave before using to make them more pliable.
Notes
Source: Bake.Eat.Repeat. original.