I've finally joined the no churn ice cream extravaganza!  Okay, maybe it's not an extravaganza, but it kind of seems that everywhere I look this year I'm seeing recipes for no churn ice cream.  And all of it looks absolutely amazing!  So I wondered why on earth I hadn't tried it yet.  Not having an ice cream maker was clearly no longer an excuse for not making homemade ice cream.
So I tried it.  Finally.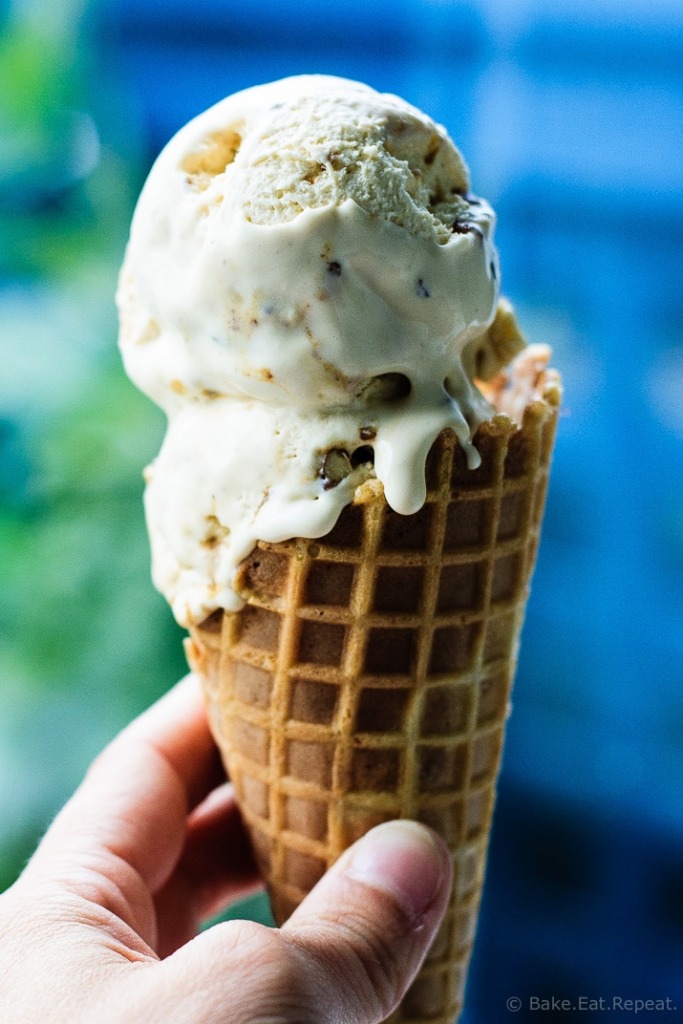 And oh my goodness I'm glad I did.  So flipping easy.  And it tastes like ice cream.  I don't know why I figured it wouldn't, but I kind of didn't have a lot of faith in the no churn idea.  How could it be as good?  I will say that it's not as hard as regular churned ice cream, which was a bit of a disappointment for me since I don't like my ice cream melty in the slightest.  But it IS rich and creamy and cold and wonderful.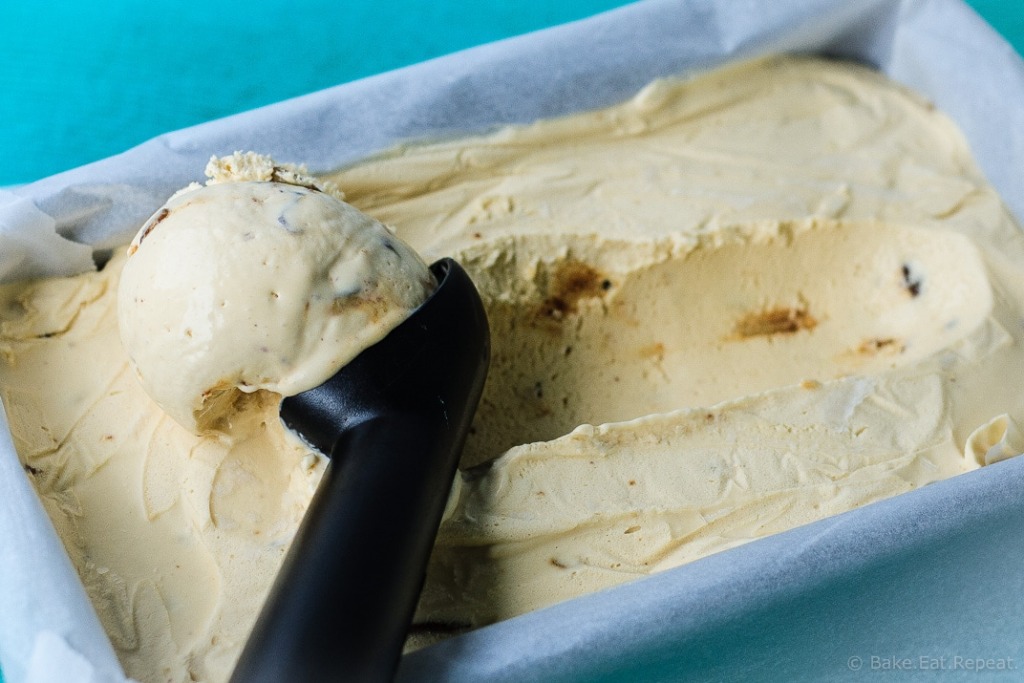 Plus, it's a blank canvas for oh so many combinations and flavours.  I can hardly wait to try a few more.  What's a summer without ice cream right?  And now it can be homemade.  Whether you have an ice cream maker or not!
This molasses pecan praline ice cream is simple and easy to throw together, and is a lovely rich and creamy dessert for a hot summer night.  If you're like me and haven't tried this no churn ice cream phenomenon yet, you need to.  Just think of all the ice cream flavours waiting to be made!
This recipe was a winning entry in Crosby's Sweeten your Summer with Molasses Contest!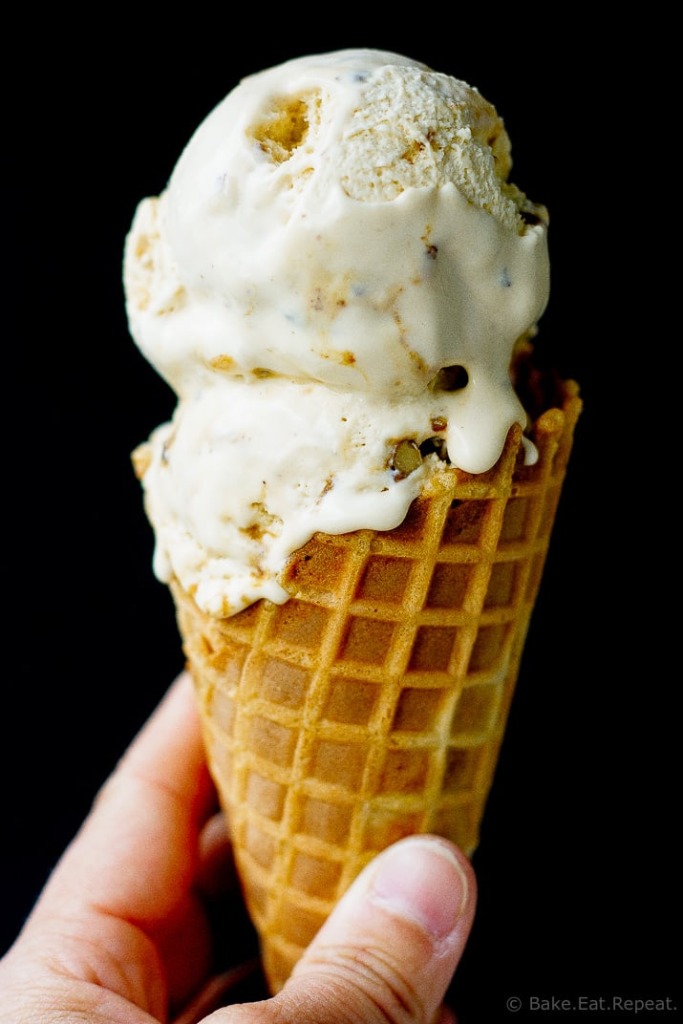 Yield: about 1 liter (1 quart) of ice cream
Molasses Pecan Praline No Churn Ice Cream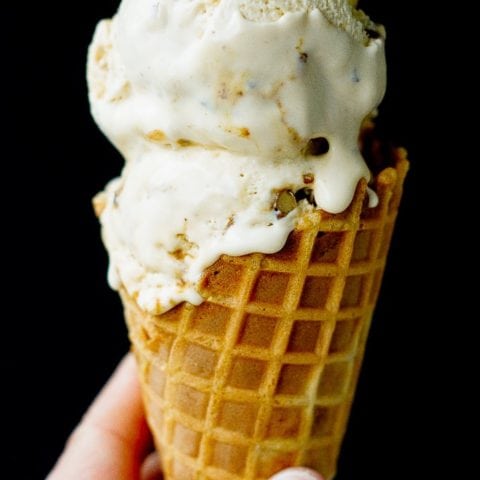 Ingredients
For the praline:
2 tablespoons brown sugar
2 tablespoons Crosby's fancy molasses
1 tablespoon unsalted butter, melted
1/4 teaspoon cinnamon
1/4 teaspoon kosher salt
1 cup pecans
For the ice cream:
1 can (14 oz, 415mL) sweetened condensed milk
2 tablespoons Crosby's fancy molasses
2 cups heavy cream
Instructions
Preheat the oven to 350 degrees F. In a small bowl, combine the brown sugar, molasses, butter, cinnamon and salt. Add the pecans and stir until they are well coated. Spread the nuts on a parchment lined baking sheet and bake for 12-14 minutes until they are bubbling and dark in colour. Remove from the oven and allow them to cool completely. Chop the cooled and hardened pecan praline into small pieces.
Line a 9x5 inch loaf pan (or other freezer safe container of similar size) with parchment paper. In a small bowl, whisk together the sweetened condensed milk and the molasses. In the bowl of a stand mixer, or with an electric mixer, whip the heavy cream until stiff peaks form. Drizzle in the condensed milk mixture with the mixer running on low. Continue to whip until all the condensed milk is incorporated into the cream and the mixture is thick.
Fold the chopped pecan praline into the cream mixture, and spread this in the prepared pan. Cover and freeze for at least 6 hours. Enjoy!