I think I finally found a healthy cookie that I actually like. This is huge. You see, cookies are my weakness. They're the one thing that I am powerless to resist. Cake, no problem. Candy, not really an issue. Brownies….well, those are tough to avoid too. The chocolate gets me.
But cookies? They're impossible to resist. Especially ones involving chocolate.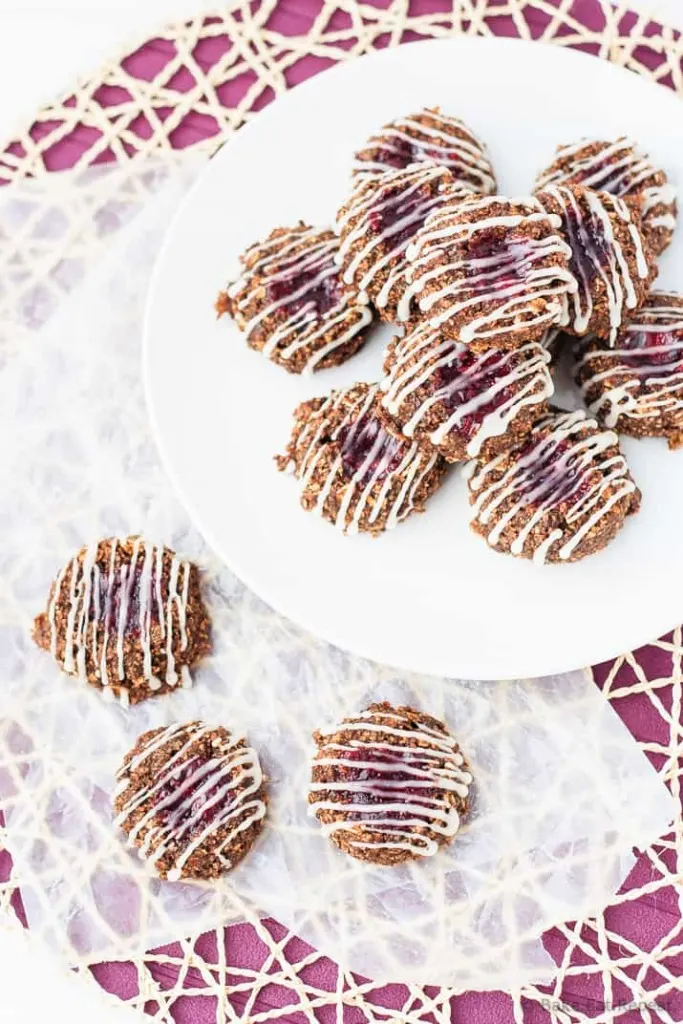 I've tried making healthy cookies, or breakfast cookies, or any version of cookie that isn't loaded with butter and sugar and chocolate chips, but they've all been rather disappointing. I mean, I'll still eat them, but they won't eliminate a cookie craving. And if the real thing is also available, you better believe that that's the one I'm reaching for!
Healthy cookies just don't really compare.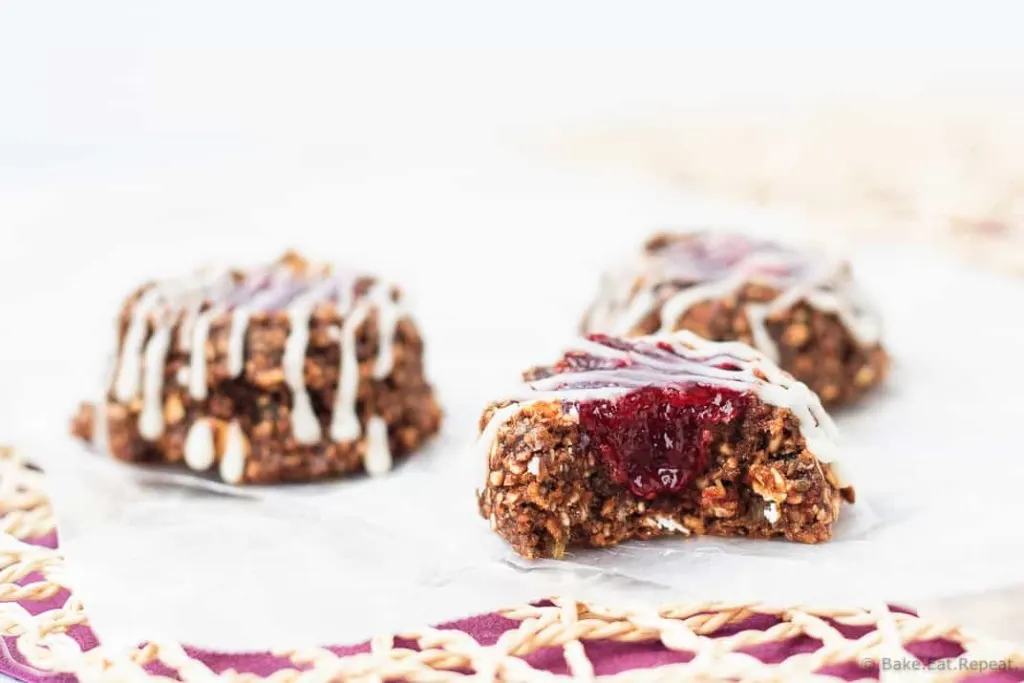 But these. These I actually liked. These chocolate cherry thumbprint cookies actually had enough sweetness, and enough chocolatey taste to curb that cookie craving. They're chewy, and a bit fudgy, with chocolate, cherry, and almond flavours combining to make what is actually a really good cookie. Can you tell I was a bit surprised?
And there's no butter, no oil, and no refined sugar in them at all. They're even gluten free if you use gluten free oats and oat flour.
Of course, the sugar level depends on the jam you use to fill the thumbprints. I used a homemade cherry jelly that was very low sugar, but the amount would increase if you use regular jam. Although there's only a half teaspoon in each cookie so there still wouldn't be much. And I will admit that there is powdered sugar in the glaze, but it's a pretty minimal amount on each cookie and you could easily omit that. I actually put it on to pretty them up a bit more than anything!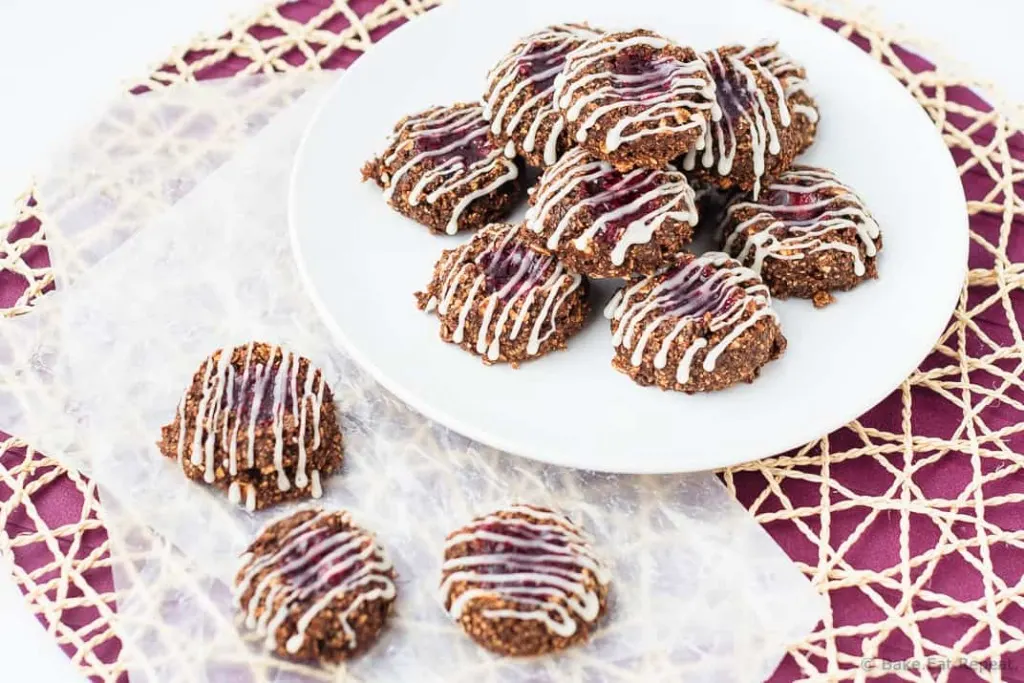 These thumbprint cookies were a huge hit at our house. I loved them, the kids loved them, and my husband even ate a few – which is a really good indication that they were great! He generally steers clear of my "healthified" versions of food!
We will definitely be making these again soon. Having a healthy cookie available when we want a treat is just too good to resist!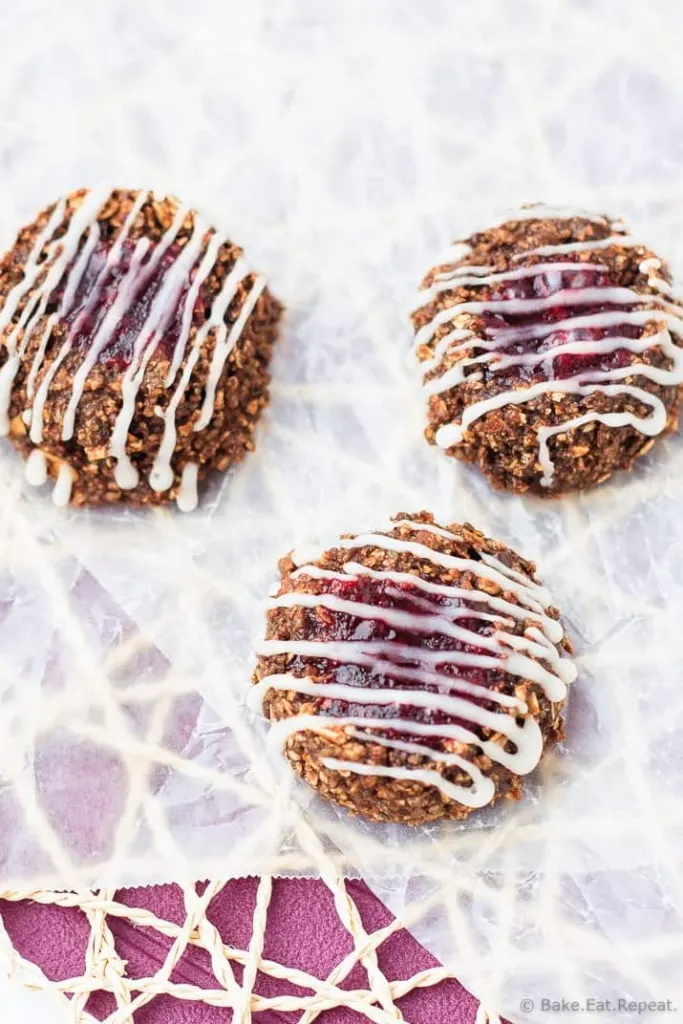 I also shared this healthy chocolate cherry thumbprint cookie recipe over at Food Fanatic.