You may not think that chocolate and grapefruit belong together.  Especially in a quick bread.  But you'd be wrong.  Trust me.
Of course, I DO seem to think that chocolate goes with everything.  Because, of course, it does.  Or at least in my world it does.  I'm always happiest when I can find a way to get some chocolate in my day.  And it's so much better when it's in the form of a lovely quick bread, rather than a handful of chocolate chips.  Does anyone else do that?  Need that chocolate fix, and even a few chocolate chips will do the trick?!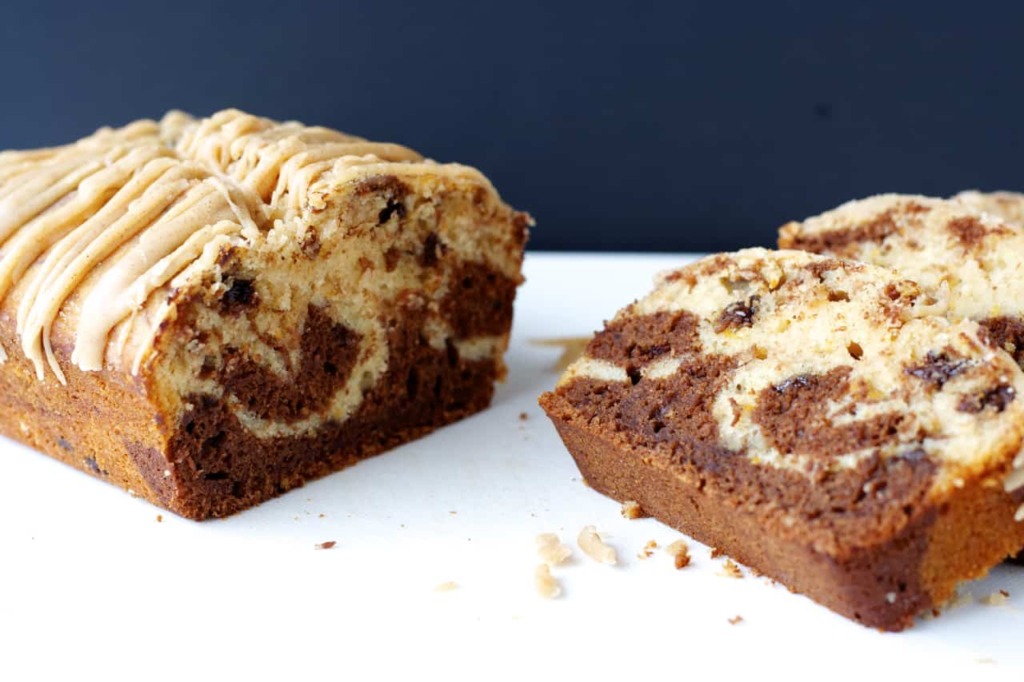 I would love to know that I'm not alone on that.  Not that it would really stop me from eating entirely too much chocolate.  Like I said, it belongs on everything.  Well, almost.  I haven't gotten behind the whole chocolate covered bacon idea yet, but then, I haven't actually tried it yet, so I'm not ruling out it's deliciousness.  There's chocolate and bacon involved, how bad could it be?
ANYWAYS.  Marbled chocolate grapefruit bread is actually what I'm here to talk about today!  With a cinnamon spiced glaze.  Basically this is just some wonderfully tasty muffins that I made last year, turned into a bread.  Except that I added a cinnamon vanilla glaze, which was definitely a good idea.  I wasn't entirely sure it would work to be honest.  Cinnamon, chocolate and grapefruit all in a loaf of bread?  A little weird, I'll admit, but it worked.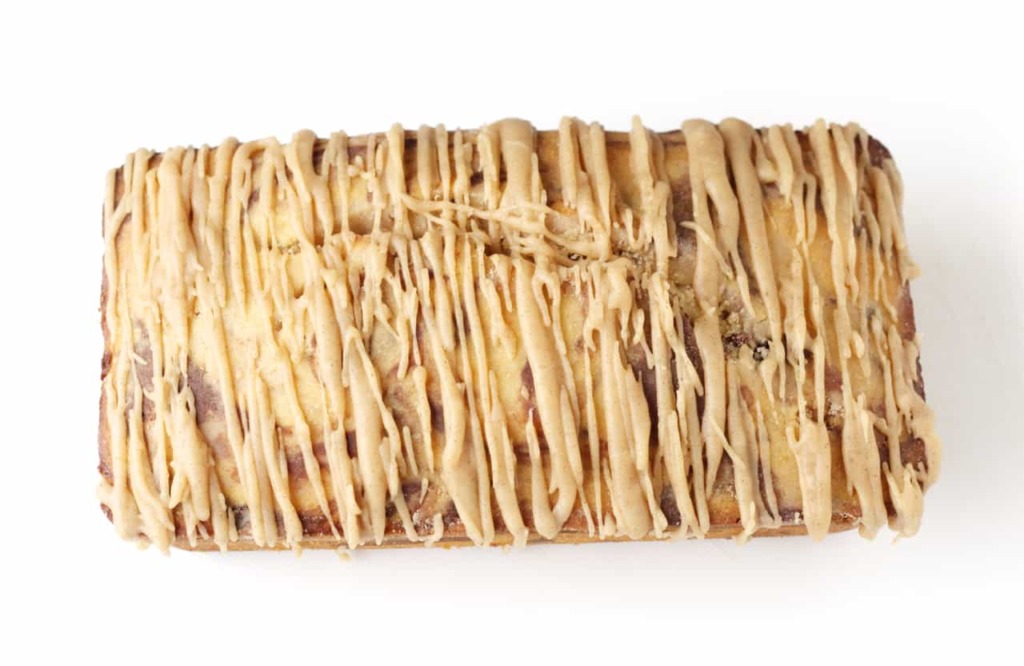 It worked so well that there's not much left.  And I made it this morning.  I may have to make more soon because I still have another grapefruit in the fridge, and why eat it when I can make it into something as amazing as this chocolate grapefruit bread?  That's so much better than plain grapefruit right?  A little less healthy I suppose, but I'll get over that!  Easter is coming, I'm pretty sure that means that we need to eat as much chocolate as possible.
And quick breads are totally appropriate for breakfast.  There's fruit in it.  I think chocolate for breakfast is completely acceptable in this form.  If you're not quite on board with that though, you could always make it on Easter morning.  Chocolate is definitely acceptable then!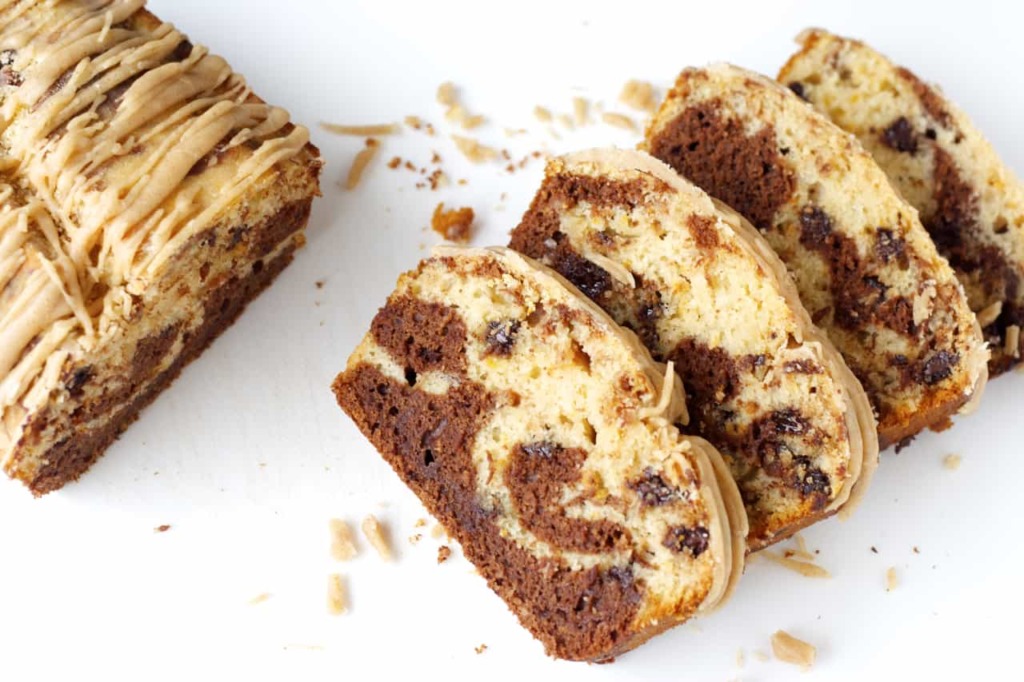 Yield: one 9x5 inch loaf
Marbled Chocolate Grapefruit Bread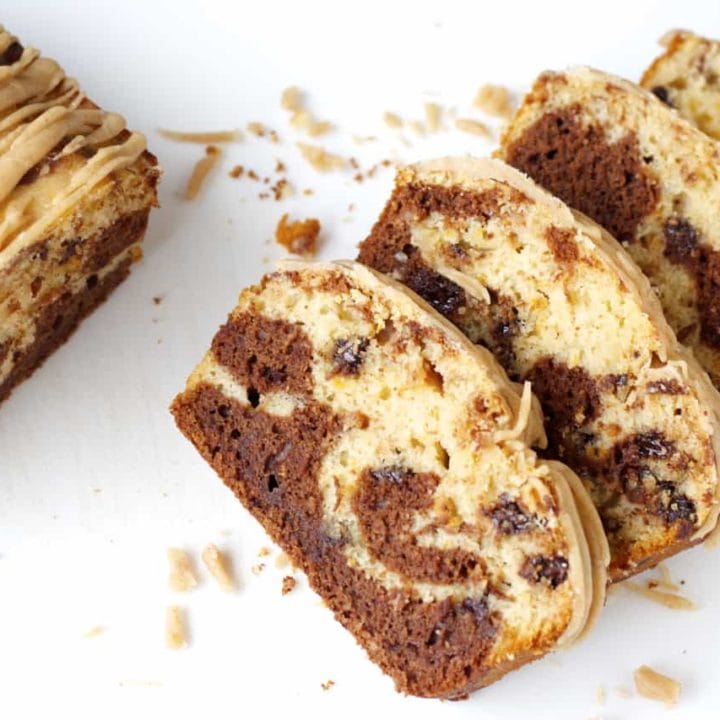 *Note:* This makes a fairly short 9x5 inch loaf, so it could also fit in a smaller loaf pan if that's what you have.
Ingredients
For the bread:
1 1/2 cups all purpose flour
1/2 cup brown sugar, lightly packed
2 teaspoons baking powder
1/4 teaspoon salt
zest from one grapefruit (about 1 tablespoon)
1 egg
1/2 cup canola oil
1/2 cup buttermilk
juice from one grapefruit (about 1/2 cup)
1 teaspoon vanilla extract
2 tablespoons cocoa powder
1/4 cup semisweet chocolate chips
For the glaze:
2 tablespoons unsalted butter
1 cup powdered sugar
1 teaspoon vanilla
1/2 teaspoon cinnamon
1 tablespoon water
Instructions
Preheat the oven to 350 degrees F. Lightly spray a loaf pan with cooking spray.
In a large bowl, whisk together the flour, brown sugar, baking powder, salt and grapefruit zest. In another bowl, whisk together the egg, oil, buttermilk, grapefruit juice and vanilla. Pour the wet mixture into the dry ingredients and mix until just combined.
Move half of the batter (this doesn't need to be exact, I just eyeball it!) to another bowl and add the cocoa powder, mixing it into the batter. To the white bowl of batter, fold in the chocolate chips.
Alternate scoops of the two batters into the prepared loaf pan. When all the batter is used up, use a spatula to swirl the batters in the loaf pan. Bake for 45-50 minutes or until a toothpick inserted into the centre of the loaf comes out clean. Let cool completely before removing from the pan.
Make the glaze. In a small saucepan over medium heat, melt the butter. Add the powdered sugar, vanilla, cinnamon and water. Heat, stirring, until the glaze is smooth. If it is too thick, add a little more water to thin it out. Drizzle it over top of the bread, it will set almost immediately.