Well, unlike my last recipe, which was decidedly un-springlike, these lemon raspberry scones scream springtime to me.  The lemon flavour is just so fresh tasting.  I'm not a huge lemon fan, but I always feel like it in the springtime.
I made these a few weeks ago, adapting a recipe to make them whole wheat, and using regular lemons rather than Meyer lemons.  I would really love to try Meyer lemons, as everybody seems to be raving about them these days, but I have never seen them at the store.  Maybe they're not in Canada?  Or maybe I'm just blind?  Probably the latter.  Oh well, I'm sure I'll stumble across them at some point and will have to try this recipe again with them at that time.
These scones were a little on the denser side, but they were made with whole wheat flour and Greek yogurt, rather than all-purpose flour and heavy cream, so that's kind of to be expected.  That being said, they were still amazing, just maybe not as decadent as scones sometimes are.
And the brown butter lemon glaze?  Don't even think about leaving it off.  It totally completes the scones, and they would not be nearly as good without it.  I'm sure you could use regular butter, or leave the butter out entirely, to make things a little faster and they would still be good.  But really, why wouldn't you want to use brown butter?  It's just too good not to.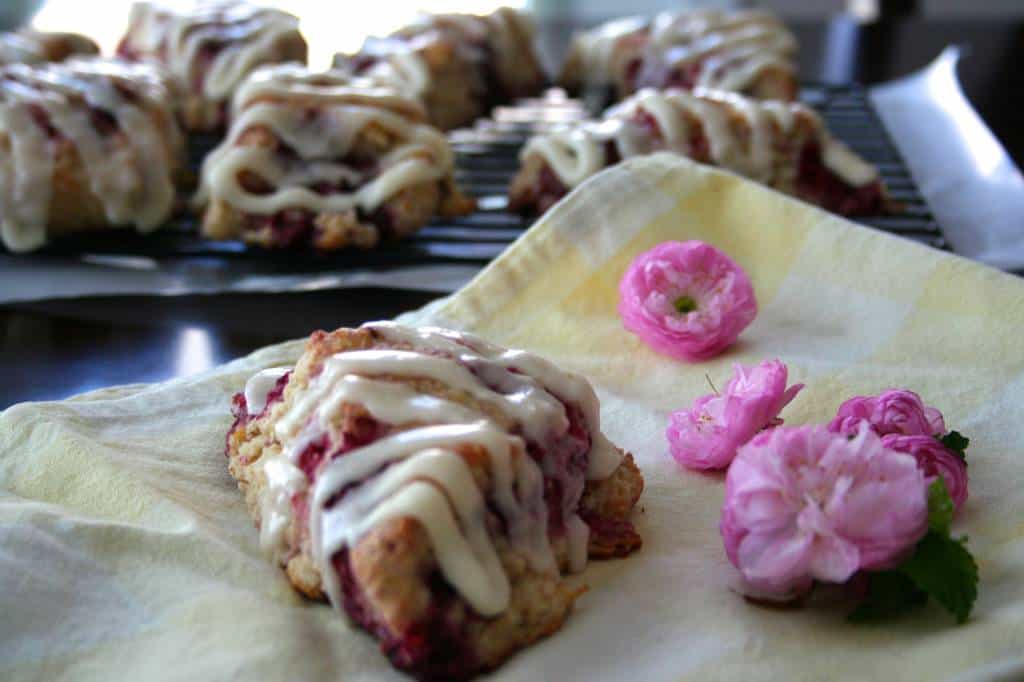 Yield: 8
Lemon Raspberry Scones with Brown Butter Glaze
Ingredients
For the scones:
3 tablespoons sugar
zest from one lemon
1 cup all-purpose flour
1 cup whole wheat flour
1 tablespoon baking powder
1/2 teaspoon salt
6 tablespoons cold butter
1/2 cup milk
1/2 tablespoon lemon juice
1/2 cup plain Greek yogurt
1 cup raspberries, fresh or frozen (I used frozen)
For the glaze:
1 cup powdered sugar
2 tablespoons lemon juice
2 tablespoon browned butter
Instructions
Preheat the oven to 400 degrees F. Line a baking sheet with parchment paper or a silpat liner.
Zest the lemon and rub it into the sugar with your fingers in a small bowl until the sugar is faintly yellow and fragrant. Combine with the flours, baking powder and salt in a large bowl.
Mix the milk and 1/2 tablespoon of lemon juice together and allow to sit for about 5 minutes. Meanwhile, grate the cold butter into the dry ingredients and stir to combine. Alternatively, you can cut the butter in with a pastry cutter, I just find grating it is a little quicker and gives the right size of butter pieces in the dough. If you're cutting it in, do so until the butter chunks are about the size of a pea, no larger.
Add the Greek yogurt,milk and raspberries to the mixture and stir until it just comes together. Don't over mix. Turn the dough out onto a lightly floured countertop, and pat it into an 8 inch circle. Cut it into 8 triangles and place on the prepared baking sheet. Bake for 15 to 20 minutes or until golden. Remove to a wire rack and allow to cool completely.
For the glaze, brown the butter in a small saucepan, and whisk together with the powdered sugar and lemon juice. Drizzle onto the scones. It is a rather thick glaze, so add a little more lemon juice if you prefer a thinner glaze.