I have never made doughnuts before.  Never.  Baked, fried, nothing.  I decided it was high time that that changed.
I bought a doughnut pan eons ago as I kept seeing these beautiful doughnuts everywhere and really wanted to try making some, but I also wanted to keep them healthy enough that I could feel good about giving them to the kids.  Or, you know, eating a few myself if the mood struck.
Also, I'm a little scared of using the deep fryer.  One of these days I'll have to get over that and try deep frying some, but I fear that they'll taste so much better that we won't want to go back to the healthified version.  Baked is still healthier when you eat more of them because they're healthier, right?
At any rate, these banana bread doughnuts are a little more on the muffin-y side, and don't taste like their deep-fried counterparts, but they're definitely healthier.  Still, something about being in the doughnut shape made them a treat.  Or maybe it's the chocolate slathered on top.  Or the browned butter in the batter.  Either way, the kids gobbled them up in no time.  And I made sure to snag one for myself before they were all gone!



Yield: 6
Whole Wheat Banana Bread Doughnuts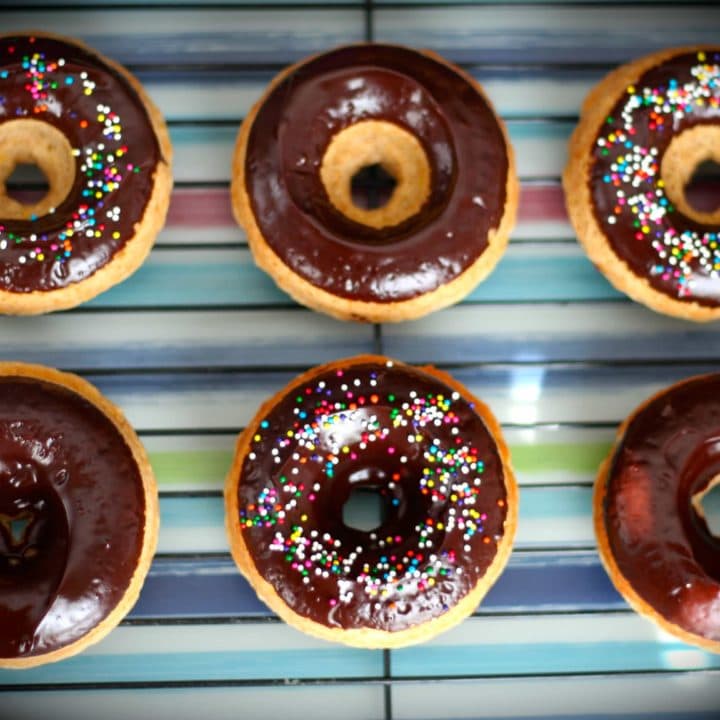 Ingredients
For the doughnuts:
1/2 cup cake flour
1/2 cup whole wheat flour
1 teaspoon baking powder
1/4 teaspoon baking soda
1/4 teaspoon nutmeg
1 medium banana, mashed (about 1/3 cup)
1 egg
1/4 cup brown sugar
1/4 cup plain Greek yogurt
3 tablespoons unsalted butter, browned
1 teaspoon vanilla
For the glaze:
1/2 cup semi-sweet chocolate chips
2 tablespoons unsalted butter
2 teaspoons water
Instructions
Preheat the oven to 350 degrees F, and spray a doughnut pan with non-stick cooking spray.
Brown the butter and set aside to cool slightly. Whisk together the cake flour (you could definitely substitute all-purpose, I just happened to have cake flour on hand so I used it), whole wheat flour, baking powder, baking soda and nutmeg together until well combined.
Mash the banana and whisk together with the egg, brown sugar and Greek yogurt. Whisk in the vanilla and browned butter. Add this mixture to the dry ingredients and mix until just combined.
Spoon or pipe the batter into the prepared doughnut pan. I put the batter into a ziplock bag and piped it from a cut corner to fill the cavities 2/3 full with batter.
Bake for 9-10 minutes or until the edges are slightly browned. Flip immediately onto a cooling rack and allow to cool a bit before glazing.
Melt the chocolate chips with the butter and water in the microwave at 50% power for 1-2 minutes, stirring every 20-30 seconds until it is smooth. Dip doughnuts and add sprinkles if you like.