Easy hot baked crab, spinach and artichoke dip that you will not be able to stop eating! It's easy to make and tastes fantastic!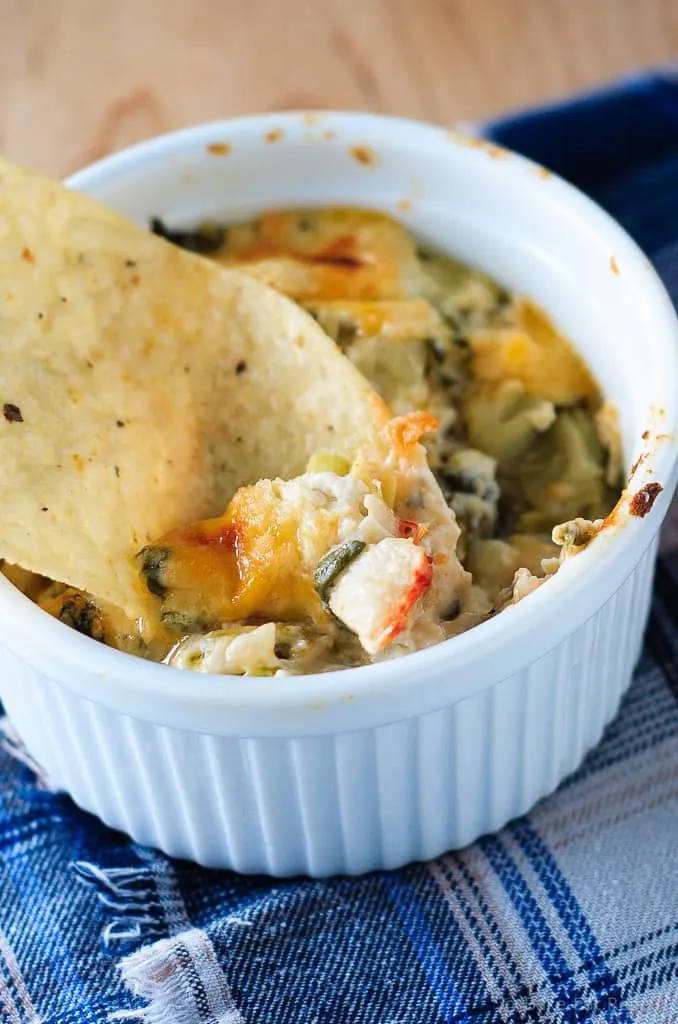 I made this hot crab, spinach and artichoke dip eons ago. And am just now sharing it with you. I'm sorry. You really did need to know about it sooner, because – dip. Hot and cheesy and oh so delicious dip.
So it's good that I'm sharing it with you just as bathing suit season gets here. That's exactly when you want this kind of food!
Whatever, there's always parties, and BBQ's and Canada Day (or fourth of July!) events to make food for, and dips are always perfect for those types of things! Everyone loves dip – that's just a fact.
Spinach dip has always been one of my favourites, I think pretty much everyone under the sun can say that, but crab dip is even better.
It's one of those things that if I see it on the menu at a restaurant, I pretty much need to convince someone to share it with me.
Tossing crab into a hot and cheesy spinach and artichoke dip is pretty much the best thing ever. It makes me forget to worry about calories because it's totally worth it.
Generally I say that about chocolate, not savoury appetizer type food, but there's always exceptions.
And hot baked crab, spinach and artichoke dip definitely falls into that category. This stuff is amazing. It's probably a bad thing that I discovered how easy it is to make!
I guess I'll just have to work on a lightened up version now. It IS bathing suit season after all!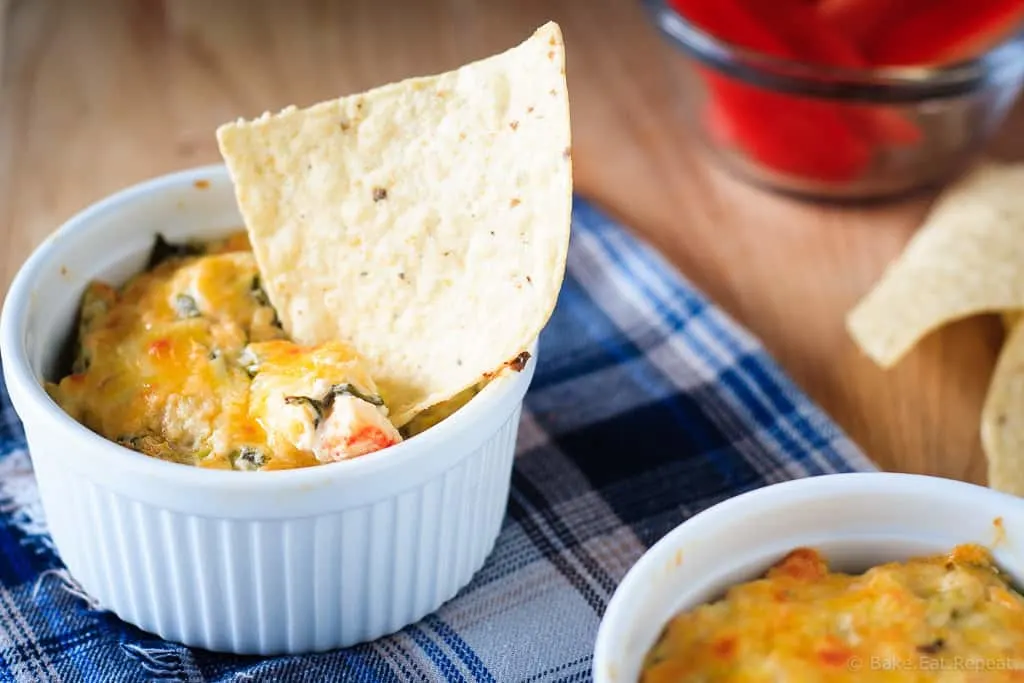 I should probably also note that I did not bake this dip in little ramekins as the pictures would suggest. This dip is actually baked in a 9 inch square baking dish (or another dish of similar size), I just wasn't really planning on posting it when I made it so I never took any pictures.
Then we dove in and ate half of it in record time and I decided I needed to write this one up! So the leftovers were carefully moved to little ramekins to take some photos.
As a side note though, that was a great way to store the leftovers for reheating smaller portions at a time, and I think that it would bake just fine in the ramekins in the first place if you prefer to bake it that way. But I haven't actually tried that so if you do, please let me know how it turns out!
You need to try this amazing crab, spinach and artichoke dip for your next party, or just a regular Friday night. It's totally worth it, I promise!