Who loves asparagus?!
I most definitely do.  Every year it makes me a little bit sad that asparagus season is so short.  It always feels like it's gone before we've eaten nearly enough of it!
This side dish was thrown together on a bit of a whim, as a way of doing something a little different with our asparagus.  I tend to stick to simply steaming it, or sautéing it with some olive oil and salt and pepper.  And while I love my asparagus cooked that way, I wanted to brighten it up a bit.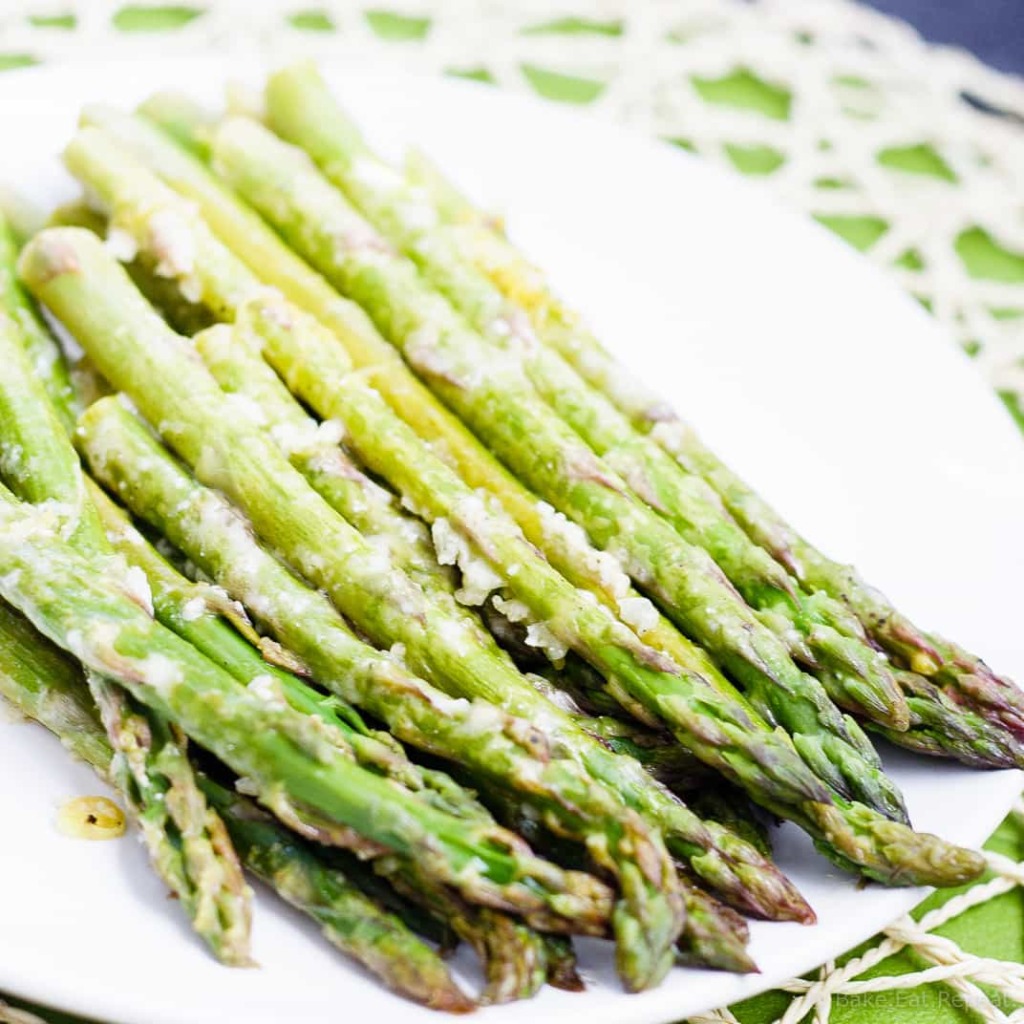 This lemon roasted asparagus with parmesan cheese and garlic did the trick.  It takes less than 5 minutes to toss together, and only 10 minutes to roast in the oven.  That's not a whole lot longer than throwing it in the microwave, but it's definitely a whole lot tastier!
Plus, it's so good, that my 7 year old even declared it "bloggable".  So of course, I had to oblige.  He's never even agreed to more than a taste of asparagus before, to which the pronouncement has always been "yuck".  So now you know it's good!  My asparagus hating child loved it.
And so did the asparagus loving people around here!  It was a nice change and will definitely be making it into the rotation around here.  Obviously.  It is bloggable after all!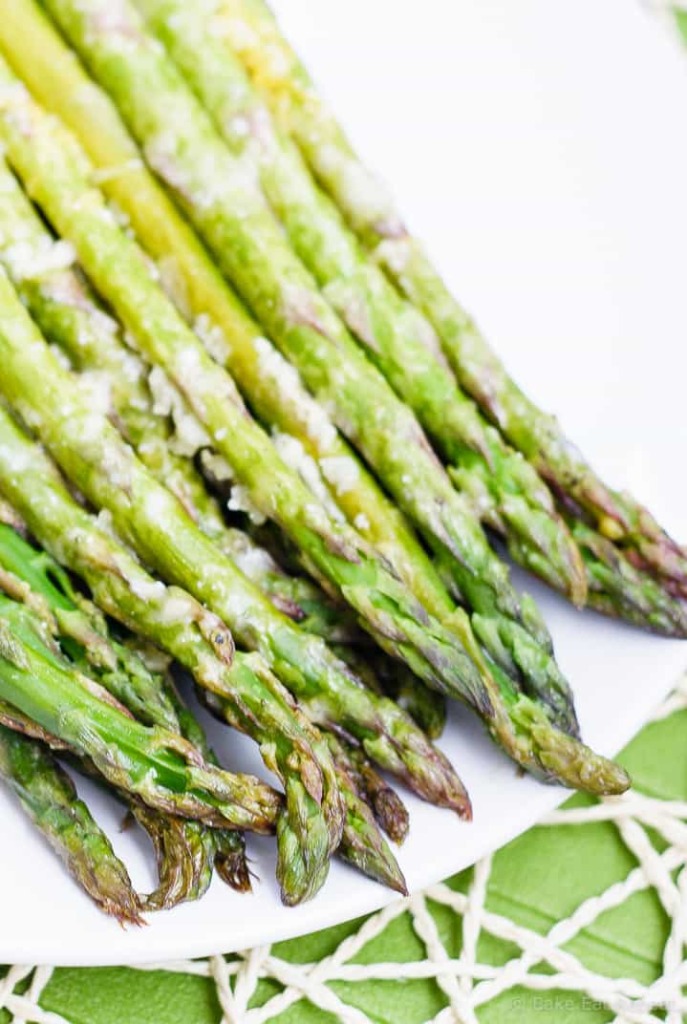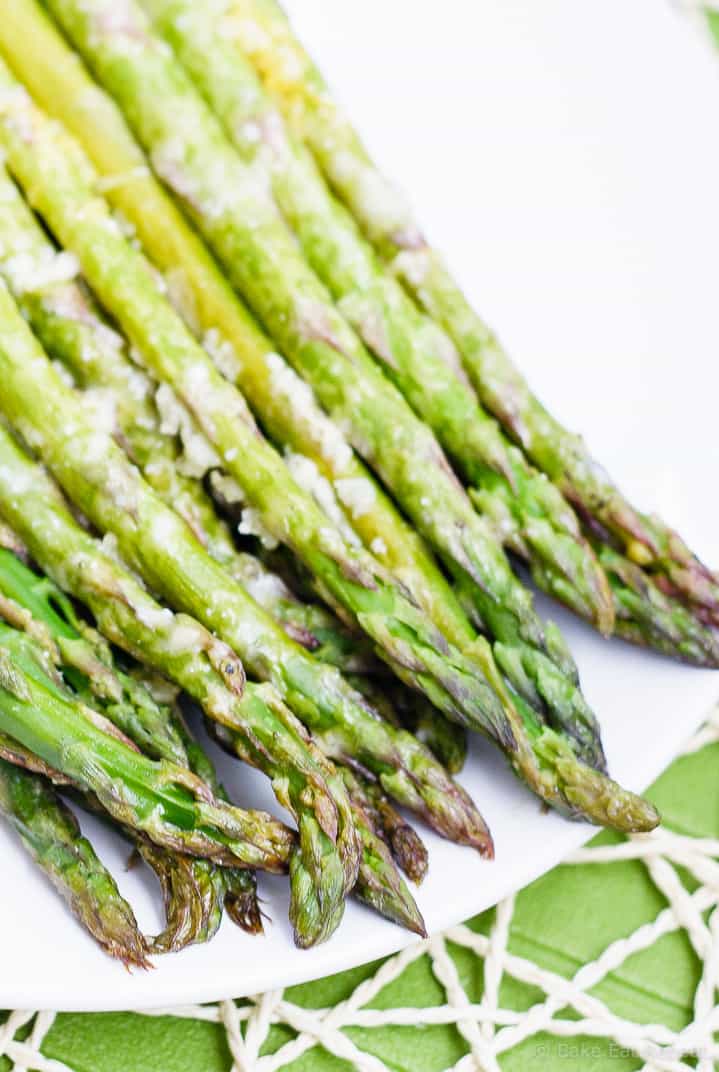 Yield: serves 4
Lemon Roasted Asparagus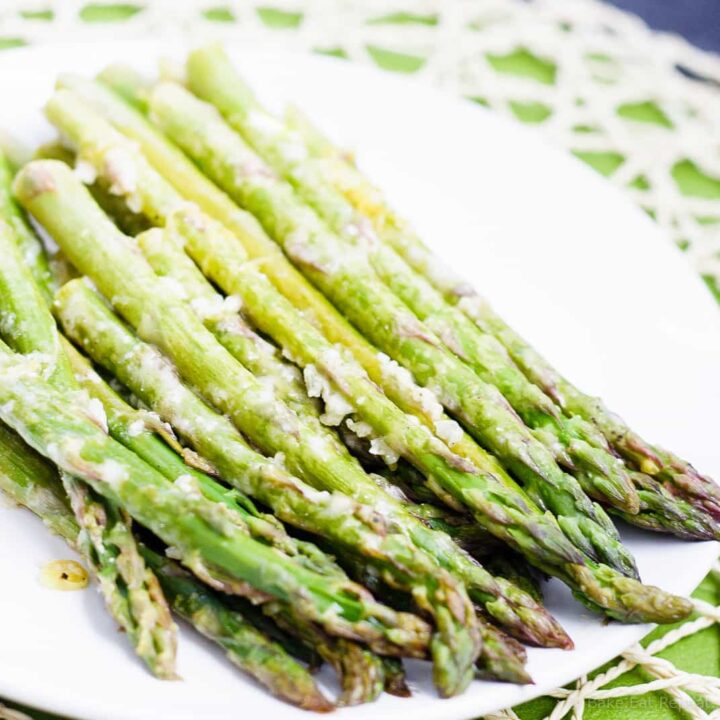 *Note:* My asparagus was quite thick, and it took 10 minutes to roast, but I like mine still a bit crisp. If your asparagus is really skinny, or you like it a little more well done you may have to adjust the roasting time accordingly. Also, the bright lemon flavour really shines through in this recipe, so if you just want a hint of lemon instead, reduce the lemon juice/zest to half a lemon.
Ingredients
1 pound (450 g) asparagus spears
1 lemon, juice and zest
1 tablespoon olive oil
2 cloves garlic, minced
1/2 cup grated parmesan cheese
Instructions
Preheat the oven to 425 degrees F.
Wash the asparagus and snap off the woody ends, it will naturally snap where the tough part of the spear ends. Pat the asparagus dry with paper towel and spread it out on a rimmed baking sheet.
In a small bowl, whisk together the lemon juice, zest, olive oil and garlic. Drizzle this mixture over the asparagus and toss them around lightly to coat them completely. Sprinkle with salt and pepper to taste, and the parmesan cheese.
Roast for 10-12 minutes, until the asparagus is tender.
Notes
Source: Bake.Eat.Repeat. original.