I really enjoy making homemade bread.  There's something almost magical about mixing a few ingredients together and ending up with a crusty, golden, flavourful loaf of bread.  Of course, some breads are much quicker and easier than others.  I love attempting all sorts of breads, but this focaccia bread definitely falls in the quick and easy category.  As long as you have a few hours to let the dough rise, it takes virtually no hands on time at all.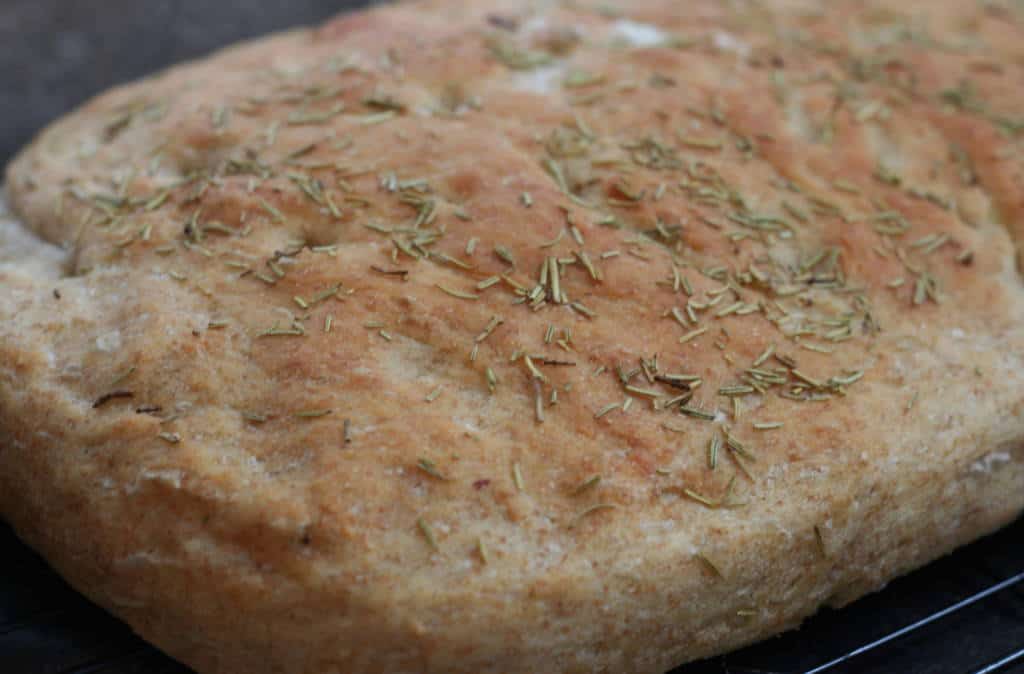 There is no kneading for this focaccia bread which is what makes it so quick, you literally mix everything together, let it sit for a couple hours, toss it in a pan and bake it.  There's maybe 10 minutes of hands on time.  Like I said, magical!
I think I've tried 3 or 4 different focaccia recipes over the last couple of years, and this one is the best one by far.  Its the easiest to make, and has the best flavour.  And the salty, rosemary sprinkled crust is the best part.  My kids eat the crust first, which just tells you how good it is since most kids will go for the soft interior of bread and leave the crust!
And the best part?  You can easily double the recipe and leave half the dough covered in the fridge so you can make it again later in the week, with even less effort!  Try this today, I guarantee you won't regret it!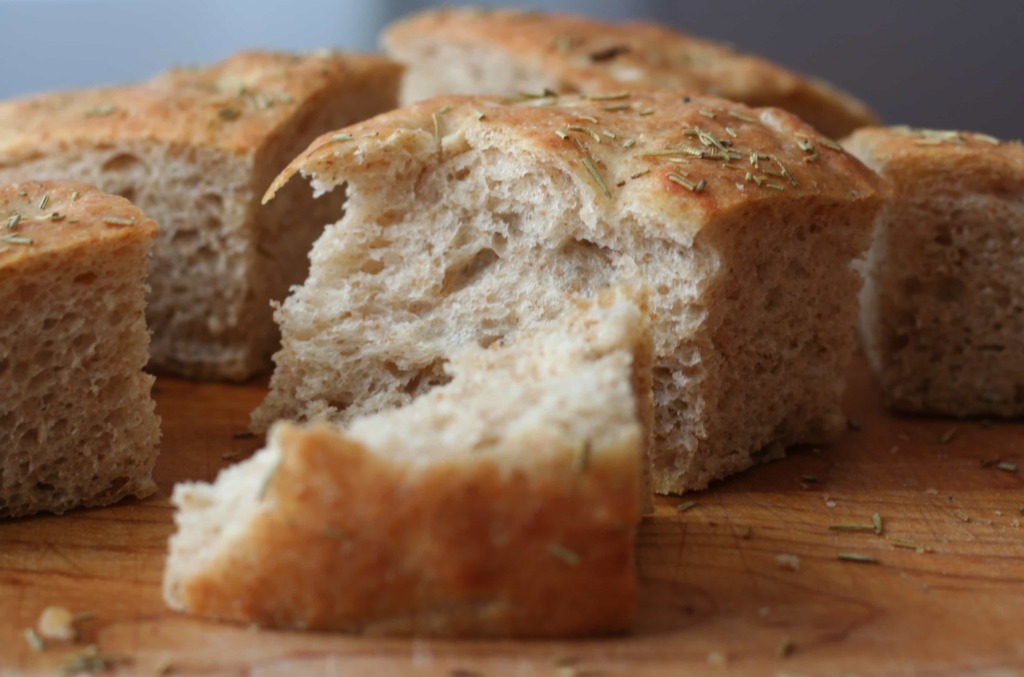 Yield: 16-20 pieces, depending on how large you slice the bread (9x13inch pan)
Easy Focaccia Bread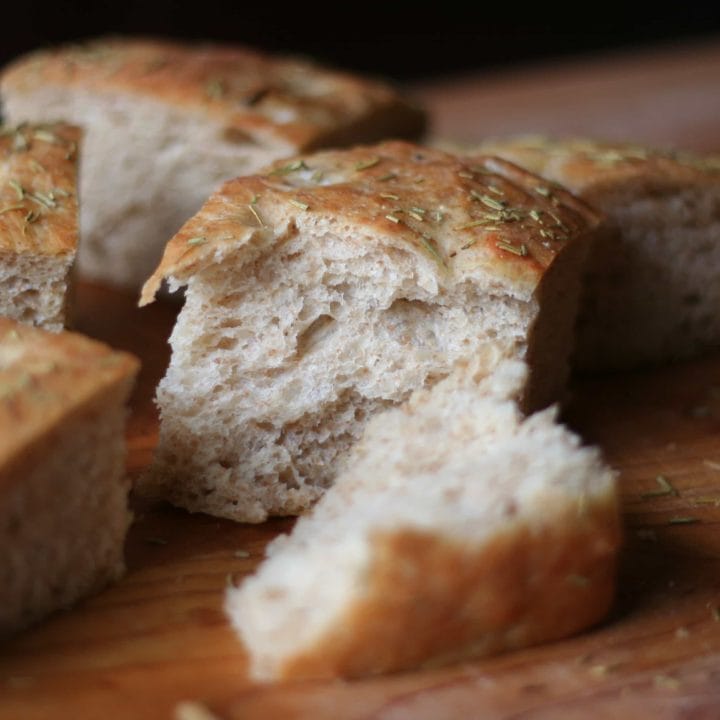 *Note:* This bread is great right out of the oven with olive oil and balsamic vinegar, or even plain. The salty olive oil brushed crust is delicious without anything else added to it. Leftovers are great for sandwiches or panini's if you have any left! Also, this recipe can be easily halved to fit in a 9x9 inch pan, or doubled to do two pans of bread. Or, you can double it, use 1/4 to 1/2 of the dough to bake immediately, and store the remainder in the fridge for up to a week. When you're ready to bake it simply take it out and allow it to come to room temperature (about 2-3 hours) and then continue with the shaping and baking instructions.
Ingredients
1 1/4 cups all-purpose flour plus 2-4 tablespoons for dusting
2 cups whole wheat flour
1 tablespoon instant yeast
2 1/4 teaspoons salt
1 1/2 cups very warm water (about 100 degrees F, 38 degrees C)
3 tablespoons olive oil, divided
1 teaspoon kosher or coarse salt
2 teaspoons dried rosemary
Instructions
In a large bowl, stir together the all-purpose flour, whole wheat flour, yeast and salt. Add the water, make sure it's very warm, but not hot to the touch. (I generally don't check the temperature, as long as you can stick your finger in comfortably it will be fine, but you can check the temperature if you're nervous about killing the yeast!)
Stir everything together with a wooden spoon or dough whisk until all of the flour is hydrated. There should not be any dry pieces left at all, this will take a couple of minutes of stirring. Once all the flour is mixed in, you will have a rather shaggy mass of dough in the bowl. Cover this tightly with plastic wrap and let rise for 2 hours, or until the dough has doubled in size.
Prepare a 9x13 inch pan by brushing one tablespoon of olive oil over the bottom and sides. In a small bowl, stir together the remaining 2 tablespoons of olive oil with 1 tablespoon of water and 1 teaspoon of kosher salt.
Once the dough has doubled, sprinkle a bit of flour over the dough, just it isn't as sticky and you can handle it a bit. Turn it over a couple times in the bowl with floured hands so that you have a lightly floured ball of dough, but without kneading it and removing all the air bubbles. You want to handle this dough gently, just use enough flour so you can move the dough around without having it stuck all over your hands.
Move the dough to the prepared baking pan and press it out with your hands to fill the pan. It may not quite reach the edges everywhere or be a perfect rectangle, that's okay. Brush the olive oil and salt mixture over the top of the bread, making sure to use all of it, and then sprinkle the top with rosemary. Cover the pan with plastic wrap or a clean towel and let it rest for 45 minutes.
Preheat the oven to 450 degrees F. When the dough has rested, uncover it, place the pan into the hot oven, and bake for 25-27 minutes until it is golden brown. Let cool in the pan for couple of minutes and then lift it out to cool on a wire rack. Serve warm with olive oil and balsamic vinegar, or just plain if you prefer!