It's hot.  So, so hot, and these dark chocolate cherry fudgesicles are the perfect antidote to this heat wave we're having.
Fudgesicles were my absolute favourite frozen treat as a child.  Actually, who am I kidding?  They're my favourite now!  Cold, creamy chocolate, what could be better?  And these have some sweet bursts of frozen cherry in them as well to make them even better than the fudgesicle standby that we all know and love.
They take a little longer than the usual homemade popsicle where you blend some fruit and juice and toss it in the popsicle mold, but worth every second.  They are so awesome, that I'm pretty sure I won't be able to share them with the kids.  Is that wrong?  Probably, but I may not care.  Try them and I'm sure you'll agree that they are too good to want to share!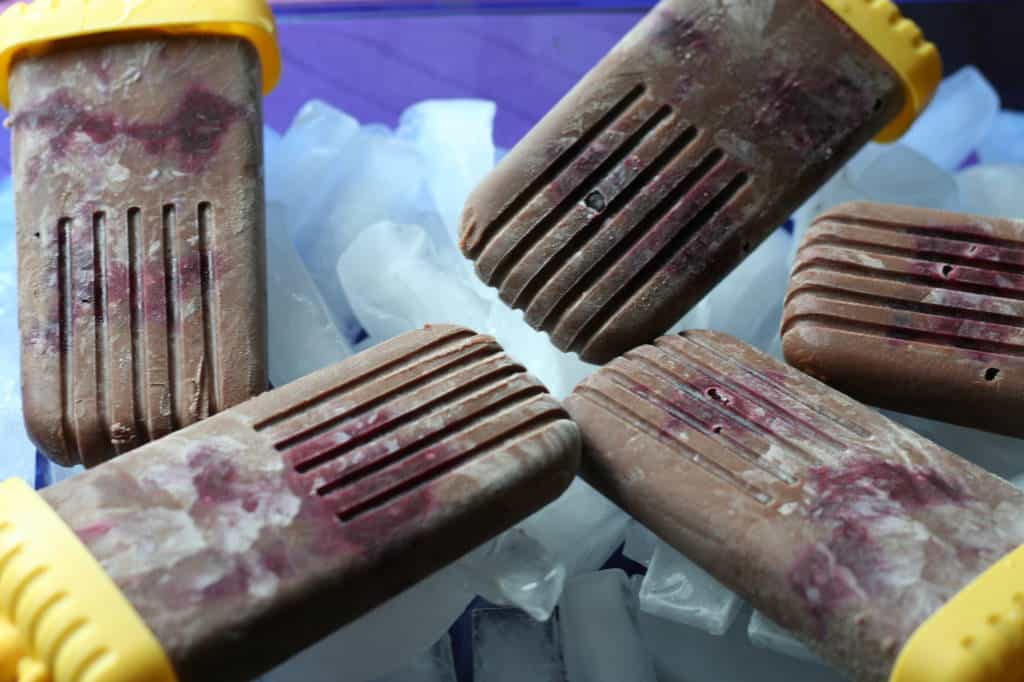 Yield: 6 fudgesicles
Dark Chocolate Cherry Fudgesicles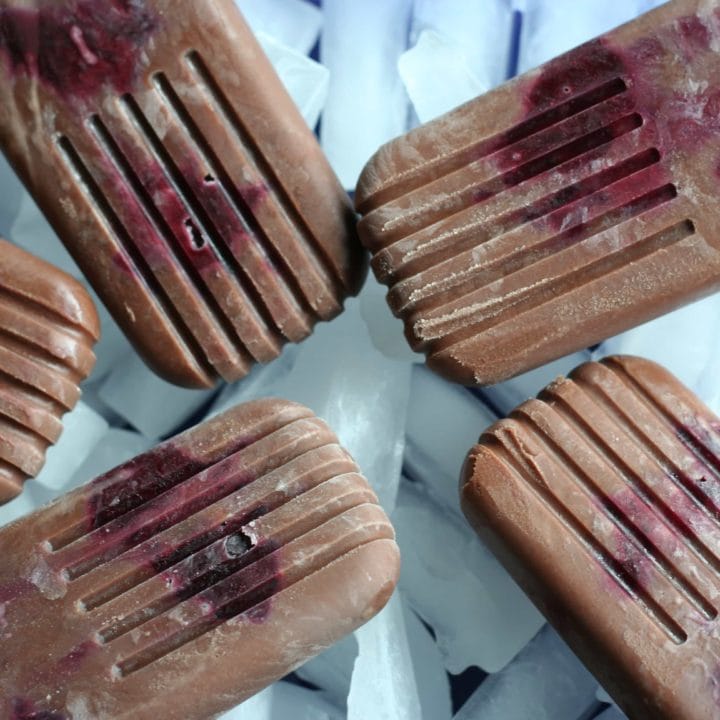 *Note:* This made 6 in my popsicle mold, but the number you get will depend on the size of your mold.
Ingredients
2 cups frozen cherries
1 teaspoon corn starch
1 1/2 ounces dark chocolate, finely chopped
1/2 cup granulated sugar
1 1/2 tablespoons corn starch
2 tablespoons unsweetened cocoa powder
2 cups milk (I used 2%)
1/2 teaspoon kosher salt
3/4 teaspoon vanilla
2 teaspoons unsalted butter
Instructions
To make the cherry layer, toss the frozen cherries with 1 teaspoon of corn starch in a small saucepan and heat over medium low heat, stirring often, until the cherries have started to break down and the liquid is thickened, about 6-8 minutes. You may need to chop the cherries up a bit with a spoon so that the pieces aren't huge.
For the fudgesicle layer, melt the dark chocolate in a saucepan over low heat until melted, stirring often so it doesn't burn. Add the sugar, corn starch and cocoa powder and stir until combined, it will be a crumbly mixture. Slowly whisk in the milk, continuing to whisk the mixture until it is smooth with no lumps remaining.
Increase the heat to medium-high and cook, stirring often, for another 5-10 minutes, or until it starts to thicken. Remove the pan from the heat and stir in the salt, vanilla and butter, stirring until completely combined. Let it cool for about 5 minutes.
Layer the chocolate and cherries into the popsicle molds, filling about 1/3 full with chocolate, adding a scoop of cherries, then more chocolate until it's about 2/3 full, another scoop of cherries, then filling to the top with chocolate. Add the sticks and freeze until solid. Enjoy!