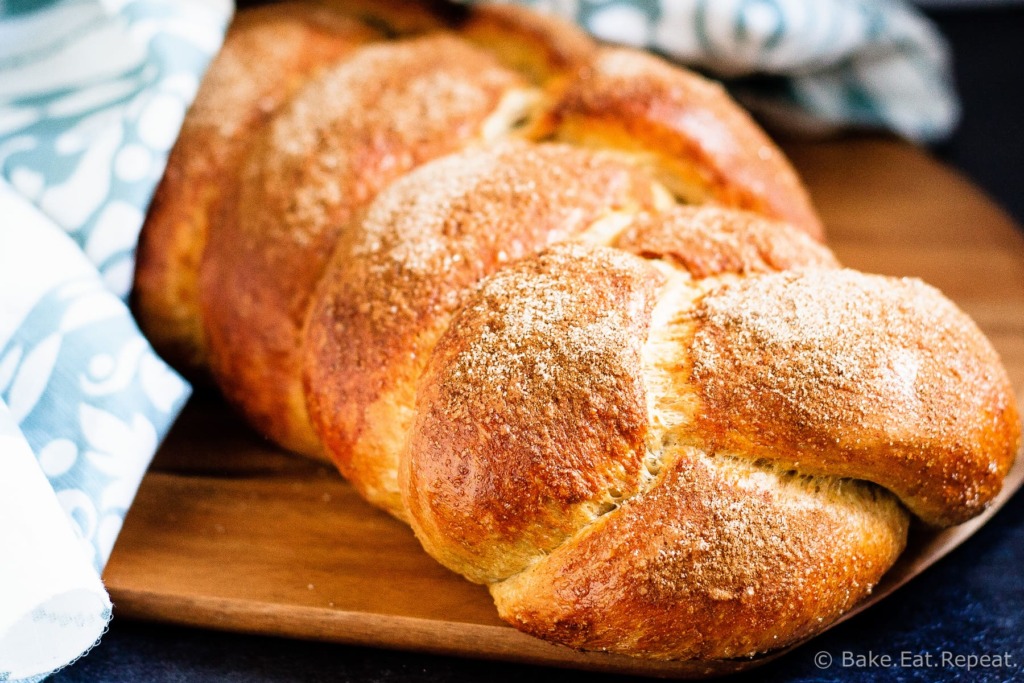 Have you ever had challah before? I hadn't, until about a month ago when I first tried a recipe for it. I've made it 3 more times since, so….I like it. You should definitely try it too!
This recipe is for a cinnamon challah bread. Basically I took a regular challah bread recipe and added cinnamon to the dough, then crusted the top with a cinnamon sugar coating. It was amazing. I'm pretty sure adding some raisins to the dough would be fantastic too, but unfortunately I kept forgetting to pick some up, so every time I went to make it I was disappointed to find that I was still out of raisins. Evidently they don't restock themselves. I should probably be better with making (and actually looking at) grocery lists. Oh well. If you try it with raisins, please let me know how awesome it is!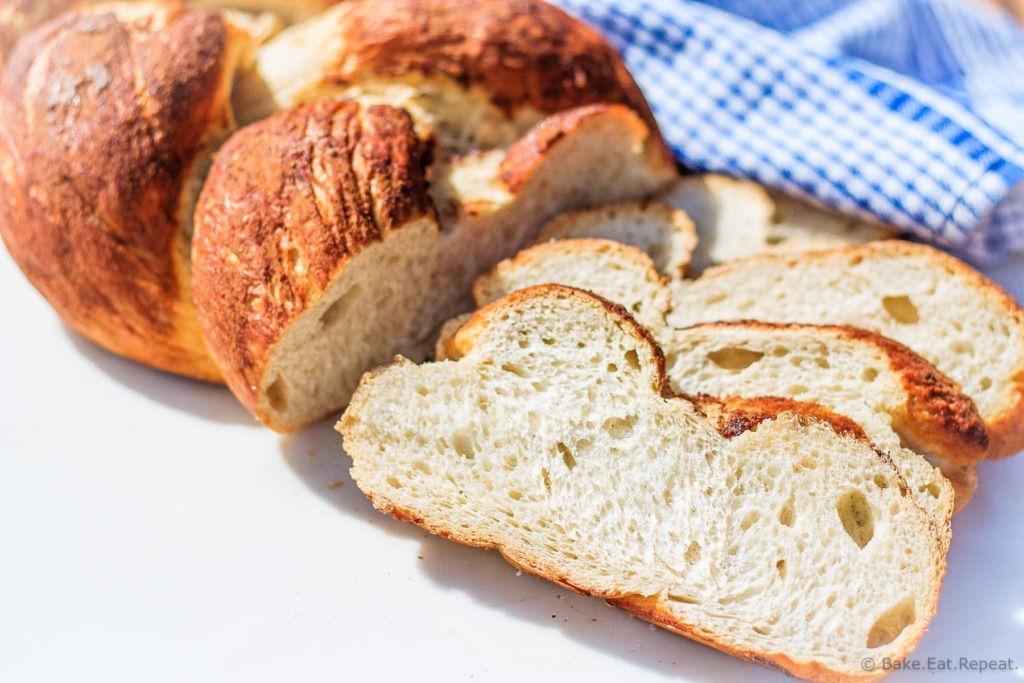 I've also made it as a fully white loaf (amazing), and as a whole wheat version (75% whole wheat) which was also really good. It was a bit denser, but that's to be expected with a whole wheat bread. I had no complaints with the whole wheat version, and more importantly, neither did anyone else which says something! So you can definitely make it a bit healthier by using whole wheat flour.
This was a very easy dough to make, mixing up quickly, and it was easy to work with. I used it to make French toast for my whole family, and my sister and sister-in-law informed me that I now need to make cinnamon challah every time we have French toast. It was that good. Of course, now that I've posted the recipe here, I'm pretty sure they'll be making it for me, right? We'll see.
This homemade cinnamon challah bread is delicious! Come back Friday for the French toast recipe I used it in, along with a giveaway!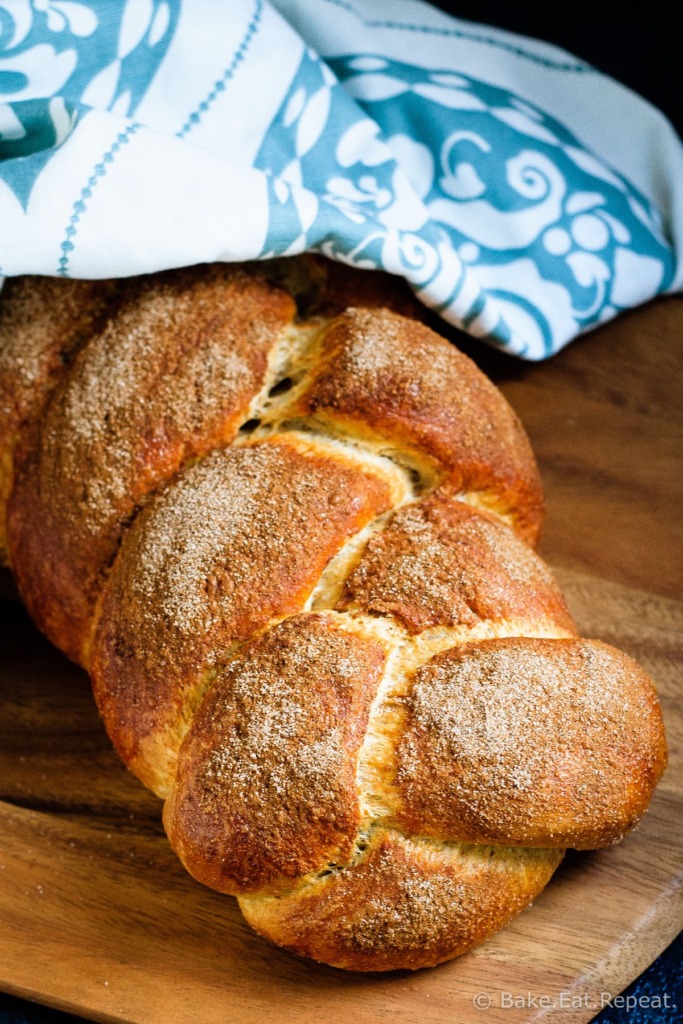 Yield: 1 loaf
Cinnamon Challah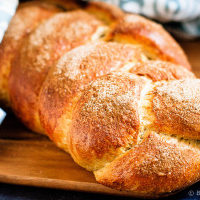 Easy to make homemade cinnamon challah bread!
Prep Time
3 hours
30 minutes
Total Time
7 hours
10 minutes
Ingredients
4 cups (18 ounces) all-purpose flour
2 tablespoons granulated sugar
1 teaspoon salt
1 1/2 teaspoons cinnamon
1 1/2 teaspoons instant yeast
2 tablespoons canola oil
2 large eggs, lightly beaten
2 large egg yolks, lightly beaten
3/4 cup plus 2 tablespoons water, room temperature
1 egg white, whisked until frothy
2 tablespoons granulated sugar
1 1/2 teaspoons cinnamon
Instructions
In a large bowl, or the bowl of a stand mixer, stir together the flour, sugar, salt, cinnamon and yeast.
In another bowl, whisk together the oil, eggs, egg yolks and water. Pour the egg mixture into the flour mixture.
With the dough hook attachment (or a wooden spoon) mix the ingredients together until they gather and form a ball. If the dough is really dry, add more water, a tablespoon at a time until it comes together into a ball and clears the sides of the bowl. If it is really sticky and is not clearing the sides of the bowl, add a bit more flour a tablespoon at a time.
Knead the dough for 6-7 minutes by machine (10-12 by hand). The dough should be soft, but not excessively sticky. If it is really sticky, sprinkle in a little more flour.
Transfer the dough to a lightly oiled bowl, turning it to coat, and cover the bowl with plastic wrap.
Let the dough rise until doubled, about one hour.
Punch down the dough to degas it, then cover, and allow it to rise until it has again doubled, another hour or so.
Remove the dough from the bowl to a lightly oiled countertop, and divide it into three equal pieces. I use a kitchen scale to make the pieces as equal as possible.
Form each piece into a rounded ball, cover, and let them rest for 10 minutes. Once they have rested, roll each piece out into a long strand, about 20 inches long.
Braid the strands together, starting in the middle and then working your way out to each end (you get a nicer braid this way then starting at the end).
Press the last couple inches of each strand together at the ends and tuck them underneath the finished braid to keep it together while it's rising.
Place the braided loaf on a parchment lined baking sheet and lightly spray it with cooking oil.
Lightly cover the loaf with plastic wrap and then a clean dish towel and allow it to rise until it has grown to 1 1/2 times it's size, about 60-75 minutes.
Preheat the oven to 350 degrees F.
Brush the beaten egg whites liberally over top of the risen loaf.
In a small bowl, combine the sugar and cinnamon. Sprinkle this mixture liberally over top of the egg wash (you may not need all of the cinnamon sugar mix).
Bake the loaf for 35-40 minutes, or until it is a deep golden brown colour, and a thermometer inserted in the center of the loaf reads 190 degrees F.
Transfer the loaf to a cooling rack and allow it to cool for at least one hour before slicing.

Nutrition Information:
Yield:
16
Serving Size:
1 slice
Amount Per Serving:
Calories:

166
Total Fat:

4g
Saturated Fat:

1g
Trans Fat:

0g
Unsaturated Fat:

3g
Cholesterol:

58mg
Sodium:

155mg
Carbohydrates:

28g
Fiber:

1g
Sugar:

3g
Protein:

5g
Nutrition Information is estimated based on ingredients used and may not be exact.