With bananas and oatmeal too. But really, I just couldn't put all of that in the title. It would start getting out of control. And nobody wants that.
Besides, the chocolate and peanut butter are really the most important parts. A healthy chocolate peanut butter smoothie is pretty awesome all on it's own. But adding bananas and oats to it really makes it a full meal, rather than just glorified chocolate milk. I made this smoothie for lunch every single day last week, and only stopped because I had to get my leaky blender fixed. Guess what I made the day I got it back. I love this smoothie, as does my three year old – he stole most of mine the other day and I had to make another one.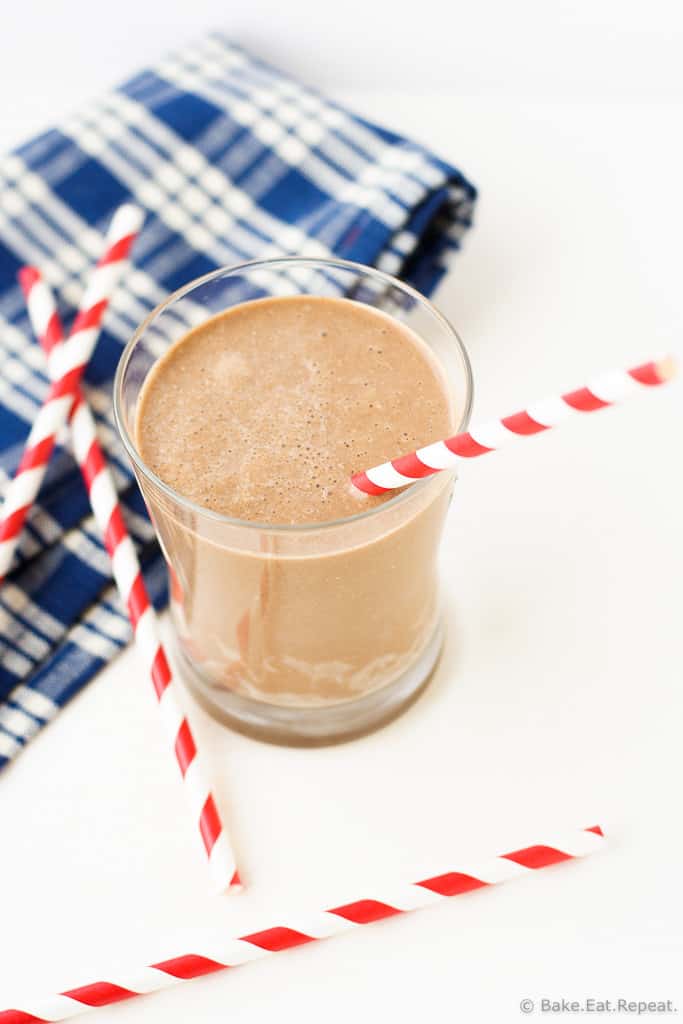 Just like with my oatmeal orange smoothie, you can't taste the oats as long as you really blend it well. The trick is to grind up the oats in the blender first until they're powdery, and then add the rest of the ingredients and blend them together. I also use frozen bananas in this smoothie to get that creamy milkshake consistency that makes a healthy meal feel like a treat. All the chocolatey flavour is from unsweetened cocoa powder, and I add just a bit of honey to sweeten it up a little.
I should probably have some form or Mother's Day recipe for you today I guess, not just a smoothie. But this week kind of got away from me. It's already Friday. I don't even know how that happened. Everyone in the house was sick this week, which is always fun. We had a huge blizzard on Wednesday, so that was kind of crazy, waking up to 6 inches of snow – and then it KEPT snowing all day long. I did get a nice picture of my tulips covered in snow though, so there's that. At least it won't last long, but still. Plus, everything I tried to bake to post for Mother's Day was a complete failure. Fail after fail this week. I don't know what was going on. Just one of those weeks I suppose. Where life got in the way of my little hobby here – the nerve!
Oh well, if the dessert I made for Mother's Day is actually good and not a big fat failure, I'll share that with you next week! If not, well, I can just chalk it up to a bad week and move on. We all have those sometimes.
And in the meantime, there's chocolate peanut butter smoothies. That can't fail.
Have a great weekend everybody – if you're looking for a terrific brunch recipe for Sunday, here's a couple of my favourites:
Apple Cinnamon Coffee Cake with a Salted Caramel Glaze