Evidently I'm now addicted to making my own Chinese takeout food.
After 10 years of not being able to eat Chinese food, I suddenly can't get enough!  I've actually had this recipe ready to go for a while now, ever since my whole week of Asian recipes.  There just wasn't enough time to share this one as well!  Which is too bad since it might just be my favourite of all of them.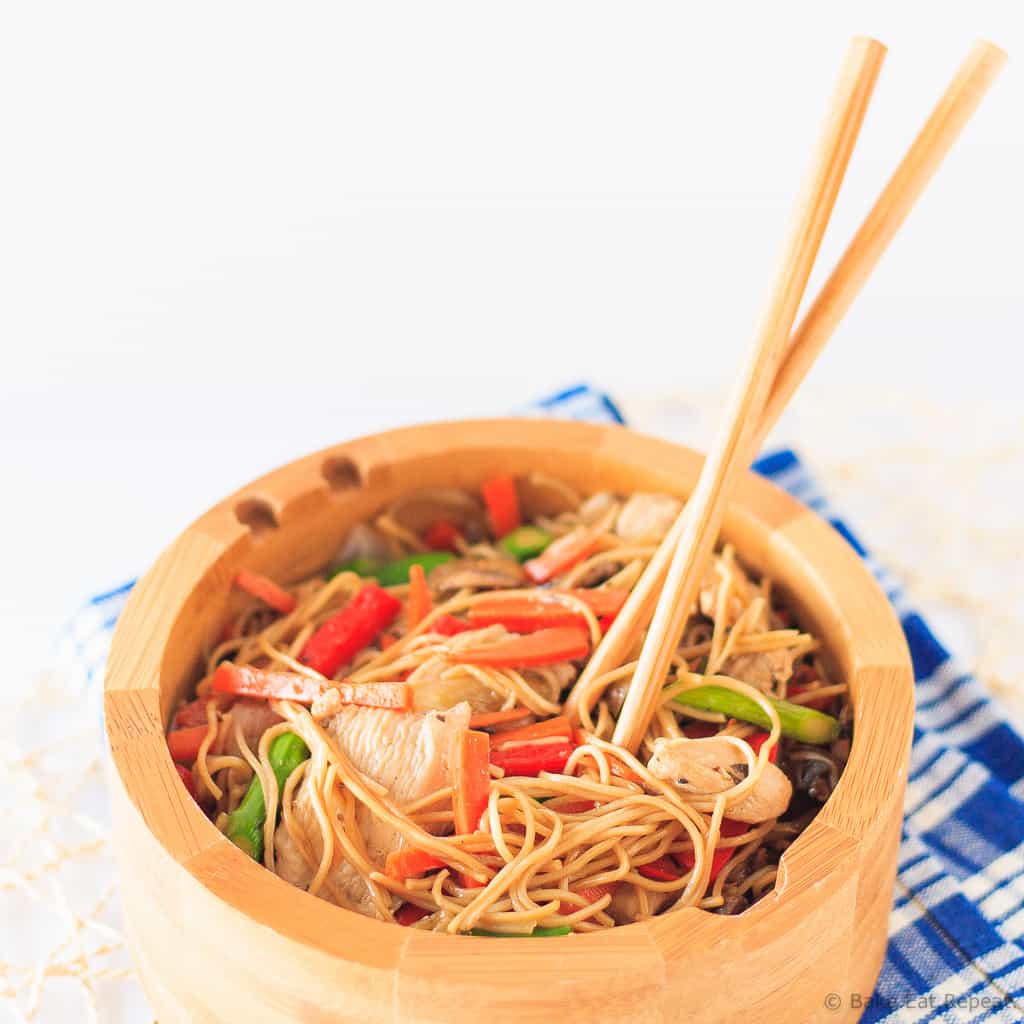 No – that lemon chicken is pretty much amazing.  But so is this chicken chow mein.  I can't pick – I like food, and trying new recipes, and apparently making Chinese takeout!
The best part of this recipe though is that it is so incredibly easy!  Fast, easy and absolutely delicious.  You really don't need much more from a recipe as far as I'm concerned.  I've made this recipe at least three times now, which is already saying something about it.  If a food blogger is making something three times in under a month you know it's good.  Because I don't make a lot of things over and over again – always gotta be trying something new!  Drives my family crazy.  But they were very happy that this one was so good that I made it over and over again.  And I will definitely continue to do so!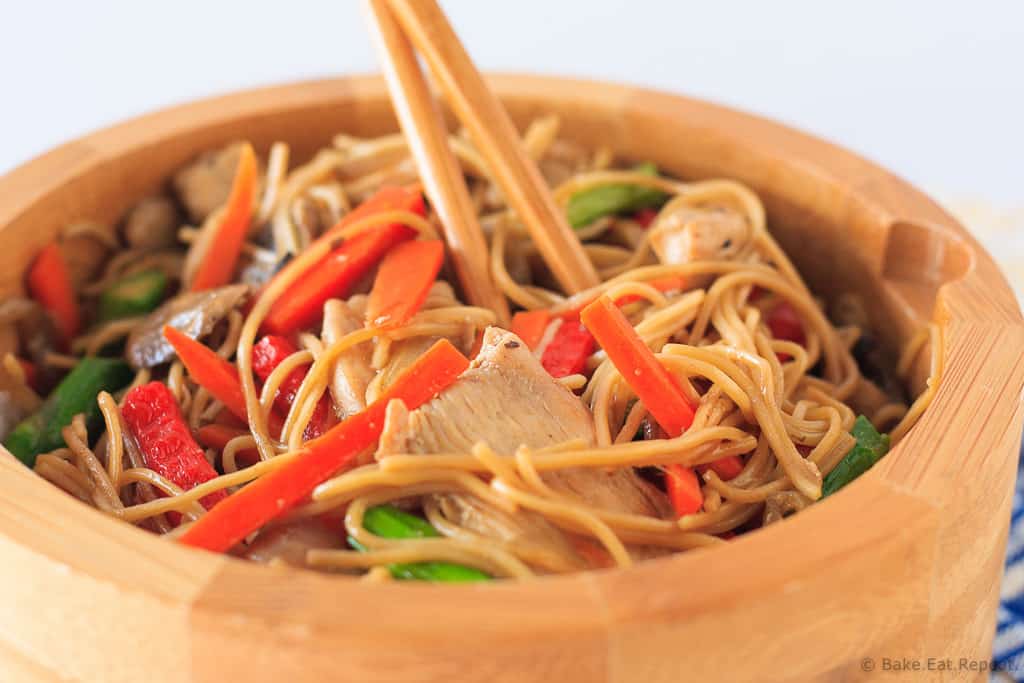 Plus, you can customize it to your liking.  Don't like those veggies?  Use something else, or whatever you happen to have in the fridge.  Different protein?  Sure.  I've made it with chicken, shrimp and beef and all of them were great.  I think I'm partial to the chicken chow mein, but use whatever you prefer.
This chicken chow mein is so tasty.  And so fast.  And so easy.  You definitely need to try it.  So much better than takeout, I promise.  I didn't even think I liked chow mein – that's how much better it is!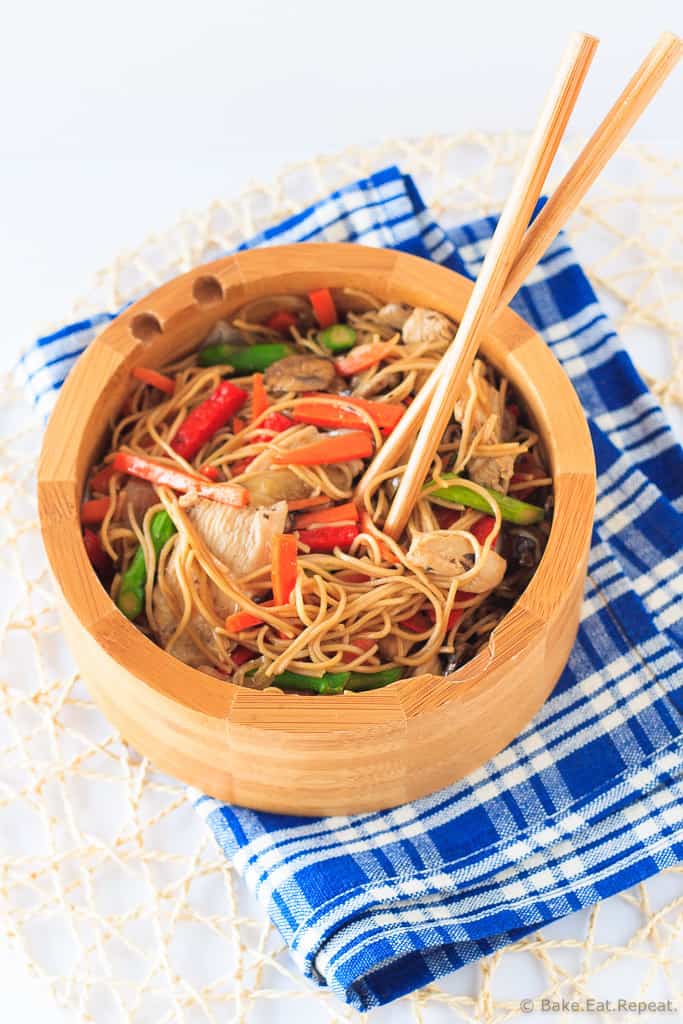 Yield: serves 4-6
Chicken Chow Mein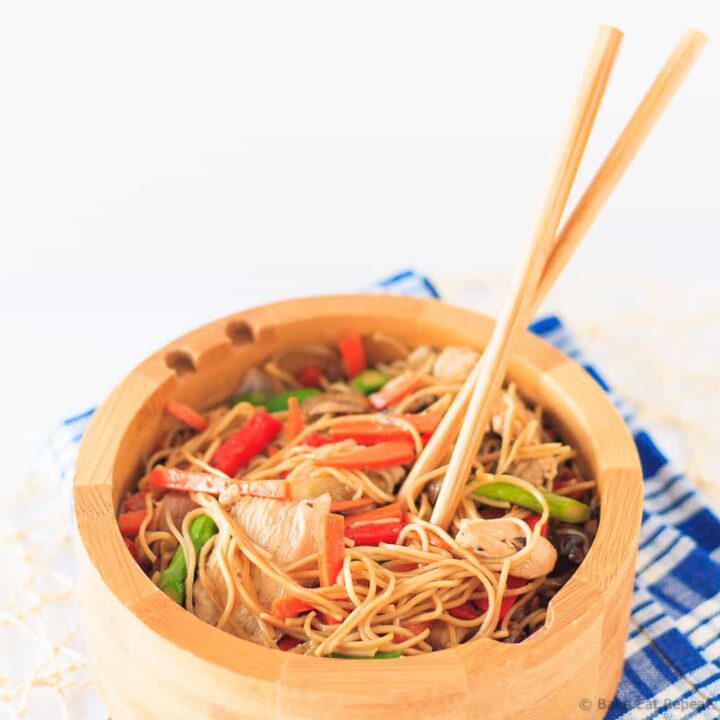 Ingredients
3 chicken breasts, sliced thin
2 tablespoons soy sauce
1 tablespoon cooking sherry
8 ounces (250 g) thin rice noodles
1-2 tablespoons olive oil, divided
6-8 button mushrooms, sliced thin
2 large carrots, julienned
1 red pepper, sliced thin
1 small onion, sliced thin
10-12 asparagus spears, chopped in 1 inch pieces
1/3 cup chicken broth
2 tablespoon soy sauce
1 1/2 tablespoon hoisin sauce
1/2 teaspoon black pepper
1 clove garlic, minced
Instructions
In a medium bowl, combine the chicken with the soy sauce and cooking sherry, stirring to coat, and allow to marinate at room temperature for 10-15 minutes. Cook the noodles in a large pot of boiling water, according to the package directions, about 2 minutes, or until just tender.
In a large skillet or wok, heat one tablespoon of the oil over medium heat. Add the marinated chicken and cook, stirring until just cooked through, about 3-4 minutes. Remove to another bowl and cover with foil to keep warm. Add another splash of oil, and all the vegetables to the skillet. Stir fry the veggies until tender crisp, 2-3 minutes, then remove to another bowl and cover to keep warm.
Add a bit more oil to the pan to heat. In a small bowl, whisk together the chicken broth, hoisin sauce, black pepper and garlic. Set aside. Add the cooked noodles to the skillet and stir fry for 2-3 minutes, until they are heated through and starting to turn golden. Make a well in the center of the noodles and pour in the sauce. Add back the chicken and veggies, and stir everything to coat it all with the sauce. Continue to cook until everything is heated through.