I make a lot of granola.  It's maybe becoming a problem.  There are now 4 granola recipes on this little blog, and it's only 4 months old.  Does that mean that in a year there may be 12 recipes for granola here?  I won't lie, it's possible.  And I'm not even sorry.
All of them were just too good not to share.  I will say though, that this chocolate peanut butter banana granola is the only one that I was grabbing bits of every time I walked by.  Generally I'll have it with my yogurt in the morning and I'm good.  But this? Could not stop eating it.  It's definitely a snack-able granola recipe.
I made this with both peanut butter chips and semi sweet chocolate chips, and I preferred the peanut butter version so that's how I wrote it up, but if peanut butter isn't your thing then swap in chocolate chips.  The other wonderful thing about this granola, besides its taste?  How healthy it is!
This makes about 6 cups of granola and there's only 3 tablespoons of oil and just under 1/2 a cup of sugar, half of which is maple syrup.  And it's still super crunchy, and sweet enough, at least for me.  It isn't an overly sweet granola though, so if you like your granola sweet you might want to increase the maple syrup by a tablespoon or two.
We all loved this version.  What's your favourite granola?  I obviously need more variations!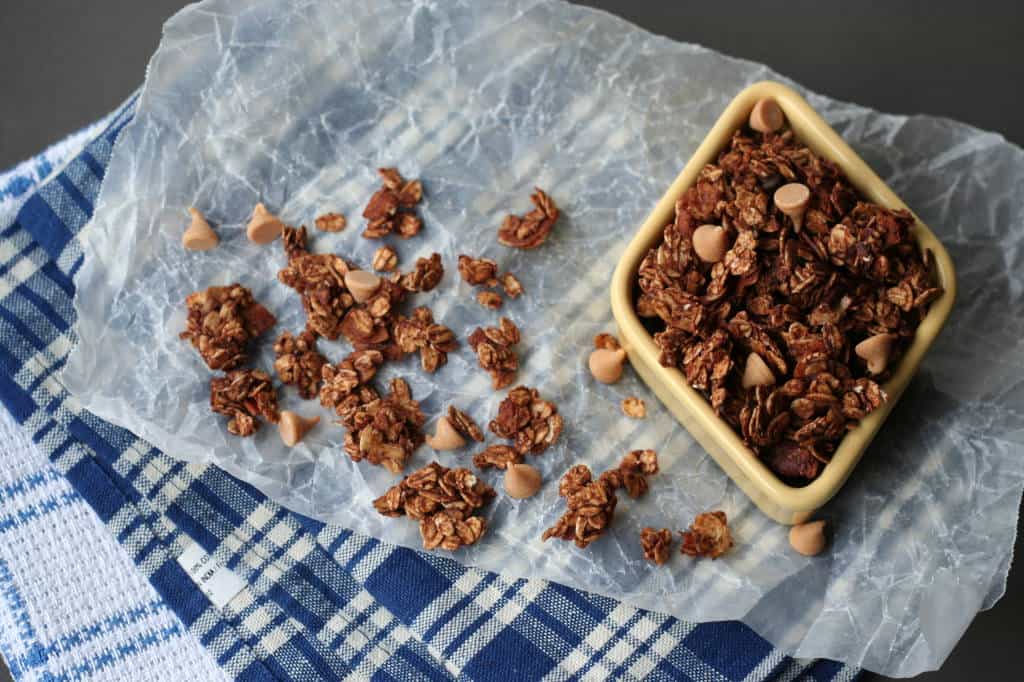 Yield: makes about 6 cups of granola
Chocolate Peanut Butter Banana Granola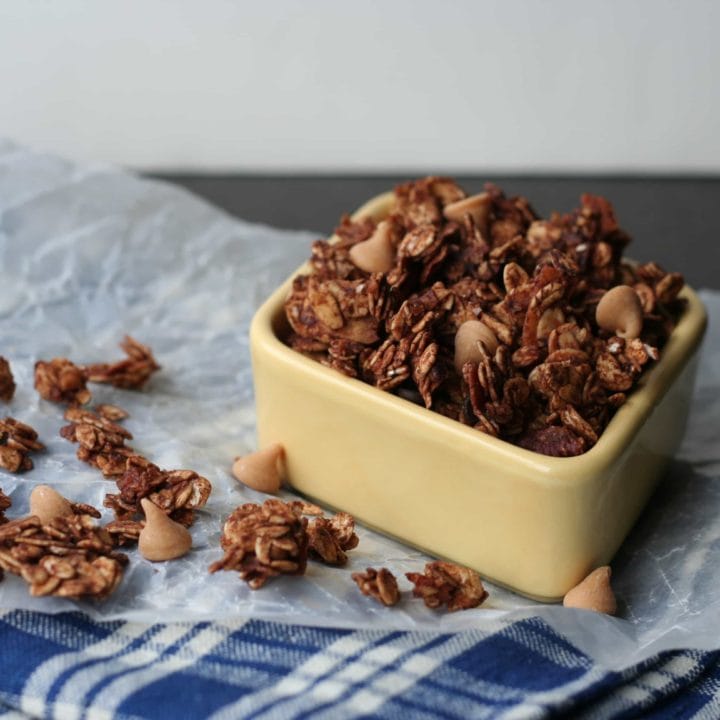 *Note:* I used pecans and coconut chips, but feel free to substitute whatever nuts you like, and plain coconut if you don't have the chips. I've also made it with both canola oil and coconut oil and both are good so use whichever you prefer.
Ingredients
1 banana, mashed (about 1/4 cup)
3 tablespoons canola oil
3 tablespoons maple syrup
1/2 teaspoon salt
1/4 cup brown sugar
4 cups rolled oats
1 cup coconut chips
1 cup pecans, roughly chopped
1/4 cup unsweetened cocoa powder
1/2 cup peanut butter chips
Instructions
Preheat the oven to 250 degrees F. Combine the brown sugar, oats, coconut chips, pecans and cocoa powder in a large bowl.
In another bowl or measuring cup, combine the banana, oil, maple syrup, and salt. Pour the liquid into the oat mixture while stirring to combine. Mix until the liquid is evenly distributed.
Divide the mixture between two 11x17 inch baking sheets, spreading it out so that it's even. Bake for 1 hour and 15 minutes. I usually swap the baking sheets halfway through the baking time.
Remove from the oven and allow to cool completely. Stir in the peanut butter chips. Transfer to a large airtight container. It will keep in an airtight container at room temperature for 7-10 days.