I love making bread, as I'm pretty sure I've mentioned before, and am always on the lookout for new bread recipes to try.  So when I saw these breadsticks over at Taste and Tell, I knew that I needed to try some version of them myself.  I mean, breadsticks without yeast so that they're ready for supper even when you don't decide to make them until half an hour before you eat?  You can't really beat that!
These breadsticks are pretty much the perfect side dish for a quick meal.  They come together quickly, you probably have everything you need for them in your kitchen right now, and they taste divine.
They are actually very similar to a biscuit, but in breadstick form.  They are flaky and tender and melt in your mouth good.  I think the salt sprinkled on top was maybe my favourite part, although the rosemary sprinkled throughout is a close second.  Actually scratch both of those, the fact that they were mixed up and in the oven in under 10 minutes, and ready to eat 15 minutes later is definitely the best part!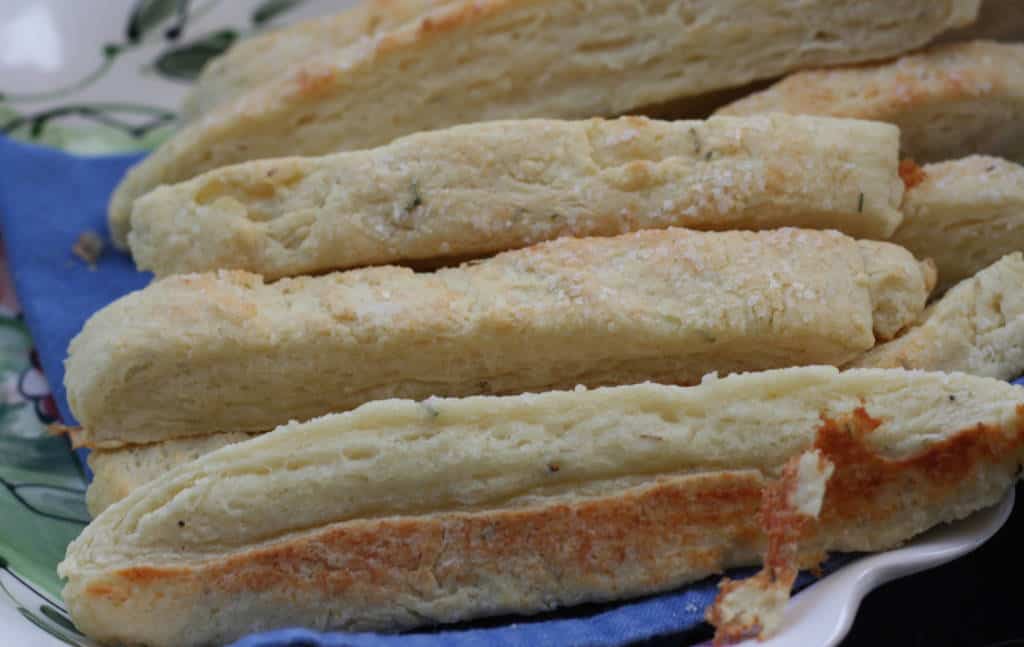 Yield: 12 breadsticks
Flaky Yogurt Breadsticks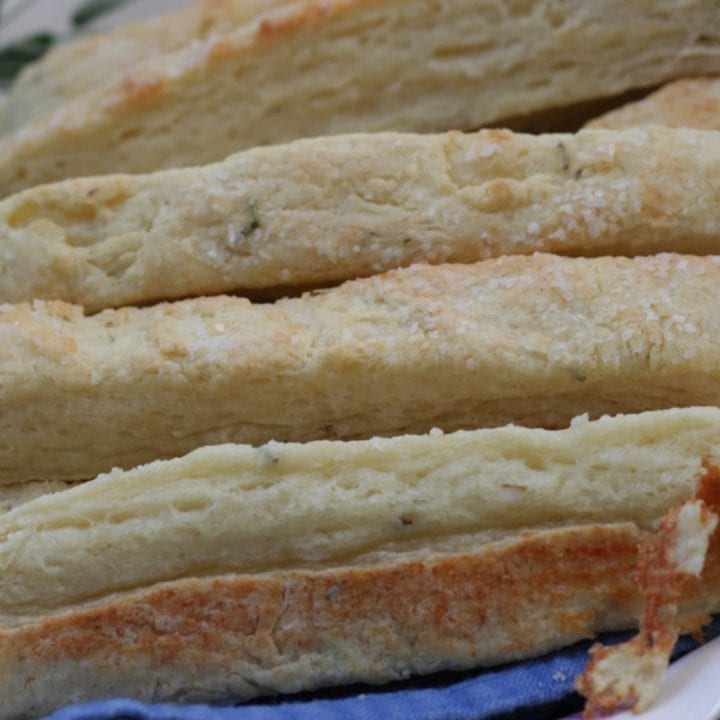 Ingredients
2 cups all-purpose flour
3 teaspoons baking powder
1/2 teaspoon salt
1/3 cup unsalted butter
1/2 teaspoon dried rosemary
1 1/4 cups plain Greek yogurt
1 tablespoon olive oil
coarse salt
Instructions
Preheat the oven to 450 degrees F. Line a baking sheet with parchment paper.
In a large bowl, mix together the flour, baking powder, salt and rosemary. Cut the butter into pieces and add to the bowl. Using a pastry blender or two knives, cut in the butter until the mixture resembles coarse crumbs. Add the yogurt and mix until it just comes together.
Turn the mixture out onto a lightly floured surface and knead it a few times until it comes together into a ball. Roll or press it out into an 8 x 12 inch rectangle and cut it into 12 one inch strips. Place the strips on the prepared baking sheet. Brush the tops with the olive oil and sprinkle with coarse salt.
Bake for 12-14 minutes or until golden brown. Serve immediately.