These cookies are incredible.  And that's coming from someone who has often said that she doesn't really like caramel.  Apparently I'd just never had homemade salted caramel wrapped up in a perfect chocolate chip cookie before.  Because I could. not. stop. eating these!  They were so good.  And I'm sure store bought caramel would be good too, but I had some homemade stuff on hand so that's what I used.
Salted caramel chocolate chip cookies are now on my favourite cookies list.  Which I never thought I would say, but I actually want to make more salted caramel sauce just so I can make more of these cookies.  They were that good!  But that would be dangerous, so I'm going to resist that temptation, at least for a little while.  We'll see how long I can hold out.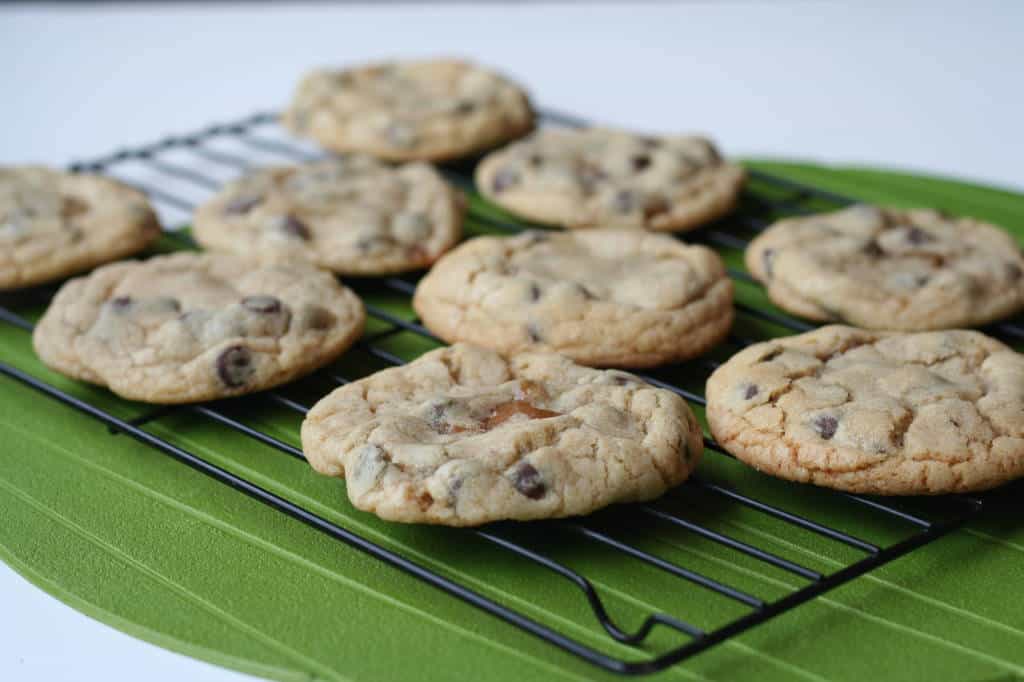 For now, I will just tell you that you need to make these cookies.  It's an amazing combination of a perfect chewy chocolate chip cookie with crisp edges but with a salty caramel layer in the middle.  They're made by forming a cookie dough ball around a small scoop of chilled salted caramel sauce (chilled so that it's firm and easy to wrap the dough around).  Then as the cookies spread out in the oven, the caramel also melts and spreads out so that you end up with a caramel layer in the middle of the cookie.
They were perfect.  Seriously, make them.  I'm sure you'll agree!  Even if, like me, you don't really like caramel all that much – these may convert you too!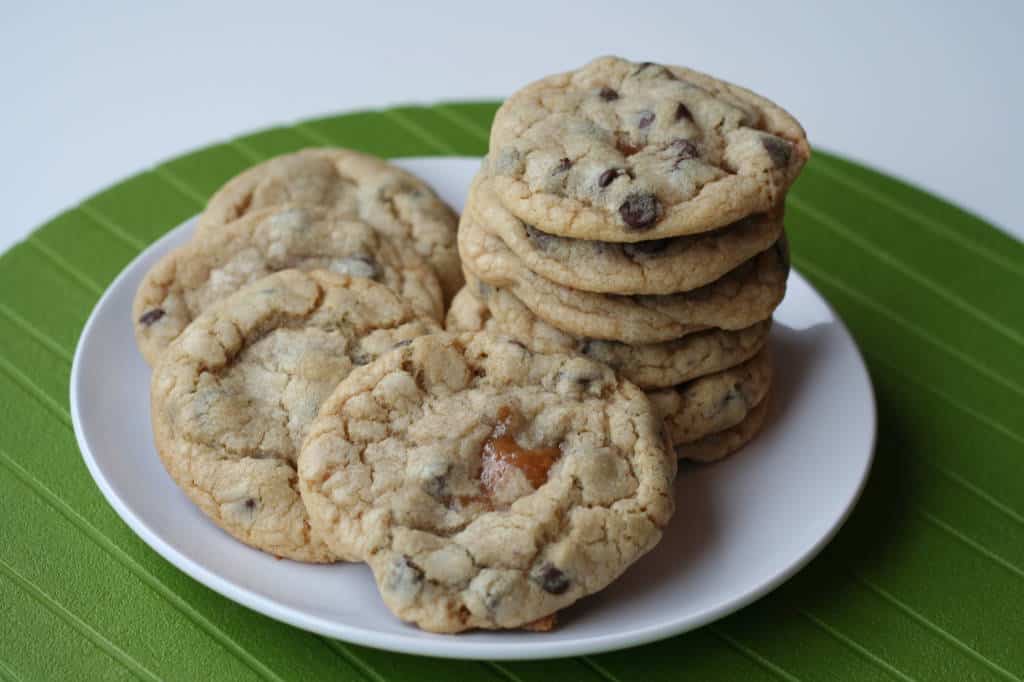 Yield: 18 cookies
Salted Caramel Chocolate Chip Cookies
Ingredients
1/2 cup butter, softened
1/4 cup granulated sugar
3/4 cup brown sugar, lightly packed
1 large egg
1 teaspoon vanilla
1 1/2 cups all-purpose flour
1/4 teaspoon salt
1/2 teaspoon baking powder
1/2 teaspoon baking soda
1 cup semi-sweet chocolate chips
3 tablespoons salted caramel sauce, chilled (I used this recipe)
Instructions
Preheat the oven to 350 degrees F.
In a large bowl or the bowl of a stand mixer, cream the butter, sugar, brown sugar, eggs, and vanilla together until smooth and fluffy. In another bowl whisk together the flour, salt, baking powder and baking soda. Add this to the butter mixture and mix until well combined. Stir in the chocolate chips. Chill the dough for 30-60 minutes (not totally necessary, I've baked them without chilling, but the dough gets fairly sticky when forming the cookies so it's easier if it's chilled, and they are a bit thicker when the dough is chilled. Alternatively, you can form the cookies, and then chill the cookies before baking).
Take 1/2 teaspoon of the chilled salted caramel sauce, it should be quite firm if it's chilled so you can scoop it out easilly. Scoop out some cookie dough, about 2 tablespoons or the size of a golf ball, and wrap it around the salted caramel, forming a golf ball sized ball. Repeat for the remaining caramel and cookie dough, placing the cookies about 2 inches apart on a parchment lined baking sheet.
Bake for 9-10 minutes, just until the edges start to brown lightly. Do not overbake them or they will be crispy rather than chewy. They still look underbaked when you take them out but will firm up as they cool. Let them cool on the pan for about 5 minutes and them move to a wire rack to cool completely. Cookies will keep for 7 days in a sealed container at room temperature.