These cookies are incredible.  And that's coming from someone who has often said that she doesn't really like caramel.  Apparently I'd just never had homemade salted caramel wrapped up in a perfect chocolate chip cookie before.  Because I could. not. stop. eating these!  They were so good.  And I'm sure store bought caramel would be good too, but I had some homemade stuff on hand so that's what I used.
Salted caramel chocolate chip cookies are now on my favourite cookies list.  Which I never thought I would say, but I actually want to make more salted caramel sauce just so I can make more of these cookies.  They were that good!  But that would be dangerous, so I'm going to resist that temptation, at least for a little while.  We'll see how long I can hold out.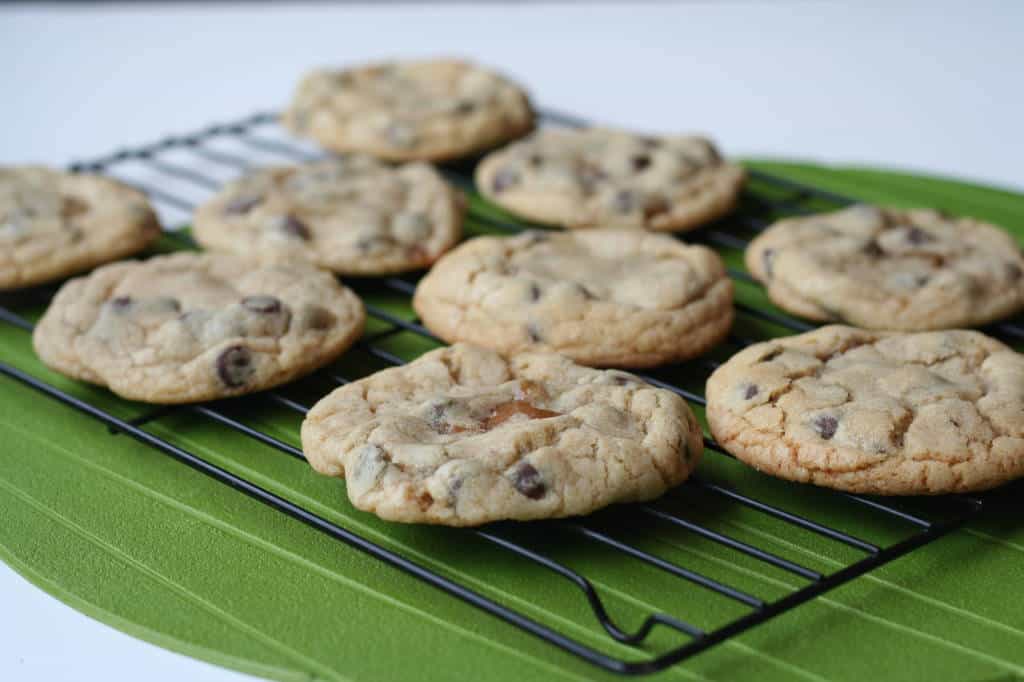 For now, I will just tell you that you need to make these cookies.  It's an amazing combination of a perfect chewy chocolate chip cookie with crisp edges but with a salty caramel layer in the middle.  They're made by forming a cookie dough ball around a small scoop of chilled salted caramel sauce (chilled so that it's firm and easy to wrap the dough around).  Then as the cookies spread out in the oven, the caramel also melts and spreads out so that you end up with a caramel layer in the middle of the cookie.
They were perfect.  Seriously, make them.  I'm sure you'll agree!  Even if, like me, you don't really like caramel all that much – these may convert you too!