Aren't pretzel buns amazing?  I love them.  It's too bad they're not better for you because I could easily convince myself to make them ALL the time if they were!  I haven't tried making a whole wheat version of these yet, I kind of feel like that might ruin them, but I may have to try it sometime.  Although my family might mutiny if I did that to these wonderful chewy, salty pretzel buns!
We used these for hamburgers, they are quite large.  I think as a dinner roll they would be better a bit smaller, making 24 out of the recipe instead of 16.  If you're going to use them for hamburgers, flatten the rolls out a bit after you shape them, or they will be very round.  Even flattened like these were, they were still quite tall once we made up the burgers.
That's okay though, they were so tasty that we didn't much care how messy they were!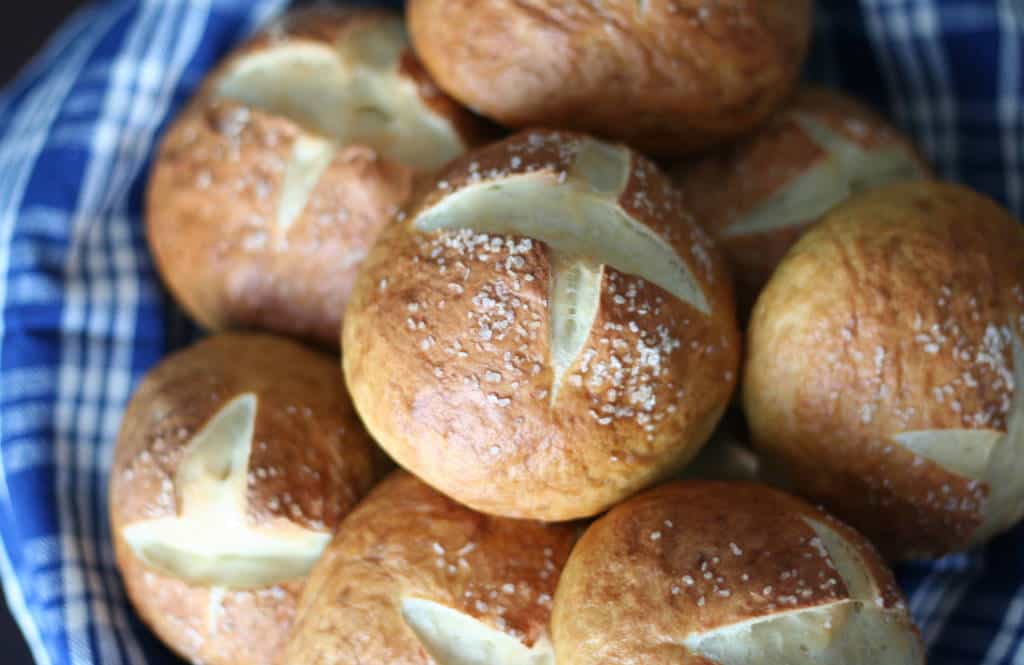 Yield: 16 large buns
Pretzel Buns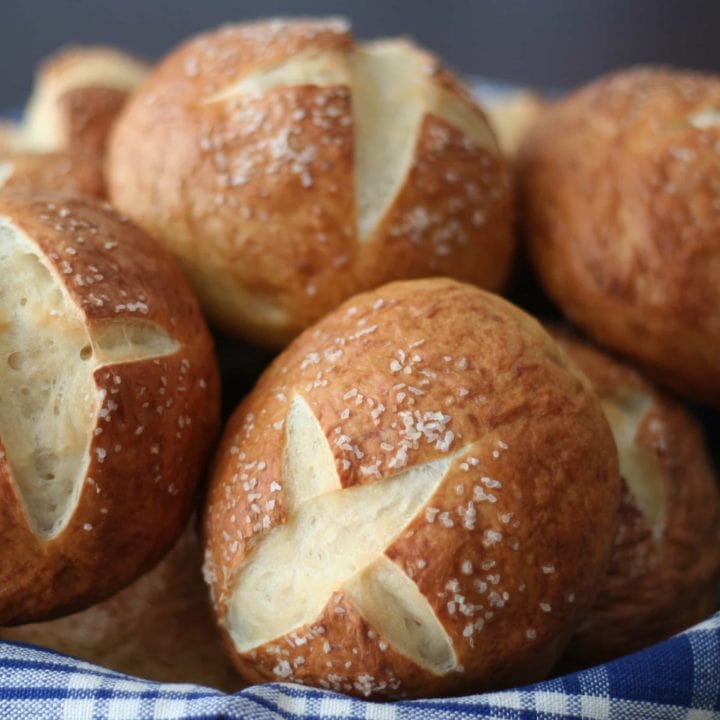 Prep Time 30 minutes

Cook Time 20 minutes

Rising Time 2 hours

Total Time 2 hours 50 minutes
Ingredients
For the Dough:
1 tablespoon instant yeast
2 tablespoons canola oil
2 cups warm milk (about 100 degrees F)
1 1/2 cups warm water (about 100 degrees F)
2 teaspoons kosher salt
6 1/2 to 8 cups all-purpose flour
For the Water Bath:
3 liters (quarts) water
1 tablespoon sugar
1/4 cup baking soda
coarse or kosher salt for sprinkling
Instructions
In a large bowl, or the bowl of an electric mixer, stir together the yeast, oil, milk, water, salt and 2 cups of the flour. Gradually add the rest of the flour until a soft dough is formed and it clears the sides of the bowl. You may not need all the flour. The dough should be soft, but not sticky. Once the dough starts to clear the sides of the bowl while mixing, knead for 3-4 minutes, about double that if kneading by hand.
Move the dough to a lightly oiled bowl, turning it to oil all sides and cover with plastic wrap. Let rise for 1-2 hours until doubled. Transfer dough to a lightly oiled counter and divide into 16 pieces, rolling each into a roll shape. (Here's a great tutorial on this!)
Place the rolls on two baking sheets lined with parchment paper, and let them rest for 20 minutes, while you prepare the water bath. In a large pot, combine the water, sugar and baking soda and bring to a boil.
Once the water is boiling, place 3-4 rolls at a time in the boiling water with a slotted spatula. Boil for 30-60 seconds per side and then remove to the same parchment lined baking sheet. The longer you boil them the chewier they will be. Repeat with the remaining rolls.
Preheat the oven to 425 degrees F. Using a sharp knife (I find a good serrated one works best, although I've read plenty of times to use a sharp, straight bladed knife but haven't personally found that to work as well!), cut an "X" in the top of each bun, about 1/4 inch deep, trying not to deflate the bun. Sprinkle with coarse or kosher salt and bake for 20-22 minutes until golden brown. They taste best fresh, but keep okay in a sealed plastic bag for a few days.