I think cobbler might just be the perfect summer dessert.  All that glorious summer fruit topped with a sweet biscuit topping and finished off with a scoop of vanilla ice cream.  Is there anything better?  I don't really think so.  And, if there's leftovers, you can probably justify having it for breakfast.  I mean it's fruit and a biscuit, total breakfast foods right?  At least I wouldn't judge anyone for it!
So grab the last of that summer fruit and whip up this peach blueberry cobbler for dessert tonight.  You won't regret it.  It mixes up very quickly and is absolutely delicious!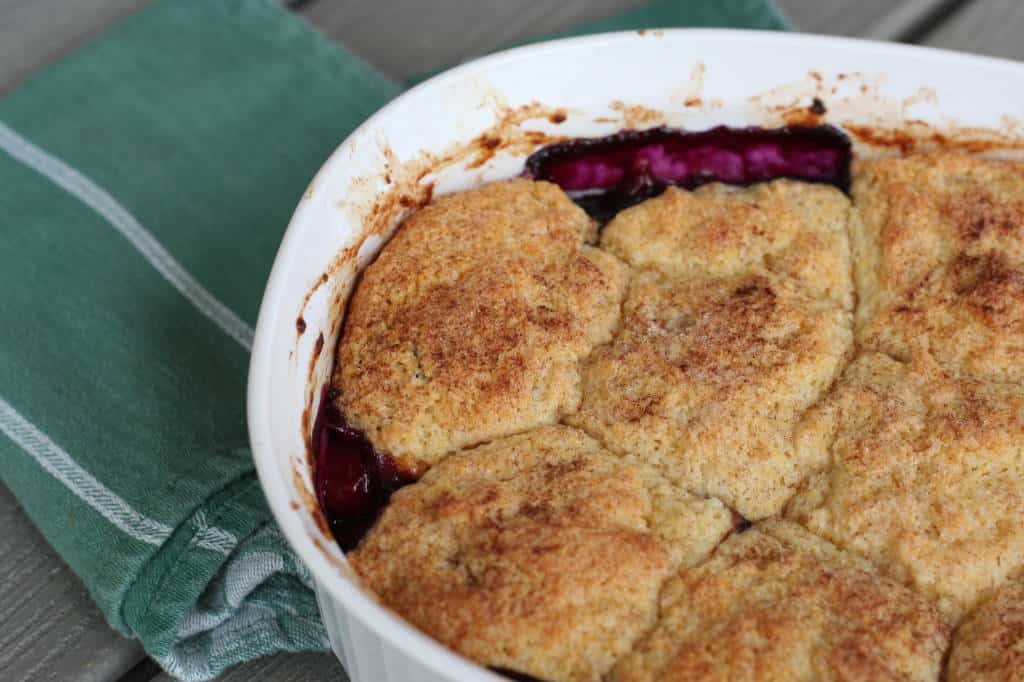 Yield: 6-8 servings
Peach Blueberry Cobbler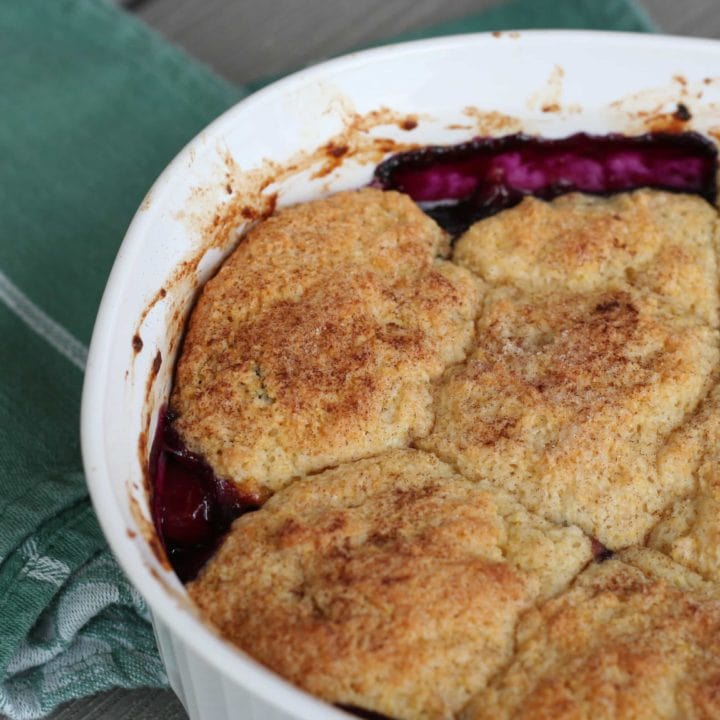 Ingredients
For the filling:
6 tablespoons granulated sugar
1 1/2 tablespoons cornstarch
Pinch cinnamon
Pinch salt
2 cups blueberries
4 cups peaches, peeled and diced
For the topping:
1 cup all-purpose flour
1/4 cup granulated sugar
2 tablespoons cornmeal
2 teaspoons baking powder
1/4 teaspoon baking soda
1/4 teaspoon salt
1/4 cup butter, melted
1/3 cup buttermilk
1/2 teaspoon vanilla
cinnamon and sugar for sprinkling, about 1/8 teaspoon each
Instructions
Preheat the oven to 375 degrees F, with the oven rack in the center of the oven.
In a glass baking dish, 9x9 inch square or similar size (I used a 2.8L casserole dish), mix together the sugar, cornstarch, cinnamon and salt. Add the blueberries and peaches and toss together gently until the fruit is coated. Bake the filling for 25 minutes, or until it is hot and bubbling.
While the filling cooks, make up the biscuit topping. In a large bowl, whisk together the flour, sugar, cornmeal, baking powder, baking soda and salt. In another bowl, mix together the melted butter, buttermilk and vanilla. Once the fruit comes out of the oven, add the wet ingredients to the dry and mix until just combined with no dry pieces left.
Increase the oven temperature to 400 degrees F. Drop the topping by the spoonful over the hot fruit, spacing it out evenly. There should be about 8 pieces. Sprinkle the biscuits with cinnamon and sugar and bake for 14-16 minutes, or until the biscuits are golden brown and the fruit is bubbling.
Remove from the oven and let it cool for about 20 minutes before serving warm with vanilla ice cream or whipped cream.