I was out on Vancouver Island this last week visiting my in-laws, and went blackberry picking for the first time.  Usually when we are out there, the blackberries aren't ripe yet, so I've never done more than pick the one ripe one as we walk pass the bushes.  And when I say blackberry picking, I actually mean picking a bowl of blackberries, with my kids along "helping", and then eating them all within the hour.  So, you know, not really picking.
But still, I discovered that blackberry bushes are vicious!  It's not like picking raspberries at all, which I've done a ton of.  With raspberries you can push branches out of your way to get to that one perfect looking berry in the middle of the bush.  Apparently that's not a great idea with blackberry bushes though.  I learned that the hard way, and had some brambles to pull out of my hands.  Ugh.  But, on the up side, we also had some amazing blackberry peach coffeecake muffins afterwards, from the few that didn't get eaten immediately.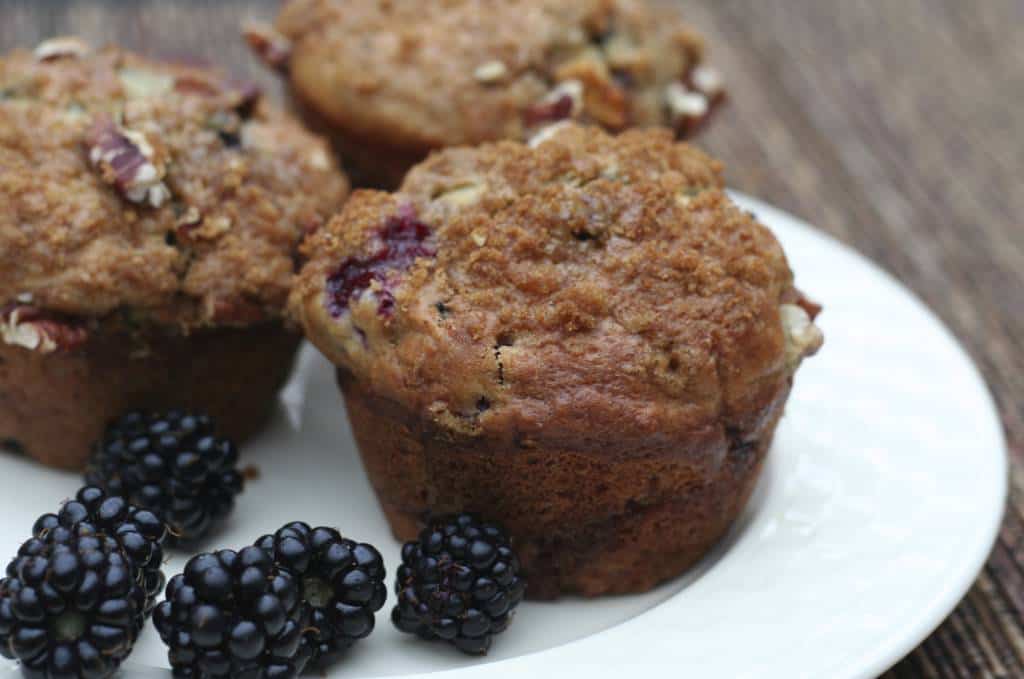 Yield: 12 muffins
Blackberry Peach Coffeecake Muffins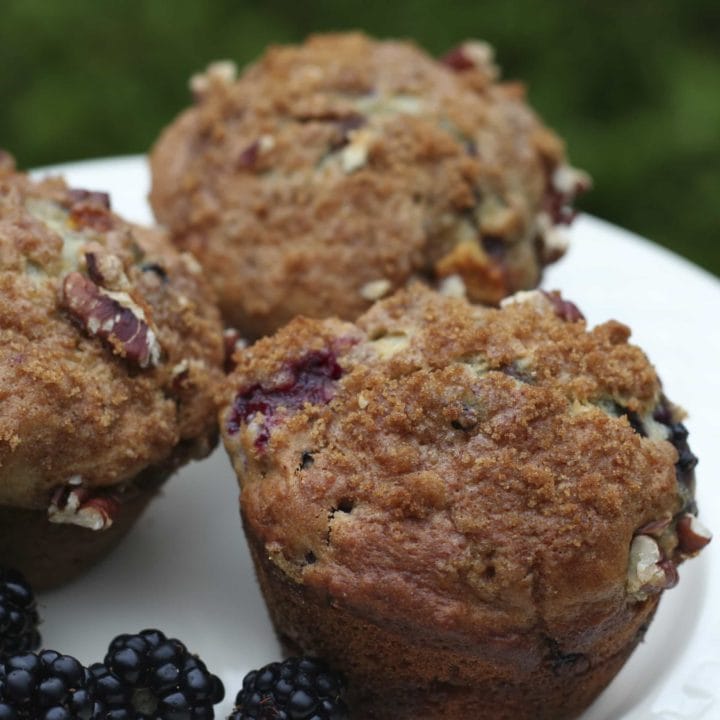 Ingredients
For the Topping:
1/4 cup brown sugar
1/4 cup pecans, chopped
1/2 teaspoon cinnamon
For the Muffins:
1/2 cup sugar
1/2 cup canola oil
2 eggs
1 cup vanilla yogurt (or plain)
1 teaspoon vanilla
2 cups all-purpose flour
1 teaspoon baking powder
1 teaspoon baking soda
1/2 cup peaches, diced
1 cup blackberries
Instructions
Preheat the oven to 375 degrees F. Spray a 12 cup muffin tin with non-stick cooking spray and set aside.
In a small bowl, stir together the brown sugar, pecans and cinnamon for the topping. Set aside.
In a small bowl, whisk together the sugar, canola oil, eggs, yogurt and vanilla until smooth. In another bowl, stir together the flour, baking powder and baking soda until combined. Add the peaches and blackberries and toss lightly to coat the fruit with the flour mixture. Pour the wet ingredients into the dry and stir until just combined, do not overmix.
Place a spoonful of batter into each of the muffin tins, using about half of the batter. Sprinkle about 1 teaspoon of the topping mixture over the batter in each tin. Then add another scoop of the muffin batter into each tin, dividing the remaining batter between the 12 tins. Sprinkle another teaspoon of topping mix into each tin, dividing the remaining topping evenly. Bake for 20-25 minutes, or until a toothpick inserted into the center of a muffin comes out clean.
Allow the muffins to cool in the tin for 5-10 minutes and then remove to a wire rack to cool completely. Store in an airtight container for up to a week, or they can be frozen.