I think I've made 4 batches of these banana oatmeal squares now, trying to get them the way I wanted, and these are finally right.  All the squares were good, just not exactly right.  The first few batches were a little too dense for my liking.  But these ones are perfect.
My kids were thrilled that they got to eat so many of these – luckily they're really healthy so it's okay that we had so many!  You know, besides the chocolate.  But this is the only batch I made with chocolate chips so the ones we ate lots of were really healthy.
These banana oatmeal squares are a great snack to send in the kids lunch kits for that morning snack at school.  They're filling and healthy enough that you could even have them as a breakfast on the go.  There's hardly any sugar in these, only 1/4 cup of brown sugar for an 8×8 inch pan.  Most of the sweetness comes from the bananas, although they are not overly sweet.
The chocolate chips do add a fair bit of sweetness, but you could definitely add less for just a hint of chocolate, or take them out altogether.  I made several batches with raisins instead and the kids loved them, although I'll admit I didn't like those ones nearly as much.  I am a bit of a chocolate addict though!
They are also really low in fat, with 1/4 cup of buttermilk being the only fat in them.  There's no oil or butter, but the bananas keep them from being dry.  Well, I guess there would be some fat in the chocolate chips, but again, you could leave those out!  Don't though, they're good, and a little chocolate's okay when the rest is so healthy!  Agreed?
Yield: 12-16 squares
Banana Oatmeal Squares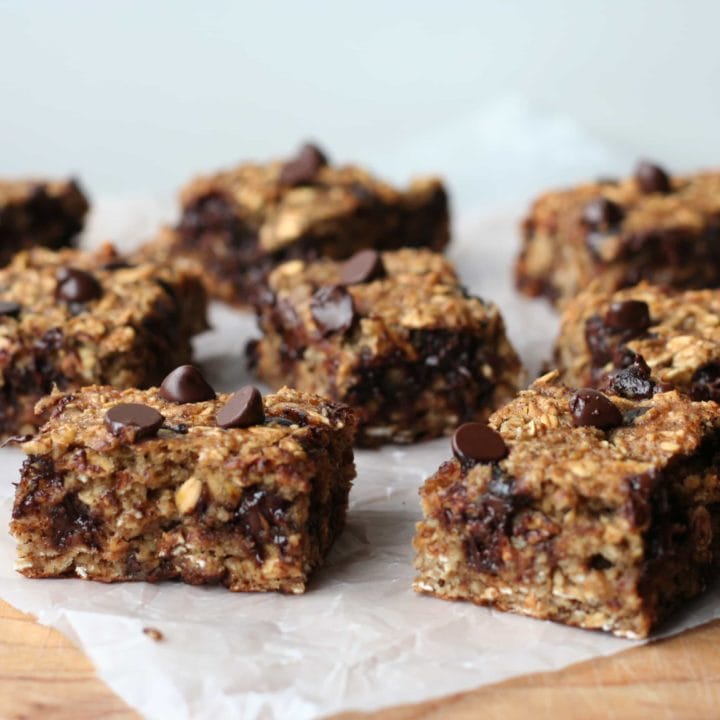 *Note:* If you don't have oat flour, you can easily make it by grinding regular oats in a food processor for a couple minutes. Just be sure to measure the flour after grinding, not before. If you want these to be even healthier, you can omit the chocolate chips, or replace them with raisins. My kids loved these with raisins, even though they weren't as sweet. The buttermilk can be subbed with regular milk if you don't have any.
Ingredients
1 cup old fashioned rolled oats
3/4 cup oat flour
3/4 cup whole wheat flour
1 teaspoon baking soda
1 teaspoon cinnamon
1/4 teaspoon salt
1/4 cup brown sugar, lightly packed
3 bananas, mashed
1 teaspoon vanilla
1/4 cup buttermilk
1/2-3/4 cup semi-sweet chocolate chips (or raisins)
Instructions
Preheat the oven to 350 degrees F. Line an 8x8 inch pan with parchment paper and set aside.
In a large bowl, whisk together the oats, oat flour, whole wheat flour, baking soda, cinnamon, salt and brown sugar. Add the mashed bananas and vanilla and stir well. Add the buttermilk and stir to combine. Fold in the chocolate chips. Pour the batter into the lined pan and smooth it out.
Bake for 30-35 minutes until a toothpick inserted in the center comes out clean and the squares are golden brown. Allow to cool in the pan then lift out the parchment paper and slice into squares. Store in an airtight container at room temperature for 4-5 days.