Coffee cake may just be the best invention ever.  Really, whenever you can't decide whether to categorize a recipe as breakfast or dessert, and finally decide it belongs in both?  That's awesome.  Cake for breakfast.
And not just any cake!  Apple cinnamon coffee cake with a salted caramel glaze.  Because as you will recall, I am now putting salted caramel on everything.  And it definitely belonged on this apple cinnamon coffee cake.  Apples and salted caramel obviously go together.
This cake is soft and fluffy with a brown sugar and cinnamon apple filling, topped with cinnamon and brown sugar crumbs, and is finished with a drizzled salted caramel glaze.  In short, it's amazing.  It's not a health food, but then, I did say I had trouble deciding where to categorize it!  I had it for breakfast, cause I like cake for breakfast, but if you're not on board with that you could certainly enjoy it for dessert!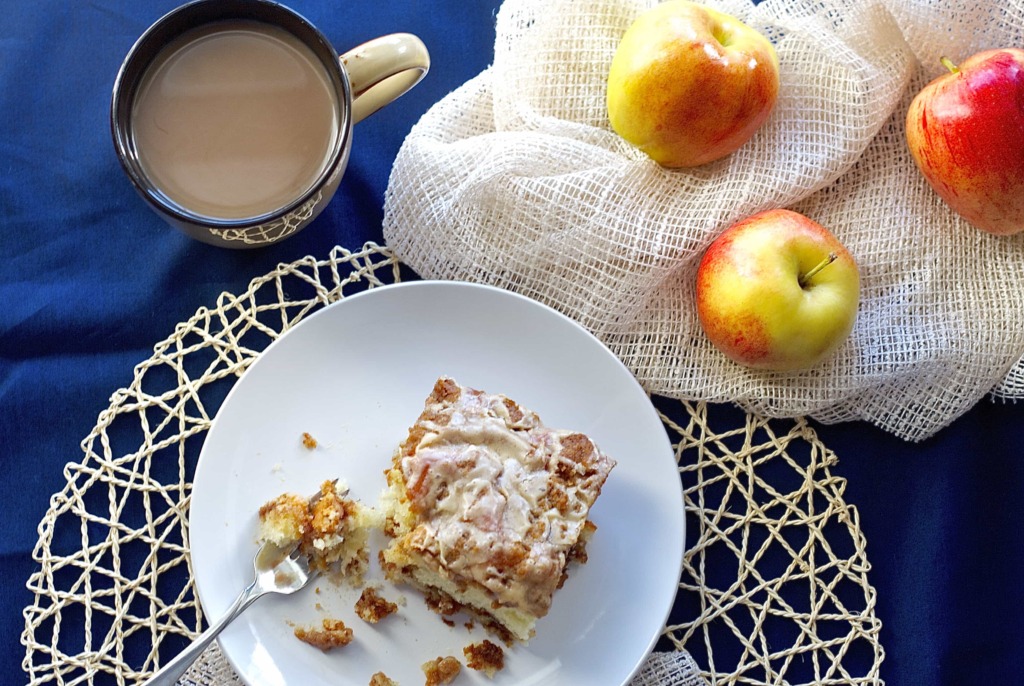 The recipe looks really long, but don't be scared off by that, it's all really easy steps.  And you could definitely leave the glaze off if you want.  But don't, it was awesome.  Also, I can't really say how long it would take to make everything, but I would guess only about 20 minutes, if you don't have 2 small boys interrupting you every 2.4 seconds.  It took me about an hour, but that was with about 32958 interruptions for help with something.  So you can make it faster than that.  Ironically enough, as soon as I put it in the oven, those 2 boys could suddenly play happily with no help from me for the next 2 hours. Go figure!
I started off making my mom's apple cinnamon coffee cake, but this isn't really it.  I can't leave a recipe well enough alone. But I would say that her recipe inspired this one.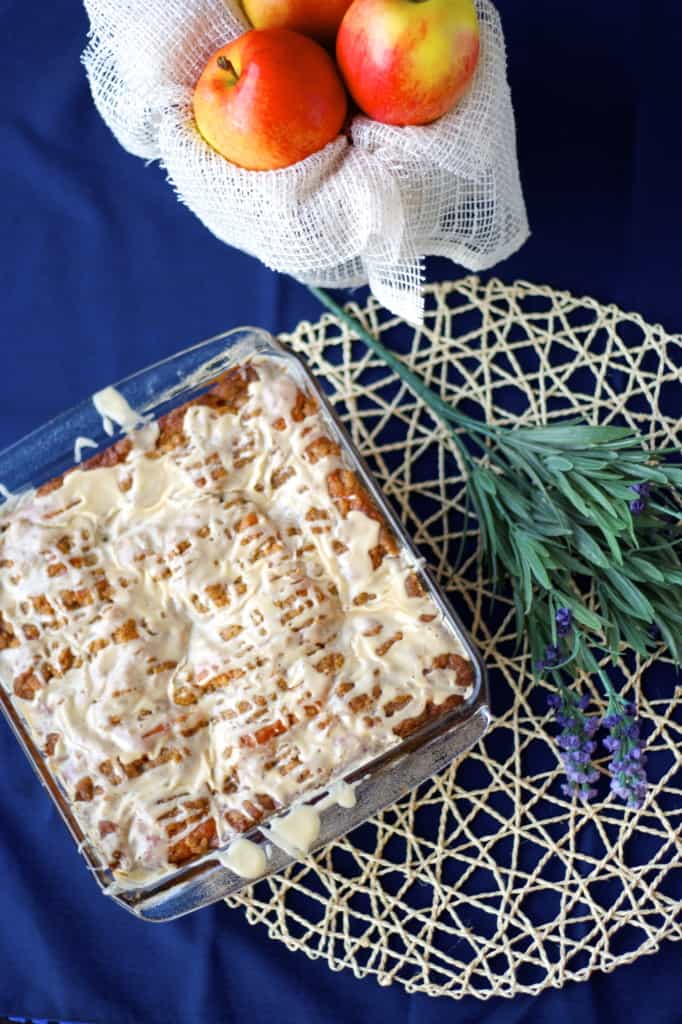 Coffee cake is one of those nostalgic foods for me.  Does everyone have those?  I would imagine.  You know, those foods that automatically conjure up childhood.  I think that a lot of foods are like that, everyone associates different foods with a time or place, a person.  To me, coffee cake will always be one of those foods that is best in my mom's kitchen with, of course, a mug of hot coffee.  She's made it as long as I can remember and it was always the perfect treat.
It's not something I make often.  I can probably count on one hand the number of times that I've actually made it in the last 15 years, but when I do it's like I'm having coffee with my mom.  I'll have to make it again next time she's around so we can have the coffee together over my recreation of her recipe!
Because cake for breakfast is really the best kind of treat.  And it's better with company.  That's just a fact.
Coffee cake anyone?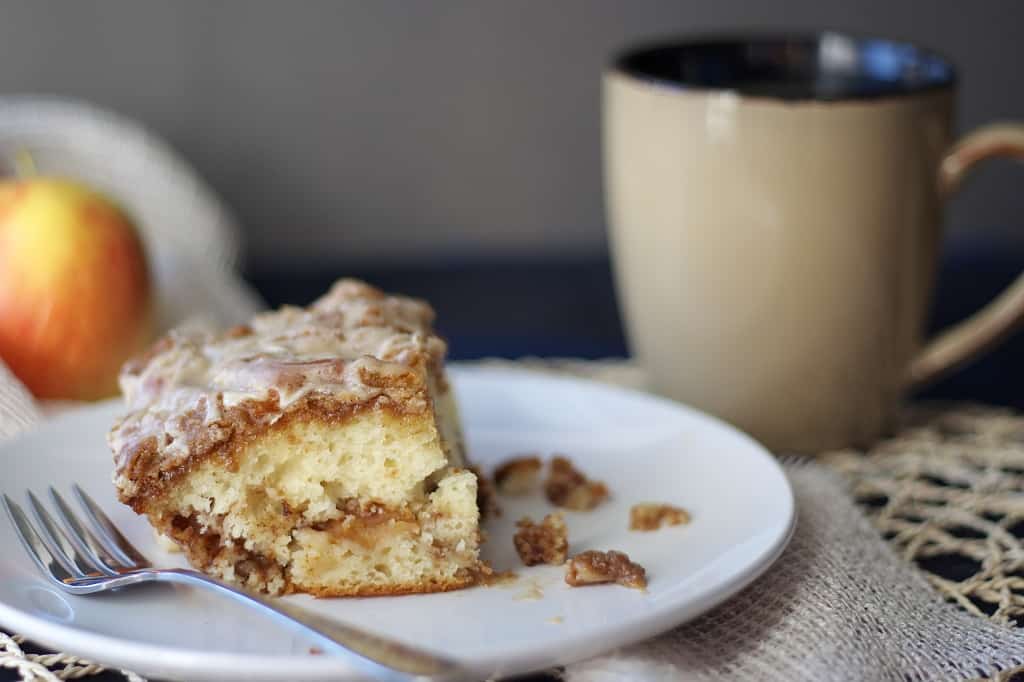 Yield: serves 9-12 (8x8 inch cake)
Apple Cinnamon Coffee Cake with a Salted Caramel Glaze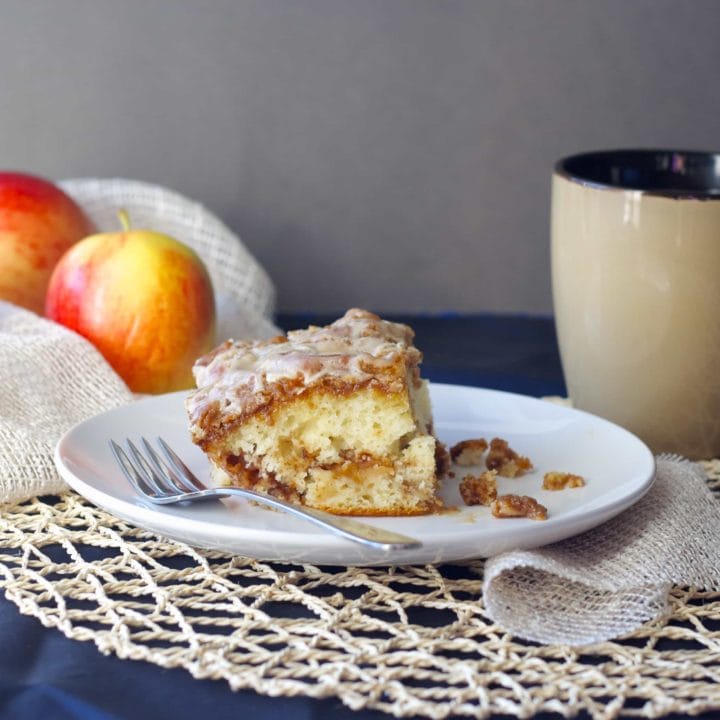 Ingredients
For the topping:
1/3 cup all-purpose flour
1/3 cup brown sugar, lightly packed
1/4 cup butter
1 teaspoon cinnamon
For the cake:
2 cups all-purpose flour
1/2 cup granulated sugar
3 teaspoons baking powder
1/2 teaspoon salt
2 large eggs
1/4 cup canola oil
3/4 cup buttermilk
For the filling:
2 cups apples, peeled, cored and chopped (2-3 apples)
1/4 cup brown sugar, lightly packed
1 tablespoon all-purpose flour
1 1/2 teaspoons cinnamon
For the glaze:
Instructions
Preheat the oven to 350 degrees F. Lightly spray an 8x8 inch baking pan with cooking spray. Set aside.
In a small bowl, make the topping by mixing the flour, brown sugar and cinnamon until combined. Cut in the butter with a pastry cutter or two knives until the mixture looks like crumbs. Set aside.
Sift together the flour, sugar, baking powder and salt for the cake into a large bowl. In a small bowl or measuring cup, whisk together the eggs, oil and buttermilk. Pour this mixture into the dry ingredients and whisk together until just combined.
In another bowl, toss together the apples, brown sugar, flour and cinnamon for the filling. Pour about half the cake batter into the prepared pan (just eyeball it, it doesn't need to be exact!), then spoon the apple mixture over top, spreading it out evenly, and cover the apples with the rest of the cake batter. Sprinkle the topping crumb mixture over top of the cake, as evenly as possible.
Bake for 50-60 minutes or until a toothpick inserted in the center of the cake comes out clean. Allow to cool for 5-10 minutes. While the cake is cooling, make the glaze. In a small bowl, whisk together the icing sugar, heavy cream and salted caramel sauce until well combined. Drizzle over the slightly cooled cake.
Serve warm. If not enjoying it right away, cover tightly with plastic wrap. It will keep well for 3-4 days at room temperature if covered tightly, and reheats well in the microwave.
Notes
Source: Bake.Eat.Repeat. original.